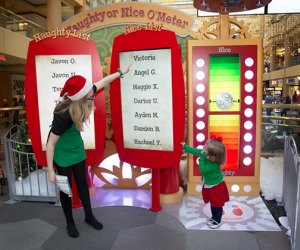 Santa HQ at Queens Center: Interactive Santa Fun for NYC Kids
Queens families looking to avoid a trip into the city to see Santa have a brand-new option in 2016. HGTV has set up one of its high-tech and immersive Santa HQ experiences in the Queens Center Mall, complete with a Santa visit, but also augmented reality add-ons, selfie stations, and more kid fun.
If you're anything like me, it's hard to maintain that holly-jolly holiday feeling as you stand in a long line surrounded by kids who have had one too many candy canes. That's why Santa HQ at Queens Center in Elmhurst is like a Christmas gift for parents. It's fun and manageable, stars a super-authentic Santa and Mrs. Claus, and—perhaps best of all—takes reservations!
Rather than your standard Santa chair in the center of the mall as in years past, Santa HQ is a recreation of Santa's Workshop at the North Pole, manned by elf helpers who guide you through the experience at each major point. Its sparkly display loaded with Christmas trees, wrapped presents, and festive decor definitely get you in the holiday spirit. (The HGTV team has helped to set up Santa HQs across the country, from New Jersey to California, but this is the first such experience in the NYC metro area.)

The first stop is the Naughty or Nice O'Meter. Friendly elves enter kids' names into their database before "scanning" them to find out just how nice they've been this year. All the children I observed during our family visit in November, including my goody-two-shoes 9-year-old, were pretty nervous about being scanned (this is highly amusing for parents). I'm happy to report all the kids I saw came up "nice," so we're guessing there's no real danger anyone will be crossed off Santa's list.
RELATED: 25 Free Things to Do This Holiday Season with NYC Kids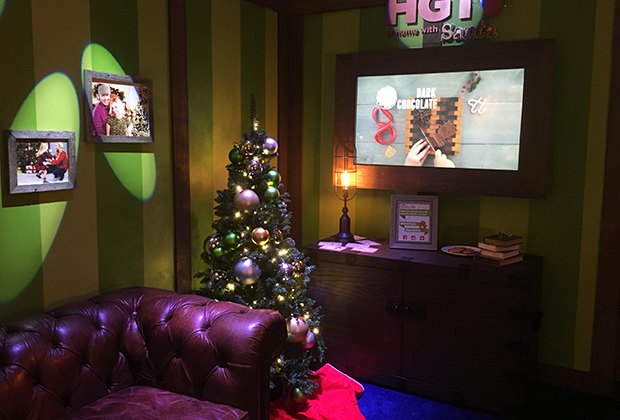 Relax and experience a day in the life of Santa in the observatory. Photo by the author.
Jubilant kids safe from the naughty list and their families then head to a painted backdrop of the North Pole for photos before making their way to Santa's observatory. Here, via tablets provided by the elves or even your own phone, visitors can check out the conditions of the night sky or observe Santa's elves hard at work.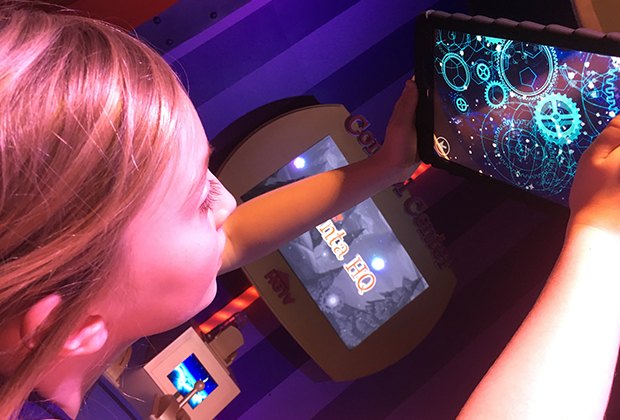 A visitor experiences Elf-Ray Vision, the augmented reality app. Photo by the author.

HGTV partnered with Santa HQ to create an Elf-Ray Vision app that you can download on your phone to aim at eight augmented reality experiences throughout Santa HQ. Most of them involve the workshop "getting into gear." If you're not keen on downloading the app, elves have iPads on hand so you don't miss the experience. The "elfie station" was lots of fun—take a photo to make a dancing elf video.
RELATED: Santa Brunches, Teas, and Cruises Around New York City

Santa meets a fan. Photo courtesy of Macerich.

Of course, little ones often just want a glimpse of old St. Nick and Santa HQ does not disappoint. Mrs. Claus is as gracious and welcoming as you would expect, and even though she's been around for a while, she's down with new technology like selfies with you and your kids. She led us to Santa who was perched on his sleigh. My skeptical nine-year-old, who believes that Santa sends his "helpers" to take photos with kids, was impressed by the authenticity. "If I didn't know Santa was really busy right now, I would believe that was him," she said. "That helper looks totally realistic!" We'll never know for sure if it was the real Big Guy or not, but our photos are a great keepsake.

Santa HQ is a great chance to kick off the holiday festivities (and maybe get some Christmas shopping done on the sly). There will also be special events, including a breakfast with Santa. Don't forget to make a reservation! Be sure to check out pictures—and post your own—using #SantaHQ and #ILoveHGTV.

Santa HQ is located at Queens Center, 90-15 Queens Boulevard, level 2, Center Court in Elmhurst. Early bird photo packages begin at $29.99 and include both printed and digital copies.

Top image: An elf shows a little girl she's on the Nice List. Photo courtesy of Macerich.