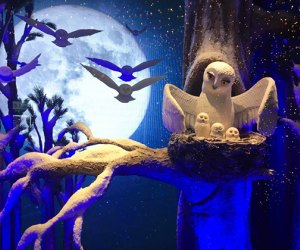 Holiday Windows at NYC Department Stores Light Up the Season
Few things signal the holidays in New York City more than the unveiling of the decked out department store window displays throughout Midtown, from Macy's in Herald Square on up to Bloomingdale's. My family ushers in the season with an annual trek to see the various whimsical winter and Christmas scenes, peeking into the glammed up windows, every Thanksgiving weekend, and I have to say, taking a "windows walk" is one of those magical holiday experiences every kid should try at least once. Also, it's totally FREE.
The 2016 window display edition includes a number of gems that you won't want to miss, including Saks Fifth Avenue's Land of 1000 Delights—a sugary retelling of the Nutcracker Suite—and a fantastic light show, Macy's Believe—a celebration of Santa (with a real pinball game!), and Lord & Taylor's wintry, nature-filled wonderland.

Read on for details about this year's holiday displays and a sneak peek of what you'll see. Be sure to visit our Holiday Fun Guide before you go to find other activities and things to do along the route and throughout the season, including more FREE fun, tree lightings, and train shows.


For the sixth year running, my son and I were joined by fellow Mommy Poppins contributors' Raven and Sonia and their children for our annual walk from Barneys to Macy's Herald Square. Hitting the streets for a "windows walk" is a fun way to get your family moving on these chilly winter days. Plus, you can go anytime (all the displays are typically ready by Thanksgiving) and make the experience as long or as short as you want—hitting all the stores in one trek or opting for one or two at a time. We've found nighttime visits to be ideal with fewer crowds and the best view.
Follow along with out photos and videos to check out the funky windows at Barneys, the sugar rush at Saks, nostalgic images of the North Pole at Macy's, and more.
RELATED: Best Restaurants Near Rockefeller Center for Families

Macy's windows always dazzle with its multi-block displays of Santa and NYC themes. ​Video by Raven Snook.
Macy's Herald Square
151 West 34th Street between Sixth and Seventh Avenues
Macy's windows will delight the whole family with familiar holiday icons including Santa and Mrs. Claus, reindeer and those tireless elves, kicked up with magical animations, interactives, and lots of whirligigs. These windows were our kids' favorite displays of the night, mostly because of the festive NYC-themed pinball game they could play right in the window and Santa's special meter that reveals if you've been nice or naughty after scanning your hand in the window. (Ratings of "ho hum" and "naughty" are in rotation, which garnered many laughs and jokes in our gang!) We were also wowed by Santa's spinning vortex of gifts and the serene nighttime animated North Pole scene with glowing critters and Kris Kringle waving goodbye to us all.

As always, the 34th Street side of the store features a revival of the store's Yes, Virginia, There Is a Santa Claus windows from years past. If you long to see the old Miracle on 34th Street windows that Macy's has featured in the past, you can check out parts of the display inside the store in the Santaland waiting area.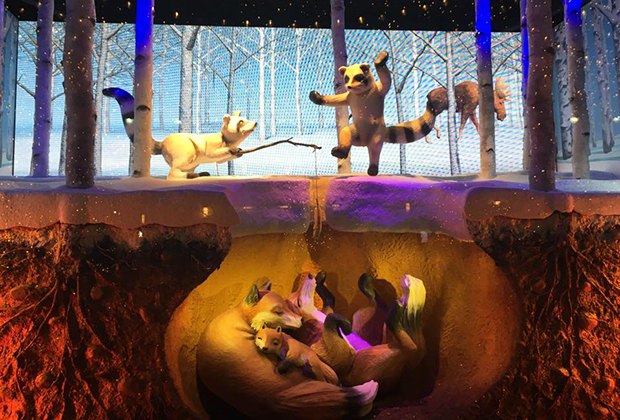 Lord & Taylor's display conjures up a happy woodland scene. Photo by Raven Snook.

Lord & Taylor
424 Fifth Avenue between 38th and 39th Streets
The five animated windows at Lord & Taylor's Enchanted Forest offer whimsical winter forest displays and are once again backed by dynamic video projections that add to its charm. Watch a mother owl protect her young owlets, snow-shoed geese festooned with wreathes dancing through the forest, tiny mice sleigh riding over a mound of snow created by a friendly bear, bunnies ice skating, squirrels romping, and playful raccoons trying to wake hibernating foxes. The store has created a cozy forest for the visitors too—a bridge wrapped with green garland, twinkly lights, and studded with hidden forest creatures flanks the Fifth Avenue windows, and holiday music can be heard throughout.
RELATED: December GoList: Best Things to Do This Holiday Season in NYC

The light show at Saks, playing every 10 minutes in the evening, is a must-see this year.

Saks Fifth Avenue
611 Fifth Avenue between 49th and 50th Streets
Saks presents a sumptuous and surprising sugar-filled retelling of the iconic Nutcracker ballet in its Land of 1000 Delights themed windows. Don't worry about calories and feast your eyes on cookie castles, chocolate villages, spinning multi-tiered cakes, spun sugar confections and other sweet delights. While each animated window was special, the kids really enjoyed watching as the larger-than-life Mother Ginger opens her voluminous skirts to reveal a dancing gingerbread boy and girl. But even better than the windows is the fantastic light show projected on its facade. The brand-new dazzling 10-story light projection is choreographed to prerecorded holiday tunes and sure to make even the grinchiest of us crack a holiday smile. It's best seen from across the street, where you'll also find the Rockefeller Center Christmas Tree. The light show is just a few minutes long and occurs every 10 minutes between 5pm and 11pm.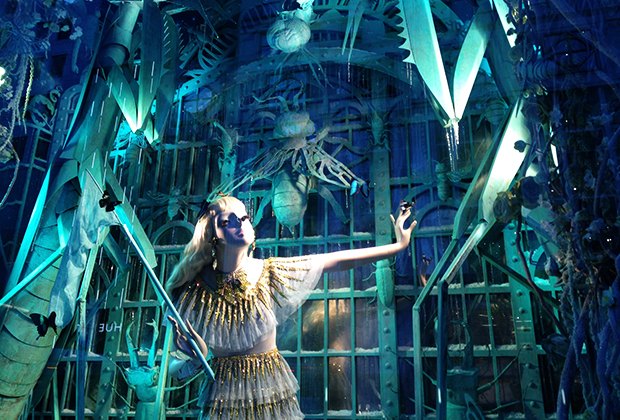 Luxury and fantasy mix in the Bergdorf Goodman window. Photo by the author.
Bergdorf Goodman
754 Fifth Avenue at 58th Street
While Bergdorf's windows are stylish, they aren't the usual over-the-top affair we have become accustomed to. Still, the retailer delivered five detailed and meticulously crafted fantastical landscapes in Destination Extraordinary. The windows are far from traditional, without a Christmas tree or Santa Claus in sight, which has been the case with the store in years past, too.

Tiffany & Co.
727 Fifth Avenue at 57th Street
We couldn't get close enough for even a peek at the iconic jewelry store's holiday windows this year. Sadly they were blocked by hundreds of protesters due to the store being located next door to the president-elect's Manhattan home. The entire building, though, is decorated with lights arranged to look like priceless gems, which you can see from across the street. While you are there be sure to look up: UNICEF's stunning sparkly snowflake is suspended right above this intersection for a perfect holiday topper.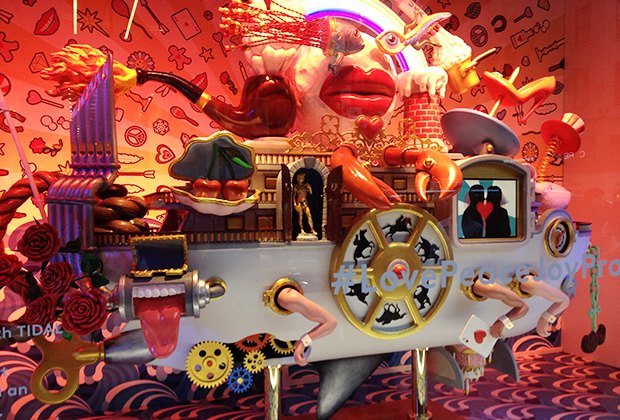 Barneys works to spread a little love this season with the Studio Job's Love Boat and more creations. Photo by the author.
Barneys New York
660 Madison Avenue at 61st Street
As usual, Barneys' windows are an experience. Both the flagship and the original location of the department store are celebrating love, peace, and joy in its windows with site specific works by influential visual artists evoking one of the three themes. Nick Cave designed a window on Peace featuring one of his signature soundsuits and Rob Pruitt describes Love with a kooky bedroom scene. But for me, the groovy Love Boat-inspired window by artist collective Studio Job stole the show. Each display was pretty incredible; of course, the kids made a beeline to the South Park window. There are 3D versions of Stan, Kyle, Cartman, and Kenny that gaze into a toy store window with digitally projected facial expressions and hysterical banter (don't worry, parents, it's completely G-rated!). Fans of the show will enjoy all the little Easter eggs throughout the display, too. Plus for every social media share expressing the themes of the windows, Barneys will donate $5 to the #LoveJoyPeace project. Get more info on Barneys' website and get snapping.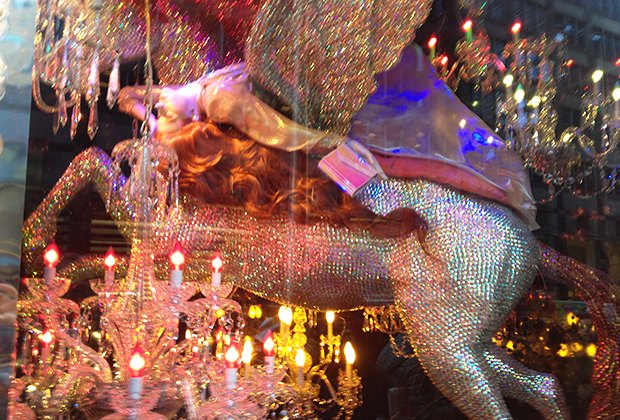 Everything glitters and sparkles at Bloomingdale's "Light" display. Photo by the author.

Bloomingdale's
1000 Third Avenue
This year, Bloomingdale's shines with Light. Each window at Bloomie's is framed with three rows of marquee lights and artistic chandeliers hanging in each one. Each of the artist-created light fixtures is a stunner, particularly Sean Augustine March's spinning glass job Luminescence. The chandeliers are all up for auction to benefit Bloomingdale's charity partner Child Mind Institute. The bidding starts at $2,000 but, hey, how often do you get to take a holiday window display home with you?

Top image: Lord & Taylor. Photo by Raven Snook.