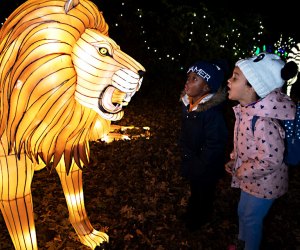 Bronx Zoo Holiday Lights: A Brilliant Lantern Display Kids Will Love
Back after 11 years of hibernation,​ the Bronx Zoo Holiday Lights have returned to NYC this season, bigger, brighter, and greener (thanks to LED technology) than ever before.
My daughter and I—who are known for chasing all the city's many holiday thrills—recently headed uptown to check out the acres of light displays in all their LED glory. While the Bronx is admittedly a haul for us Brooklynites, I can confidently say that it was worth the trip. Read on for a look at the beautiful lantern show at the Bronx Zoo, and tips for visiting with kids.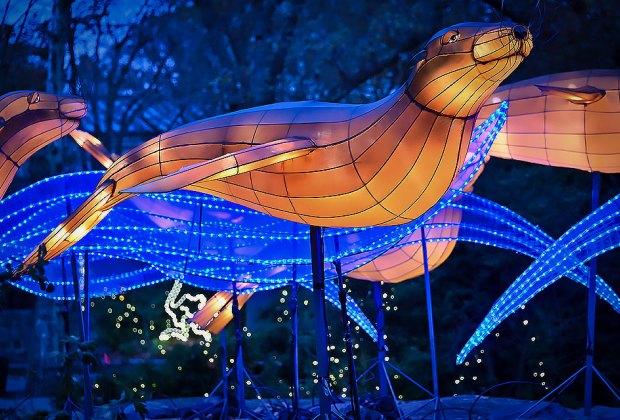 As the sun went down, the zoo's Astor Court was fully illuminated with lights and a Christmas tree with animal-themed animations and sounds. At every turn, there were illuminated animal lantern sculptures and dancing light shows. My 4 year-old was especially dazzled by the giant illuminated shark and loved taking a spin on the holiday train (for an additional $3).
There was no shortage of entertainment at the beloved 265-acre zoo, thanks to costumed carolers, a magic show, and plenty of seasonal spectacle. We especially loved watching master ice sculptors transform blocks of ice into holiday creations. There was even a giant costumed penguin that came by to say hello.
RELATED: The Best Things to Do in NYC With Kids in December—Half of Them FREE
Much to my daughter's delight, we found an abundance of sugary treats. We indulged in hot chocolate and roasted our own s'mores before calling it a night.
RELATED: 4 Holiday Lantern Shows Coming to NYC This Season
If you join the fun later in the month, you can experience the Ice Jubilee: From December 20 to December 31 (excluding Christmas Eve and Christmas Day), the Bronx Zoo Lights experience will feature a 20 foot ice slide and ice throne. Adults can also snag winter cocktails at the ice bar.
What to Know Before You Go:
Wear comfortable shoes, as there is a lot of ground to cover.
Strollers are allowed—and surprisingly easy to use. Unlike so many other cool holiday events in NYC, this one didn't feel like a crowded disaster, thanks to the zoo's expansive grounds.
Obviously, it gets chilly as the sun goes down, so layer up!
The Bronx Zoo Holiday Lights are open now through January 5.
Hours for Holiday Lights are 5-9pm Sunday to Thursday, and 5-10pm on Friday and Saturday.
Tickets are $29.95 for adults, $22.95 for children, and $28.95 for seniors. Check the website for exact dates and times and to purchase tickets.
Photos by Julie Larsen Maher for WCS