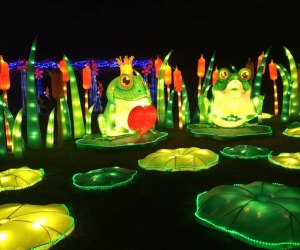 4 Holiday Lantern Shows Coming to NYC This Season
I'm the kind of mom who leaves the decked-out family Christmas tree up until Easter... and I'm Jewish. I just adore anything that lights up, which is why I made the schlep from our East Harlem apartment to Staten Island's Snug Harbor Cultural Center & Botanical Garden last holiday season to check out the inaugural NYC Winter Lantern Festival, a massive installation of illuminated art. Happily, my daughter, her friends, and I all thought it was worth the trip.
Apparently, last year's holiday lantern festival kicked off a trend. This year, there will be four places to see holiday lanterns in the city: There's the return of the Snug Harbor event, as well as the brand-new Hello Panda Festival in Queens, and the LuminoCity Festival on Randall's Island. Plus the Bronx Zoo's Holiday Lights display promises animal-shaped lanterns, too! Read on for a peek at the new holiday lights coming to NYC this year, plus what to know before you take the kids.
Since lantern festivals take place outdoors and are best visited after sundown (when the lights really start to pop), be sure to bundle up, wear comfortable shoes, and prepare for crowds and port-a-potties. And because the terrain can be uneven or even muddy in some parks, consider leaving the stroller at home. Finally, don't forget to charge your phone—you'll want to take lots of pictures!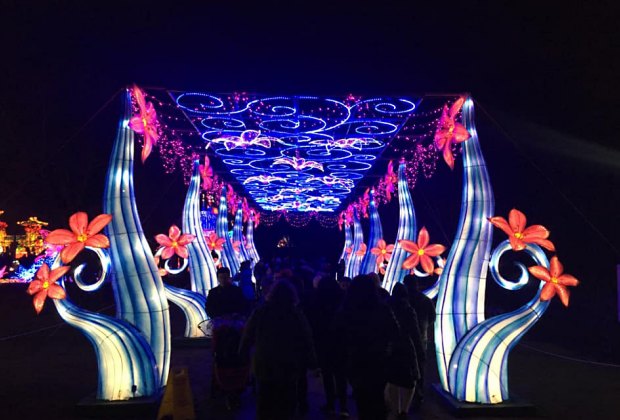 NYC Winter Lantern Festival transforms Staten Island's Snug Harbor Cultural Center & Botanical Garden into a whimsical world of light. Photo by the author
NYC Winter Lantern Festival — Snug Harbor, Staten Island
Snug Harbor Cultural Center & Botanical Garden
1000 Richmond Terrace
Wednesdays through Sundays, November 20–January 12, 2020, and December 30–31
$15-$17 for children ages 3-12, $23-$25 for adults. Children under 3 are FREE. Parking $10-$20.
Use discount code WELCOMEBACK20 ​before November 16 for 20% off select dates. Goldstar also has discounted tickets.
With hundreds of eye-popping illuminated lanterns over eight acres, this holiday light display—brand-new to NYC as of last year—is truly spectacular. Kids will love the themed displays, including exotic flowers, sea creatures, wild animals with moving heads, and oversize candy. Inspired by Chinese lantern festivals, the exhibit also features lanterns in the shapes of temples and symbols of the Chinese zodiac. We especially liked the cool tunnels in which we were surrounded by LED lights. Once you've explored the lantern displays, you can check out live nightly performances, from circus acts such as plate spinning and balancing to magic shows and Asian dance.
If you want a sneak peek, the fest is hosting a pop-up display in Liberty Park by the World Trade Center from October 28 through November 16, where you can check out a dozen Chinese zodiac animal lanterns.
When we visited last year, the admiring crowds and muddy terrain made the installation a bit tough to navigate, but even with those minor annoyances, the experience was worth it. While there are food trucks on-site selling eats like dumplings and bubble tea, I recommend bringing your own snacks. Parking can be tough (and expensive, at $20 for on-site parking and $10 for a spot at a nearby garage offering shuttle service to the event), so I highly recommend taking public transportation. You can take the MTA S40 bus, or a free shuttle from the Staten Island Ferry's St. George Terminal. Additional transportation details are available on the official website.
RELATED: Polar Express and Santa Trains Near NYC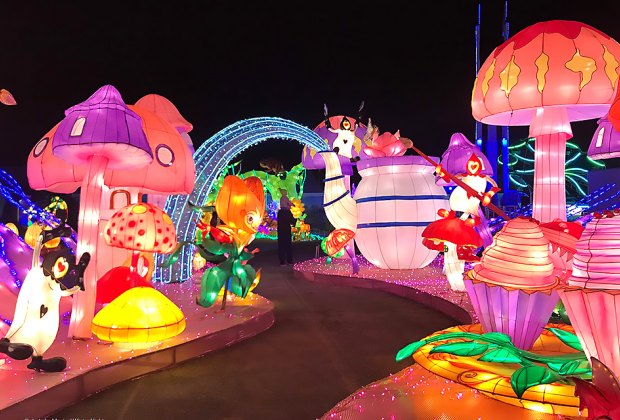 The LuminoCity Festival on Randall's Island is an immersive wonderland of lights. Photo courtesy of Magical Winter Nights
LuminoCity Festival — Randall's Island
Randall's Island Park
Weekends November 23–December 15, daily Friday, December 20–Sunday, January 5, 2020
$9 for children ages 3-12, $38 and up for adults. Children under 3 are FREE.
From the organizers of Houston's Magical Winter Lights, LuminoCity is a brand-new holiday lantern show in NYC for 2019, with 12 acres of illuminated lanterns, plus a holiday market, food vendors, and live performances. The experience is organized into three sections: Winter Fantasy (an arctic wonderland), Wild Adventure (rain forests and jungles), and Sweet Dream (holiday desserts and tasty fantasies). Attractions include a Christmas tree that's visible for miles, dinosaurs near a roaring volcano, a unicorn you can walk through, lollipop land, a glowing doughnut tunnel, and a climbable castle with a slide. A few elements that set LuminoCity apart from other lantern fests: The mascot, Lumi, who helps guide families through the sights as his story is broadcast through speakers in multiple languages. (Yes, there's an actual Lumi costumed character to meet, and kids can pick up a passport to get stamped along their journey.) In addition, there will be four theme nights, including Cosplay All Day, which should bring out some pretty awesome get-ups. The attraction is completely accessible, and strollers are allowed.
An optional VIP package for $88 per person includes express check-in, refreshments, and a dinosaur ride. The event is reachable by car (though parking is limited and costs extra), by the M35 bus, or by a $5 shuttle service from 125th Street and Third Avenue. Shuttle information and more transportation details are available on the official website.
RELATED: 21 NYC Holiday Experiences Every Kid Should Get to Try At Least Once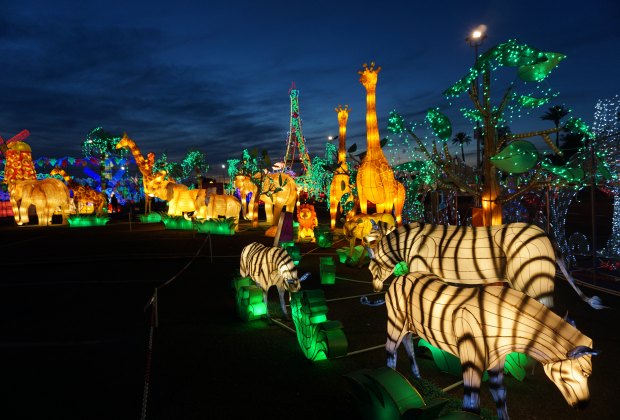 Experience giant light sculptures and a wide variety of activities at the Hello Panda Festival. Photo courtesy of CPAA North America
Hello Panda Festival — Flushing Meadows Corona Park, Queens
Citi Field
123-01 Roosevelt Avenue
Friday, December 6–Sunday, January 26, 2020
$22-$25 for children ages 3-12, $25-$28 for adults. Children under 3 are FREE. Check Goldstar for discounted tickets.
Hello Panda (which is also mounting lantern festivals in the Catskills and New Jersey this year) bills itself as the largest holiday lantern event of its kind in North America. The numbers certainly impress: Spanning 700,000 square feet, the fest will showcase more than 120 handcrafted installations organized into six themed sections: Dream World, Holiday Wonderland, Discovery Zone, Interactive Music Zone, Sports World, and Community Interactive Zone. Highlights include the world's tallest Christmas tree lantern, life-size dinos and safari animals, a giant fairy-tale castle, and a 98-foot-long light tunnel. But there are lots of other attractions promised, too, all in heated tents, including 60 food vendors, live performances, art exhibits, a holiday market, and even VR games. (That last one makes me worry kids may run off and not even bother with the lanterns!) While you can drive to the stadium for the event, parking costs extra, and the 7 subway to the Mets-Willets Point station stops right outside, as well as multiple Queens bus lines. Full transportation details are available on the official website.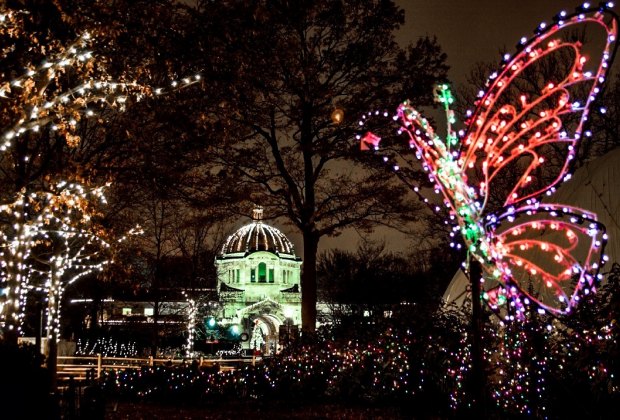 Animal lanterns and illuminated decorations will light your way throughout the Bronx Zoo. Photo courtesy of the zoo
Holiday Lights at the Bronx Zoo — Bronx Park, The Bronx
Bronx Zoo
2300 Southern Boulevard
Thursday, November 21–Sunday, November 24, Friday, November 29–Tuesday, December 31, and January 3–5, 2020
$23 for children ages 3-12, $30 for adults. Children under 3 are FREE.

While this isn't a dedicated holiday lantern festival, this year's reboot of the zoo's seasonal lights show—returning after a 10 year hiatus with green-certified lights—will include illuminated animal lanterns in its wildlife-themed LED displays. Read about what else you'll see at the highly anticipated relaunch of this annual favorite. The event is accessible via car (though parking costs extra), the 2 subway to the Pelham Parkway, and multiple Bronx buses. Additional transportation details are available on the official website.