Single-Day Camps and Classes in NYC You Can Book Today
6/13/23
- By
Diana Kim
Between the end of the school year and the start of summer camp, families often need classes and activities that offer last-minute, drop-in options or single-day summer camps to keep kids busy. We've rounded up eight local summer camps and classes that offer programming during this time and give parents lots of scheduling flexibility, so you can sign up at the last minute. Lest you think this list is just for summer camp, keep it handy: Many offer of these single-day summer camps also offer programming during the random days off that pepper the NYC public school calendar. There's even a cool workspace on the list that provides childcare and kids' activities while parents get some work done.
If you need more coverage than these one-day summer camps and classes offer, bookmark our Summer Camp Guide and NYC Camp Directory, where you can search for summer camps in NYC by type, age, and neighborhood.
Subscribe to our newsletters to get stories like this delivered directly to your inbox.



Drop in on a variety of classes at the Art Farm.
Top Single-Day, Last-Minute Summer Camps in NYC
This unique learning center is nature-focused and features New York's only indoor petting zoo. Children are provided with the opportunity to engage with bunnies, birds, bearded dragons, tortoises, chinchillas, chickens, and more. The Art Farm offers a variety of drop-in classes for kids ages 6 months to 8 years old. Kids can drop in to play in the petting zoo, take music or cooking classes, or participate in arts and crafts.
2. Brooklearn – Cobble Hill, Brooklyn
This children's play space, opened by a local mom, offers camps during school holidays. The space includes a climbing wall, gymnastics mats, a trampoline, a foam pit, a jungle gym, an art station, and a children's library. There are also lots of drop-in classes available for toddlers and the preschool set.
RELATED: Free and Cheap Summer Camps in NYC for Kids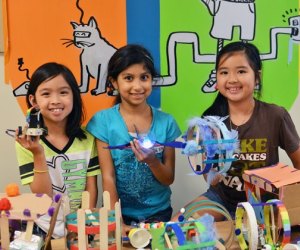 Brooklyn Robot Foundry offers single-day classes for a day of fun and robot-making!
Kids love these classes where they get to tinker and make robots. Foundry Fundays are the perfect solution to school holidays. These single-day classes give students the chance to build a featured robot as well as participate in games, crafts, and free play. Another great feature is that the fees at the Brooklyn Robot Foundry are on a sliding scale based on household income. Brooklyn Robot Foundry is set to open a Manhattan location soon. Follow it on Facebook for updates.
Young artists can tap into their creativity and work on various art projects, hone their art techniques, learn about famous artists, and practice French or Spanish. Summer camps are up and running and you can choose from daily and weekly options.
RELATED: Top Sports Summer Camps in NYC

The Craft Studio offers single-day drop-in options for camps, including half or full-day options and walk-in crafting sessions.
Kids who love working with their hands and getting creative have a blast at The Craft Studio. The Craft Studio offers flexible mini-camps before the official end of the public school calendar. Book a camp for a single day or a full week for two or four hours. These camps run multiple days throughout the year. There's also the option to walk in and grab a crafting table based on availability.
6. Playday – Multiple Locations
Playday offers various art classes and creative programs including painting, sculpture, drawing, and printmaking. With locations in Brooklyn, the Upper West Side, and Long Island, Playday offers families convenient scheduling and flexible booking options throughout the year. Classes are also available during school holidays. Choose from hourly classes or full- and half-day sessions.
RELATED: Free Summer Sports and Outdoor Programs in NYC for Kids

Steve & Kate's offers camps with no commitment—send your kids for a day or a week, at multiple locations.
This is the camp where kids choose all their activities, from options like sewing, stop-motion animation, cooking, music, sports, art, and more. What's great about this camp is the flexibility—choose any number of days and use them anytime, at any location, and the camp will refund any unused days. Lunch and snacks are included and the full day runs from 8am-6pm. Many of the New York locations hold camps during the annual gap weeks before the start of school when a lot of other camps have closed.
8. Work & Tot – Forest Hills, Queens
Work & Tot is an innovative space created for parents by a parent. It functions as a workspace for parents while providing a nurturing environment for their kids under the supervision of carefully vetted caregivers. Camps are offered most days school is out and can be booked by the day, week, or month. Half-day and full-day options are available. Parents are welcome to stay and work during camp hours. Passes and memberships are available, and children are admitted on a rolling basis depending on availability.
Photos courtesy of the camps/classes
t Click Here to Sign Up!