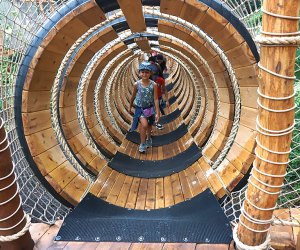 7 New Summer Camps for NYC Kids in 2018
There may be snowflakes a flying, but it's officially summer camp searching season in New York City. While the metro area and surrounding suburbs don't lack for choices, there's always something new on the horizon for our kids!
In 2018, we've found a number of new summer camps, from cooking to outdoor nature and even coding and science. Without further ado, we present seven new this year camps for city kids.
Sign up for our FREE newsletters to get posts like this delivered to your inbox.
Wild Adventure: Nature Trekkers – Bronx Park, the Bronx
2300 Southern Boulevard
Multiple one-week sessions in July and August
Ages 5–8
Centered around its wildly popular (and new last summer) attraction the Nature Trek, this camp invites kindergartners through second graders to get down and dirty on the grounds of the Bronx Zoo. Not only will campers get plenty of time to play in the Nature Trek, they'll also make mud pies, build forts, and, of course, get some face time with the zoo's animal ambassadors. Art and creative play are incorporated into each day, giving kids a whole new appreciation for this conservation institution.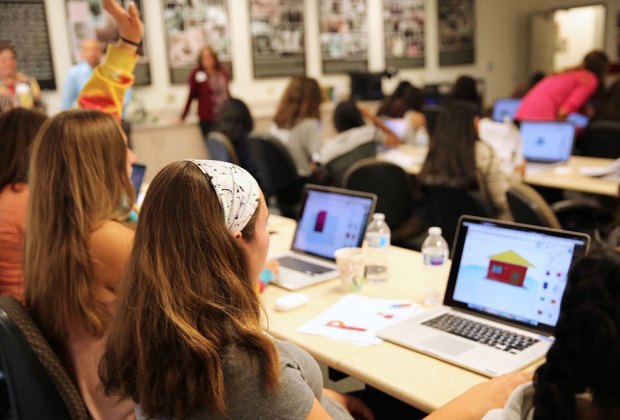 Getting a jump-start on computer skills: always a good idea. Photo courtesy of Girls Who Code
Girls Who Code: Campus – Various Locations
Multiple locations in Manhattan, Brooklyn, and the Bronx
Multiple two-week sessions; June 18–August 3
Ages 10–18
We've long touted Girls Who Code's FREE summer-long sessions, but this new camp from the renowned tech-teaching giant delivers concentrated computer science classes to girls at five area schools in two-week sessions throughout June, July, and August. Girls can register for courses in iPhone App Development, Wearable Tech & Fashion Design, and Intro to Computer Science. Twenty percent of the seats are set aside for scholarship applicants. Need-based awards are available on a first-come, first-served basis. The camp is also offering a $50 off promo through Mommy Poppins' Camp Directory.
RELATED: Coding for Kids: Free Websites That Teach Kids Programming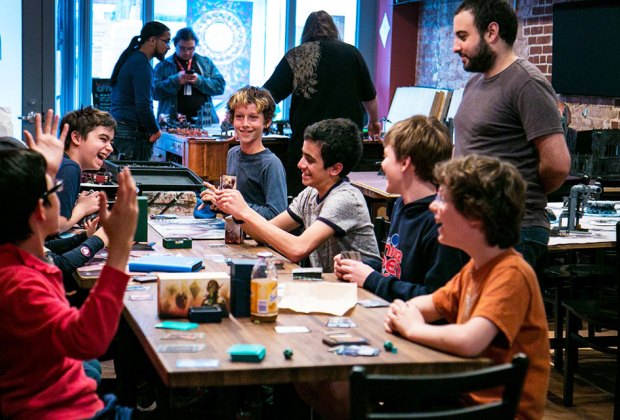 Game lovers in their element on the Upper West Side. Photo courtesy of Hex and Co.
Hex & Company – Upper West Side
2871 Broadway
June 18–August 31
Ages 6 & older
This board-game Mecca and cafe earned rave reviews from our editor and her all-ages crew when they visited late last year. For kids who can't get enough scheming and game play, Hex & Company's summer camp will be a welcome relief for parents less equipped to understand all the rules and role playing! Sessions are available by the day or week and can also be booked in full- or half-day sessions. Mornings begin with workshops in Creative Game Design, where kids can dream up a game of their own and then challenge other campers to a duel. Open play with a curated selection of games is also offered. In the afternoons, campers can pick from a variety of games such as role-playing, league or tournament play, and wargaming, where they assemble and paint pieces to use in play. Lunch from the on-site cafe is included for full-day campers, and everyone gets a morning and afternoon snack. Outdoor play helps kids run out some of their energy, too. Extended-day hours are available, too.
NY Aquarium Ocean Wonders: Exhibit Design Camp – Coney Island, Brooklyn
602 Surf Avenue
Multiple one-week camps in July and August
Ages 8–10
The new Ocean Wonders: Sharks exhibit is set to open to the public at the New York Aquarium this summer, and we can hardly wait. Campers at the Aquarium will draw inspiration from the new exhibit as a jumping off point to design an exhibit of their own, which they will then test. As an added bonus, enrollees at this camp and every other NY Aquarium camp get exclusive early-morning access to the new exhibit; a major perk considering how popular we anticipate it will be. Other activities include daily beach visits, games, crafts, chats with keepers, face time with animals, and more.
RELATED: Free and Almost Free NYC Summer Camp Options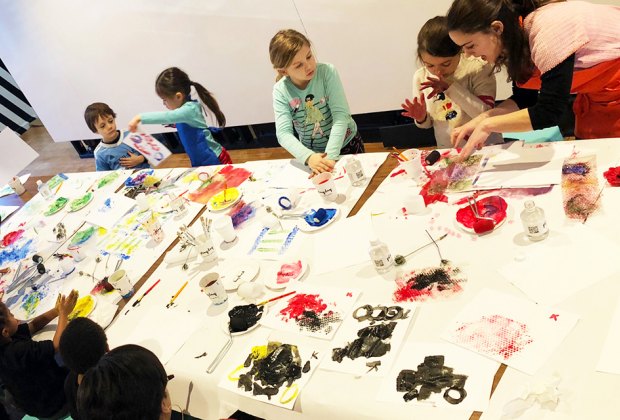 The messier the better! Photo courtesy of Playday
Playday – Long Island City, Queens
5-37 51st Avenue
Multiple two-week sessions in July and August
Ages 4–12
If you've got kids of different ages, listen up: Not only does this creative camp accommodate (nearly) all-ages, it does so with a killer (50 percent off!) sibling discount. Beyond those perks, however, your kids are in for an amazing artistic adventure at this artistic haven. Mornings will begin with open play where kids can try their hand at ping-pong or chess, or romp in the 1,000-square-foot backyard that is currently being transformed into an outdoor classroom complete with a zen-garden sandbox, space for large-scale sculptures, and a spot to practice the fine citified art of graffiti. Each day will also include a guided activity lead by the site's teaching artists. There will be weekly museum field trips—sometimes at week's end after studying a particular artist or style, other times early on in the week to build inspiration and motivation for the week ahead. Registration details will be online soon, but if you're anxious to sign up, call 844-PLAY-DAY.
While the following two programs don't fill the void for the entire summer, we felt they were worth including for the unique problems they address:
Camp Intrepid — Hells Kitchen
West 46th Street & 12th Avenue
Daily or weekly sessions, June 25-July 6
Ages 5–10
The beginning of the summer is always tricky for parents, and with the Fourth of July falling on a Wednesday this year, it's particularly difficult to find coverage for the kids during the holiday week. Camp Intrepid has you covered, offering daily sessions for the first time. Its Full Steam Ahead-themed camp focuses on things that go, and each day brings a new mode of transportation to explore. From submarines to rockets, it will be a daily dose of out-of-this world fun.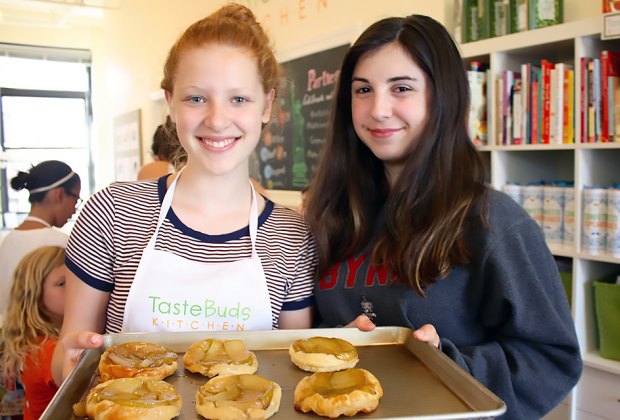 Teens test out their kitchen skills. Photo Courtesy of Taste Buds
Advanced Teen Camp — Chelsea
109 West 27th Street
Weekly sessions in June, July, and August
Ages 13–17
Teens are always a hard-to-please crowd come summer, and while they're old enough that they don't need full-time care, you don't want them left to their own (digital) devices all day, either. Enter Taste Buds Kitchen's Advanced Teen Camp, where they get boot-camp like training in the kitchen. Camps begin with lessons in how to wield a knife like a pro. Each day focuses on a new cuisine, and by week's end, small groups plan a sit-down meal. Your kid will leave with an apron, a box of recipes, and plenty of confidence to cook your next family dinner. It's hard to argue with that!
Need more summer camp ideas? Visit our NYC Summer Camps Guide for tons of other options, including February and spring break camps.
Top photo of the Bronx Zoo's Nature Trek by the author