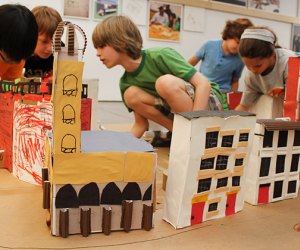 8 New Summer Camps for NYC Kids in 2017
Does the summer camp search already have you stressed? While there's no need to panic just yet, it's definitely the right time to start your search, as New York City's most popular picks start to fill up with repeat customers and parents eager to catch those early-bird specials.
If you're looking to narrow down your search a bit, take a peek at these eight summer camps that are featuring new programming or locations—or that are just plain new in 2017. You can't go wrong with one of these fresh and exciting offerings.
Looking for even more ideas? Take a look at our Summer Camp Guide or browse our directory, and don't forget about those ongoing camp open houses.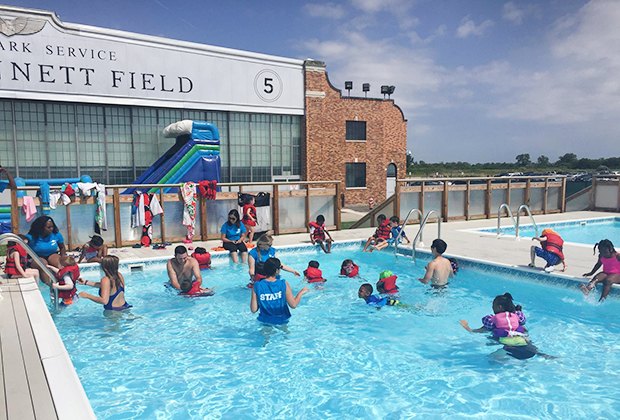 Supervised swimming is just one of a number of sports options at Aviator in Brooklyn.
New Programs at Aviator Summer Camps — Marine Park, Brooklyn
3159 Flatbush Avenue
Ages 3-14
June 29-August 25
This massive Brooklyn day camp is housed in a 175,000-square-foot indoor sports, entertainment, and recreation complex, with 35 additional acres of land space for outdoor events. Campers are divided into four divisions—Junior Camp, Younger Division, Older Division, and Teen Division—and cycle through a schedule of five activities per day, from cooking to go-karts, and even nap time for the youngest. This summer, Aviator is adding to an already diverse curriculum music, photography/videography, yoga and meditation, specialized swim instruction, nature walks, STEM classes, and field trips. New event days include Color War, Carnival Day, and Visiting Day. Rising 10th- and 11th-graders can join the new CIT program, which builds leadership and independence and is a great addition to any college application.
New Camps at the Center for Architecture — Greenwich Village
536 LaGuardia Place
For kids entering grades 3-12 in the fall
June 19-August 25
The Center for Architecture offers weeklong Summer@theCenter programs exploring architecture and design topics through art and building activities, design challenges, and field trips. While it's hard to play favorites when it comes to the long list of new courses this summer, we're wishing we could trade in our morning commute for "Below the Streets: Subway Architecture," which examines some of the city's newest stops and encourages kids to imagine and design NYC's transportation system of the the future. If you have a young Hamilton fanatic at home, then "Hamilton's New York" is an easy choice. Students have a chance to tour the Founding Father's estate and Aaron Burr's home, then build a model of their favorite. Campers in all programs are required to bring lunches daily; a limited number of need-based partial scholarships are available.
New locations at CinemaKidz — Brooklyn Heights, Midtown East
245 Clinton Avenue, Brooklyn
34th Street and Lexington Avenue
Ages 5-15
July 6-August 25
Raising a budding filmmaker? Consider this summer experience, where children test their imaginations and are introduced to the technology of filmmaking. In one of three hands-on programs kids learn to create music videos, documentaries, scripted films and commercials. In the Adventure in Animation program, kids are introduced to stop-motion animation, creating narratives with Legos, Play-Doh and more. In Cinessentials, they learn the fundamentals of filmmaking and are introduced to screenwriting. In NYC Movie Adventurers, kids discover some of the city's most secret filming locations, using cameras outside on the go. The Williamsburg-based STEM spot, which also hosts after-school classes and birthday parties, added a Midtown and Brooklyn Heights summer camp for 2017.
Theater Camp at the McBurney YMCA — Greenwich Village
116 West 11th Street
Ages 4-16 year olds
July 3-August 25
YMCAs host camps across New York City and beyond. This year, the McBurney YMCA is rolling out Musical Theater Camp with TADA! Youth Theater for your showtunes-loving little ones. Here, kids take a skills-building class focused on singing, acting, and dancing. There is also a robotics camp for budding engineers, using Lego equipment and software. And finally, McBurney is unveiling a game design camp, at which participants create interactive video games using their imaginations and coding skills taught by professionals. When campers aren't focused on programming, they can participate in traditional activities including sports, swimming, arts programs, and field trips. Each session is two weeks, and parents will appreciate the 10 percent early-bird and sibling discounts.
RELATED: Free and Inexpensive Summer Camps for NYC Kids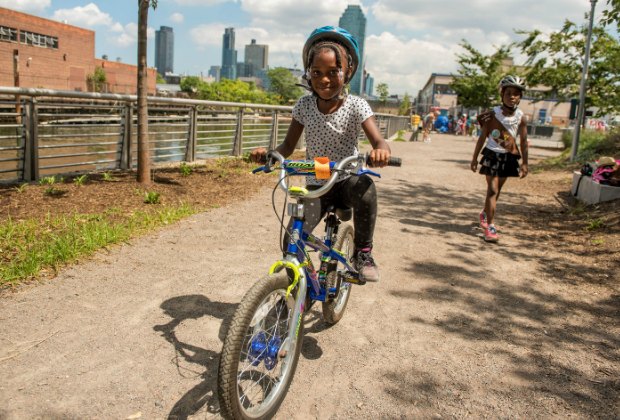 The new Girl Scouts camp offers in-city adventures and thrice weekly day trips.
Girl Scouts City Summer Camp — Brooklyn Heights, Upper West Side
75 Hicks Street, Brooklyn
225 West 99th Street
Grades 1-4
July 10-September 1
Last year, the Girl Scouts introduced its Urban Day Camp for NYC kids, and this year it expands the program to locations within all five boroughs. But it is also introducing a brand-new City Summer Camp in Downtown Brooklyn, and the Upper West Side. True to the Girl Scouts paradigm, leadership, service, and discovery are emphasized in this summer experience. So is adventure as the campers make visits to partner organizations throughout the five boroughs and are challenged every day to cultivate their STEAM (Science, Technology, Engineering, Arts, and Math) skills. Community service projects, including oyster farming and other eco-projects, work with local animal shelters, and more train girls to be responsible citizens. Swimming lessons happen weekly. Sessions run weekly and campers can register for discounted multiweek sessions. Daily attendance on select days beginning July 5 is also an option.
International Ivy Summer Enrichment Program — Various locations
416 East 80th Street, 150 West 83rd Street, 324 West 15th Street
Ages 5-15
June 26-August 18
Already a hit across New Jersey, this organization is making a big splash in NYC this summer with locations on the Upper East Side, Upper West Side, and in Chelsea/Greenwich Village. International Ivy's program promotes creativity and hands-on learning. If your child hasn't settled on a passion, he or she will love the chance to choose from more than 70 established classes, including robotics, video game creation, computer programming, science, math, Minecraft, and more. New offerings include classes in-app design, canvas painting, comic creation, electrical engineering, and even spy skills. Families can enroll for a single week or for multiple weeks, and both half-day and full-day options are available.
Full Day Kick It Camp — Manhattan, Brooklyn, Queens
Camps in all five boroughs
Ages 6-12
Mid-June-September 1 (dates vary by locations)
If you have an aspiring athlete, you'll be happy to know Super Soccer Stars now offers a full-day Kick It Camp (9am-1pm with extended day option). This new program focuses on individual footwork, technical development, and small-sided games, and is designed to let campers learn at their own pace. Each session ends with an epic World Cup-like tournament, where kids have a chance to put their newly learned skills to the test. Camps are offered at parks and schools across the city. The full day offering and extended day option varies by location. For players 2½-5, there are a number of additional summer options, including indoor mini-camps, Fun in the Sun Camps, and Junior Kick It Camps. These camps meet for 2 to 2½ hours and are a great way for little ones to build their skills.
RELATED: Summer Camps for Brooklyn and Queens Preschoolers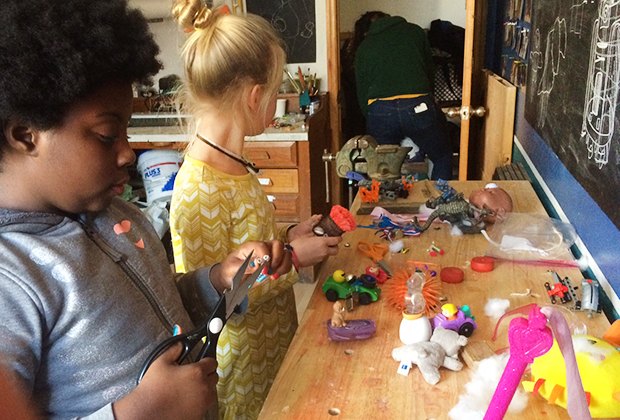 Little ones can empower their imaginations at Tinkering School.
Tinkering School Summer Camp — Park Slope, Brooklyn
545 Fifth Avenue
Kindergarten to eighth grade
July 31-August 25
Developed in California by Brightworks founder Gever Tulley, Tinkering School is an educational program new to NYC. The curriculum assumes kids are more capable than they know, so instructors empower them with real tools, independence, and plenty of space to succeed or fail, with the idea that they're learning just as much from both. Perfect for crafty kids and problem-solvers alike, tinkerers work with wood, metal, cardboard, and paint to create projects bigger than anything they thought they'd be able to build. Parents can expect campers to come home excitedly talking about dropping paint-filled water balloons onto a canvas from the ceiling rafters or constructing 10 feet of functioning roller coaster track. Every week is different and each session is new, so parents can sign up again and again. Half-day and extended-day options are available, as are scholarships and payment plans.
Top photo: Channel your inner engineer at Summer@theCenter camps at the Center for Architecture. Photos courtesy of the camps.