SPONSORED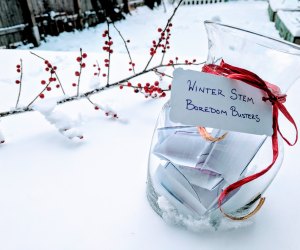 Beat Winter Boredom with 8 Awesome STEM Activities
Winter days can leave families in need of fun indoor activities. We worked with Sylvan Learning, a leader in STEM education for kids, to develop ideas for a "boredom buster" jar full of STEM activities. Each fun project is super simple and includes concrete STEM educational tips to bring the learning home. That's what we love about Sylvan EDGE programs; the educators at Sylvan Learning always make sure that the kids go home understanding important STEM concepts while having fun doing it.
To make your STEM activities boredom busters jar just print out the downloadable sheets, cut out the activity cards, fold and place in a jar or bowl. Any time the kids get restless or need a screen time break, just pull an activity out for some at-home fun. Note: Some of these activities do take some preparation, so make sure to gather your materials—including freezing your colored ice sculpture shapes—in advance so you are ready to go when boredom calls...or whines, as the case may be.
RELATED: Find hundreds of activities in our Boredom Buster Guide.
Thanks to Sylvan EDGE for helping us create these STEM activities to start getting your kids involved in STEM education. While home activities are great, Sylvan offers six EDGE programs for kids from grades 1 to 8 in Robotics for Kids, Engineering, Coding for Kids, Math EDGE, plus Sylvan EDGE Camps.
Download our free Winter STEM Boredom Busters printables here.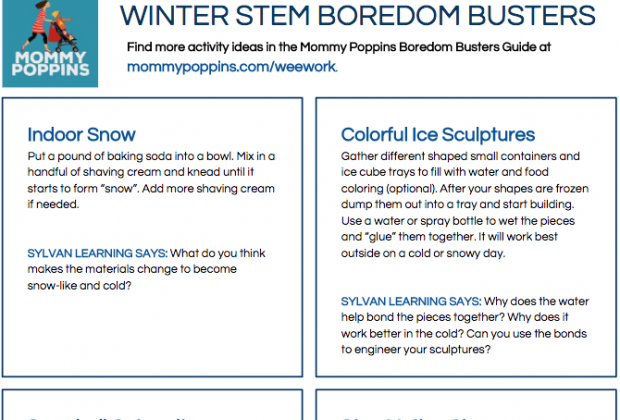 Materials List:
white glue
silver glitter
liquid starch
crayons and paper
watercolors and brush
bubbles and bubble wand
ice cube and other small containers
string
1 lb baking soda
shaving cream
popsicle sticks
rubber bands
plastic spoon
Want more STEM? At Sylvan EDGE kids can make robots, engineer bridges, code their own games and much more with the help of educators who will ensure they come away with a concrete understanding of the STEM principles they need for today's world. Sylvan Learning Centers can be found nationwide. Find the location nearest you.