21 Wacky Ways to Celebrate Dr. Seuss' Birthday with Kids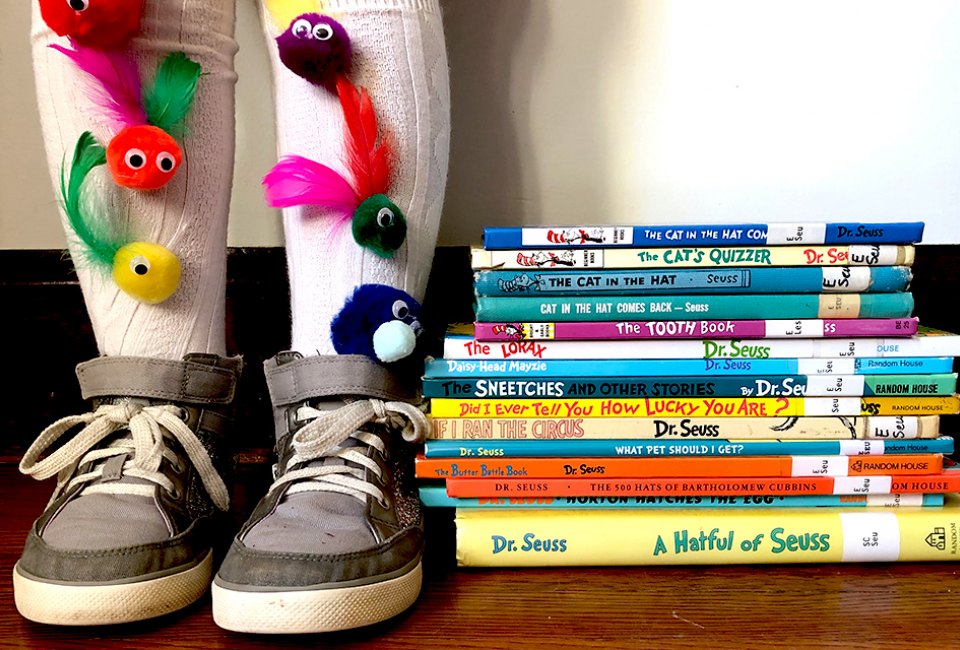 2/18/19
- By
Ally Noel
"If we didn't have birthdays, you wouldn't be you. If you'd never been born, well then what would you do?" Thank goodness Dr. Seuss' birthday comes once a year—and it always gives us great reason to cheer!
On March 2, we'll celebrate literacy and Seuss with fun crafts, treats, and other activities in honor of the literary rhyming master. Dr. Seuss' birthday kicks off a nationwide reading celebration known as Read Across America Day. Schools, libraries, and community centers across the country observe the day with read-alouds, crafts, and Seuss-a-rific treats!
Use this list of 21 zany activities to commemorate the day at home with the kids. Whether you want to start it off with some green eggs and ham or plan your next family vacation to the birthplace of Dr. Seuss himself, there is something for everyone on this list of Dr. Seuss-themed crafts, recipes, and activities—no matter how small.
1. Turn those old worn-out socks into wacky socks! Glue pom-poms, feathers, and googly eyes onto a set of socks—the crazier the better!
2. Unleash your inner Susie Who, and get crazy with your hair.
RELATED: 50 Easy Science Experiments To Try with Kids at Home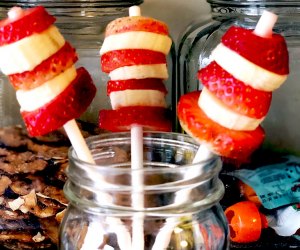 Colorful snacks inspired by a certain cat are sure to be gobbled up.
3. Stack slices of banana and strawberries on a skewer to create the iconic red and white striped hat famously worn by that Cat.
4. Bartholomew may have tried to save his kingdom from the dreaded slimy Oobleck, but your kid will love making it.
5. Red food coloring, vegetable oil, and a pipette are all you need to get started with Cat in the Hat Science.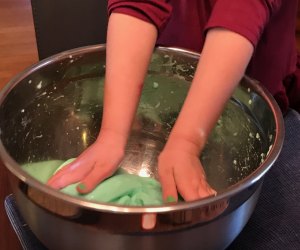 Get hands gooey in green slime. Photo by Rose Gordon Sala
6. Use green food coloring to turn any slime recipe green.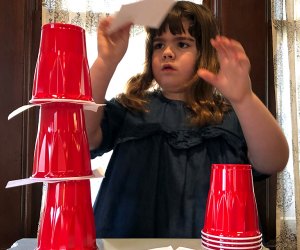 Stack those party "hats!"
7. Part engineering, part fun, and a whole lot of perseverance! See how high you can stack your hats using squares of white paper and red party cups.
8. Make Horton hand art, or red fish-blue fish prints with these post-read tutorials.
9. Pin the heart on the Grinch is a fun twist on a classic party game.

Breakfast is served! Would you like them here or there?
10. Kick off your day by making green eggs and ham for the family breakfast du jour. Mix in a little minced cilantro, pureed spinach, or even food coloring to get those scrambled eggs looking green.
11. Hunker down for a Dr. Seuss read-a-thon and try to see how many times your tongue gets tied while reading Fox in Sox!
12. One fish, two fish, red fish, blue...Jell-O! Fill cups with blue Jell-O, and then place a candied Swedish fish or two in to create the perfect Seussical snack.
13. Plan a pilgrimage to the Amazing World of Dr. Seuss, a wonderful children's museum in Springfield, Massachusetts.
RELATED: 25 Exercise Games and Indoor Activities To Get Kids Moving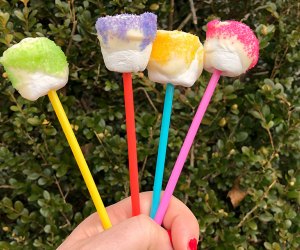 Snack on these sweet Truffula trees after reading The Lorax together.
14. Candy melts, marshmallows, colored sugar, and a straw are all you need to create these adorable marshmallow Truffula trees from Dr. Seuss' The Lorax. Simply dip a marshmallow into candy melts and decorate to create this whimsical forest.
15. Truffula tree pose? Cat stretch? Fish pose? Check out some awesome Seuss-inspired yoga moves.
16. We've all heard of the Wocket in your Pocket, but do you know how to make a Zamp in your lamp?
17. This Lorax sensory bottle is a perfect way to introduce toddlers to Seuss.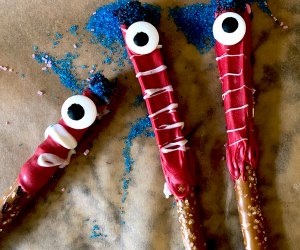 Thing One and Thing Two are turned into snackable, one-eyed bites!
18. "These Things will not bite you. They want to have fun." But you can take a bite out of this pretzel-filled Thing Two and Thing One! Create these things by covering pretzel rods with red and white chocolate and a sprinkle of blue sugar on top. Add a candy eye to complete the look.
19. Visit Seussville, the online home for all things Seuss, where you can find lots of activities to share with toddlers and computer games for school-aged kids.
20. "A person's a person, no matter how small." So encourage your person to write a poem in the lyrical style of Dr. Seuss. As poems tend to be short, it's actually a good early writing exercise for little ones.
21. Libraries across the country will be participating in this nationwide celebration. Check out your local library's calendar (or the Mommy Poppins event calendar) to find out how they are partying.
Find out more about the Read Across America program at the National Education Association's site.
All photos by the author unless otherwise noted