Family Dance Party: A NYC Kindie Band Playlist for Kids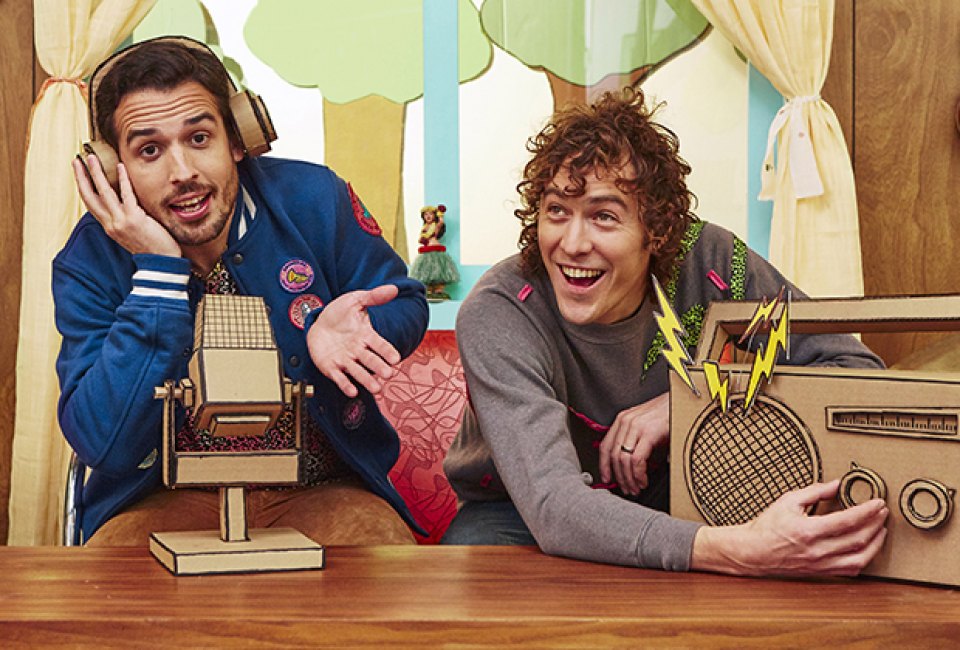 1/31/17
- By
Mona Kayhan
There's no doubt about it: The kindie band movement is thriving in New York City. Although I make it a point to expose my son to kid-friendly "grown-up" music, I also have a soft spot for kindie bands—even hopping on the bandwagon and heading Putumayo Kids and producing Kindiefest, Brooklyn's Family Music Conference.

For those of you new to the kindie music scene—or well-versed but looking for some variety—I've pulled together a curated list of my top picks for NYC-based artists available for streaming on both Pandora and Spotify. Of course, these artists reflect the multicultural city that New York is and draw on their many diverse backgrounds, producing bilingual and global tunes.
Got a little music fan? Find upcoming NYC kindie band concerts, including these artists below, in our Event Calendar, or check out these parent and me baby music classes. The big kids might consider music camp, too!
While I am an advocate of supporting local kindie artists by buying their albums directly, streaming music is a great way to explore new music and find tunes you and your little ones will love. All of these artists can be found on Pandora, Spotify, and Apple Music, so give them a listen, then snag your favorite bands' albums, support them on social media, and attend an upcoming concert!

Apple Music and Spotify offer on-demand listening—search for a song, album, or artist and hit play. You can also browse and create stations based on particular artists. To help give you a taste of what to expect, I've even created a Spotify playlist featuring a track from each artist.

Check out our NYC Kindie Music Playlist.
Although Pandora does not have an on-demand option, it does a pretty good job of creating stations with a similar sound and sensibility as the song or artist your enter. I find it to be a nice alternative to hearing an album from start to finish—and it's a good way to check out bands or songs you've never heard before.
Top NYC Kindie Bands Found on Streaming Services
Tim Kubart
This Grammy winner is a kindie pop-star who plays throughout NYC with his backing band, The Space Cadets, and also hosts the live morning show for preschoolers, Sunny Side Up, on NBCUniversal's Sprout channel. His music is shiny, pop-centric, and guaranteed to get your toddler up and playing along with his/her air guitar.
The Laurie Berkner Band
Known as "The Queen of Children's Music," Laurie was one of the first kindie artists on the scene back in the late 1990s and continues to delight families with her multitude of albums consisting of sing-along-able, preschool-friendly lyrics bursting with rainbows and sunshine. Laurie is also an accomplished author, with her newest title, We are the Dinosaurs, due out this year.
Moona Luna
Moona Luna is one of NYC's bilingual bands that has descended upon the family music scene with their accordion-driven, Latin party-inspired sound. Songwriter and bandleader, Sandra Velasquez, puts together English and Spanish lyrics for each song while celebrating their Latin roots. Their live shows are engaging and always full of opportunities to sing along in both Spanish and English.
RELATED: 99 Sensory Activities for Any Child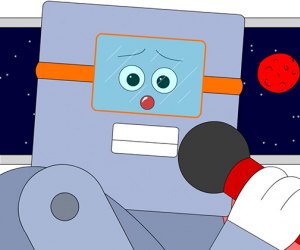 The Pop Ups also have a bunch of super fun videos online.
The Pop Ups
A collaboration between Brooklyn musicians Jason Rabinowitz and Jacob Stein, The Pop Ups have been raising the kindie music standard since 2010. Their rock-and-roll meets pop sensibility and upbeat, creative lyrics are accompanied by crazy props and puppets during live shows, which I highly recommend. They also have an awesome video series online, which you can let your preschooler get hooked on guilt-free as it's chock-full of edutainment.
Dan Zanes and Friends
Dan Zanes continues to be donned as the "King of Kindie" with his two-decade long record of making timeless music that the whole family can enjoy. The Grammy Award-winning Brooklynite continues to make multicultural, living-room party music rooted in early rock-and-roll. His live shows include special guests, from his fine friends like Andrew Bird! to a middle school orchestra or dance troupe.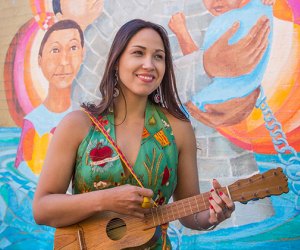 Sonia De Los Santos delivers Mexican folk-influenced tunes in both Spanish and English.
Sonia De Los Santos
This Mexican-American songstress lights up any room or stage with her colorful music which features Spanish and English lyrics, guitar, mandolin, jarana and more. She is also known as one of the main vocalists in the Dan Zanes and Friends band, then debuted as a solo artist with Mi Viaje: De Nuevo León to the New York Island. Her joyful Mexican folk meets kindie music will delight both children and grown-ups of all backgrounds.
Vered
Vered's music hands-down helped get me through the newborn phase when comforting the mother is just as important as the baby! Her music therapy-based undertones feel like a cozy blanket as her lush harmonies and calming vocals take your family through your daily routine, from morning right on through bedtime. Vered is also known for her "Baby In Tune" classes in the NYC area, where parent and baby can learn to use music to increase bonding and even develop routines.
Elena Moon Park & Friends
Elena Moon Park also hails from the Dan Zanes and Friends family, and realized it was time that East Asian music was represented in the family music scene. As a Korean-American born in Tennessee, she used her debut album, Rabbit Days & Dumplings, as a way to reconnect with her roots and introduce families to reimagined folk and children's songs from Korea, Japan, China, Taiwan, and Tibet.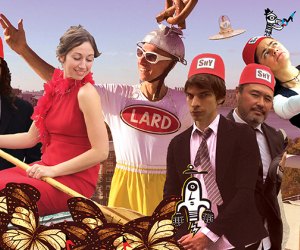 It doesn't get any wackier than Lard Dog.
Lard Dog & The Band of Shy
This theatrical, quirky, story-driven band explodes with props, costumes, audience interaction, and an original sound in the family music scene. Kids will get to know an oddball alien from Belopio and his journey to Earth through the band's catchy tunes. The band's live show, featuring its first-rate, six-piece band is an intergalactic, imaginative production.
Joanie Leeds and the Nightlights
Joanie's eclectic mix of high-energy original music seamlessly journeys through your kids' everyday lives—from going to the beach, chasing ice cream, taking the subway, all while making them feel like a rock star. The high-production value and her adventurous, creative lyrics make Joanie a go-to artist we can listen to for large chunks of time.
Mil's Trills
We love Mil's Trills at home. Led by Amelia Robinson, the music vacillates between reggae and ukulele-driven folk, soul, and funk and brings to life her mission to foster friendships through open minds and compassionate hearts. Hearing your kid singing about being kind, sharing, and loving one another is always a plus.
Top photo: The Pop Ups. Photos courtesy of the bands.
Click Here to Sign Up!
i