The Very Hungry Caterpillar Show
DR2 Theatre

NYC Easter Brunch Cruise 2023
Event Cruises NYC

Easter Fun Cruise with Egg Hunt 2023
Event Cruises NYC
Sign up for our free newsletters.
'American Girl Live' Brings Beloved Characters to the Theater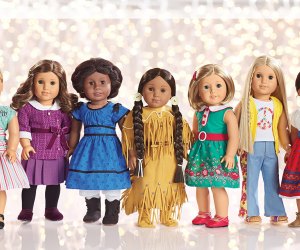 6/11/18
- By
Liz Alterman
For American Girl fans, dressing up the perennially-popular dolls and visiting the store or cafe may be the ultimate treat. But things are about to get even more exciting as the iconic characters take to the stage for the first time in American Girl Live, an all-new musical for kids featuring original songs and wholesome, heartfelt fun.
Although the show won't start touring North America until January 2019, tickets are already on sale for certain shows, including those visiting Mommy Poppins cities and states, including theaters in New Jersey, Pennsylvania, Boston, and Connecticut. (Sounds like tickets to a performance could be the perfect gift this holiday season, Mom and Dad.)
How did this adorable idea come about? The Mattel-owned American Girl partnered with CAA-Mills Entertainment to launch the new production, which is still in the very early stages. Mills Entertainment, which focuses on branded live entertainment, previously delighted young audiences with Daniel Tiger's Neighborhood Live! and other shows.
Taking 'Girl' power to the extreme, American Girl Live will feature an all-female creative team and cast. A representative for Mills Entertainment explained that the production is hiring women to write, direct, produce, and choreograph the show.

American Girl characters, like Melody, are expected to deliver a message of friendship and girl power in the new show.
While it hasn't been announced which characters will take lead roles, it sounds like the performance will carry the same empowering spirit the dolls embody. Characters like Luciana Vega, the Girl of the Year 2018, who loves space and science, and Z Yang, an imaginative filmmaker, encourage confidence and curiosity. Though the tour doesn't begin until winter, the storyline focuses on summertime. According to American Girl's website, audiences are invited to "come along to sleepover camp with some new friends for an exciting summer away from home." The characters will follow their hearts, share their dreams, and learn the power of friendship by lending a hand to one another through story and song.
"We're thrilled to bring a new touring experience to families across the U.S. and offer this unique live-engagement with the brand," said Katy Dickson, president of American Girl, in a press release. "We know girls and their families and friends will love seeing these incredible stories come to life in an exciting, new stage production that offers an unwavering belief in the positive power of girlhood."
And good news for Mom and Dad, while the dolls are welcome to come along and enjoy the show, they don't require their own tickets.
Scheduled upcoming performances are as follows:
January 11-13 at the Bushnell Peforming Arts Center in Hartford, Connecticut
January 17 at Bergen Performing Arts Center, Englewood, New Jersey
January 19 at Mayo Performing Arts Center, Morristown, New Jersey
January 20 at Count Basie Center for the Arts, Red Bank, New Jersey
February 3 at Ridgefield Playhouse, Ridgefield, Connecticut
February 22-24 at Boch Center Shubert Theatre, Boston
VIP experiences vary by market but may include reservations for a pre-show party and a post-show photo opportunity. A representative from Mills Entertainment recommends checking the American Girl website frequently as additional performances will be added as bookings are confirmed.
Photos courtesy of American Girl