Immersion Preschools in Northern and Central New Jersey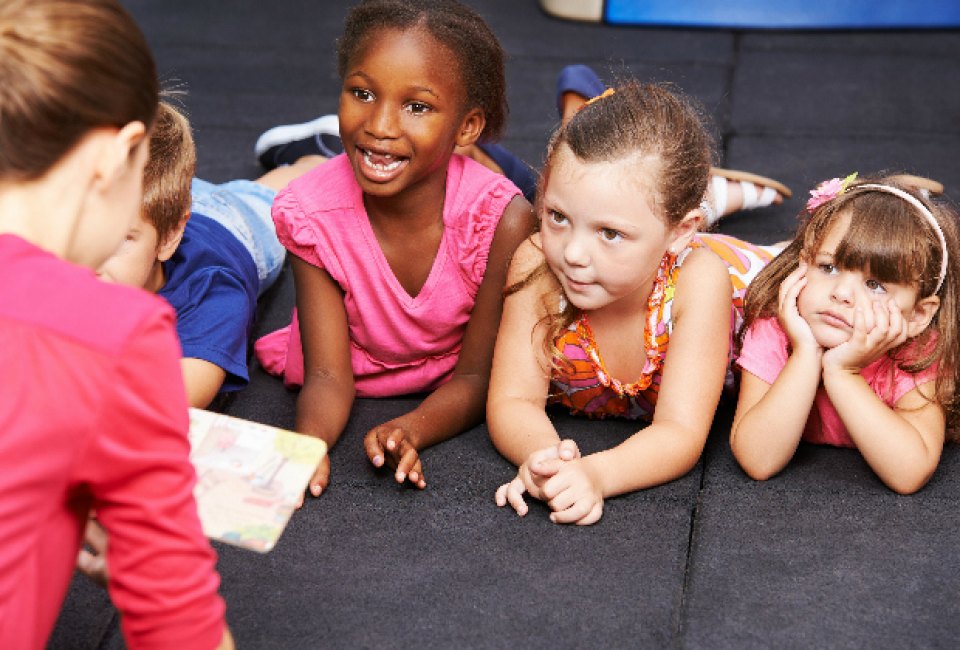 8/24/16
- By
Stephanie Forton
With brains like sponges, preschoolers are the perfect age to begin learning a second language. Studies have shown that kids who learn a second language during the preschool years go on to speak more fluently than those who begin to learn at an older age. In addition, bi-lingual children tend to be more creative, have better critical thinking skills and a better understanding of humanity and culture. One of the reasons young children learn a new language so easily is because they learn through exploration and play. By immersing them in one of these outstanding foreign language preschools, you will be giving them them a lifelong gift that will allow them to succeed in the global economy of tomorrow. If you're looking for some after school language programs for kids of all ages, check out these Language Classes for NJ Kids.
The French American Academy (Locations in New Milford, Morris Plains and Jersey City)
French
The French American Academy offers an early-start gradual immersion, dual language education to students from preschool through 6th grade. This nurturing, progressive school has created a child-centered environment that uses the dual lenses of French and English to inspire and cultivate a love of learning that will last a lifetime. The school's preschool program is focused on three main areas: language, independence and socialization. Fun, daily activities include singing, dancing, painting, drawing, writing and building. An emphasis is placed on making school fun, so that their students become great learners. For a list of upcoming tours, visit the school's website.
Tessa International School (Hoboken)
French and Spanish
Tessa International School's Curriculum focuses on giving children the best tools possible so that they can become happy, successful world citizens and leaders. The school's students benefit from full immersion into a second language. In addition to basic knowledge, including literacy and language arts, the school also offers a social emotional learning program and outstanding math, science and technology classes. The school offers both preschool and kindergarten programs. For more information, or to schedule a visit, call 201-755-5585.
Tessa is currently under construction and will be opening soon. However, they are holding informational sessions and open houses in their offices, two floors above the school. Visit their website for details.
Jump! Immersion School (Locations in Edison, Westfield and Livingston)
Spanish and Mandarin
Jump! Immersion School is a Spanish and Mandarin immersion school for children ages 2-12 years old. The school's preschool programs encompass academic, cultural and cognitive learning. Subjects, including language arts, math, science, social studies and the arts, are taught in two languages.In addition, the school is known for its warm, all-inclusive environment. In addition to language fluency, the school's mission is to foster caring for others and a respect for diversity. To schedule a private tour, call 732-371-2221.
HudsonWay Immersion School (Stirling)
Spanish and Mandarin
HudsonWay Immersion School seeks to transform students, from preschool to fifth grade, into global citizens of the world. Their preschool program sets a good foundation for academic learning in two languages. Their staff members, each a native Spanish or Mandarin speaker, provide students with an early understanding of different cultures. The preschool program program focuses on developing children's social and emotional skills. In addition, students learn how to explore new ideas, follow instructions, cooperate with classmates and work independently. To schedule a private tour, call 908-598-8088.
Italian School New Jersey (Morristown)
Italian
Italian School NJ seeks to provide students with the tools they need to speak, write and read in Italian, while having fun doing so. Their programs integrate small class sizes, a full-immersion teaching philosophy and a highly qualified staff. For preschoolers, the school has developed a play-based curriculum that involves age-appropriate activities and lessons that are taught solely in Italian. The curriculum focuses on building children's vocabulary using songs, games, arts and crafts. Children are also encouraged to express themselves in Italian through a variety of activities including "show and tell" and "pretend plays". The school also offers programs for older children and adults. For more information, call 973-954-1808.
YingHua International School (Princeton)
Chinese
YingHua International School offers a Chinese-English dual language education for children in preschool thru 8th grade. Preschoolers are instructed in Chinese only, giving them a full immersion experience. Those with no Chinese background are welcome at the school. Class sizes are kept small, allowing all students to flourish. The school's mission is to enable academic excellence while preparing students to be compassionate global citizens by facilitating the mastering of both the English and Chinese languages and instilling a passion for lifelong learning. For more information, call 609-375-8015.
Spanish Workshop for Children (Princeton)
Spanish
Preschool classes at the Spanish Workshop take place in a fun-filled atmosphere, allowing children to learn naturally. The school's curriculum integrates storytelling, dramatic play, movement, art and music, while encouraging students to develop second language skills as they explore their world in Spanish. Children take part in a variety of activities that will help them develop their imaginations, self-confidence, motor skills and coordination. Preschool is a half-day, 3 hour, program. In addition, the school offers a 1 hour class, as well as classes and summer camps for toddlers and older children. For more information, call 888-99-NINOS.
French American School (Princeton)
French
The French American School offers a dual-language education for children in preschool through 8th grade. Their preschool program encompasses a wide variety of subjects, taught mostly in French. There is a focus on developing the whole student by fostering creativity, language skills, social skills and academics. Visit their website for a listing of scheduled open houses or contact the Office of Admissions to arrange a private tour.
The Language School (Redbank)
Spanish
The Learning School in Red Bank offers 2-hour group Spanish immersion programs for preschoolers. Taught by a native speaking instructor, the school's full immersion program includes fun activities including circle time, storytelling, arts & crafts, games and music. Students focus on learning numbers and letters, reading, writing and more. The school also offers private, semi-private and small group lessons as well as summer camps in a variety of languages including Russian, Chinese, Japanese, German and French. For more information, call 732-530-0265.
Sign up for the Mommy Poppins Newsletter today!