Lyndhurst Municipal Park: A Playground for NJ Kids of all Ages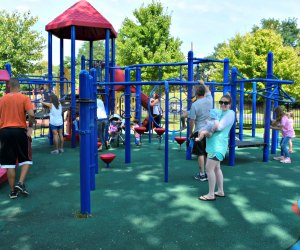 Squeeze in some outdoor recreation before the winter hits by spending the day at Lyndhurst Municipal Park. This sprawling park sits parallel to the Lyndhurst train station, offering parents who commute into Hoboken or NYC a great junction to say goodbye to their little ones or greet them at the end of a busy day. Live out of town? Ride the rails with your kiddos and make a day trip out of it.
The park features an amazing playground with equipment for kids of all ages. During the summer months, the neighboring splash pad is a great way to cool off!
Lyndhurst Municipal Park is a pretty spot for walking, lounging, and playing. Paved pathways make it stroller-friendly, and there's a large fountain surrounded by a low wall that's perfect for a rest. There's also a gazebo and quite a few nice picnic spots in shaded areas, as well as an adjoining amphitheater that hosts the Lyndhurst summer concert series—and, every so often, troupes of kids practicing for school plays or talent shows. In addition to climbing, swinging, and sliding at the playground, kids can play at the handball wall or practice their swish-swish at the basketball courts across the street.
Playground
Lyndhurst Municipal Park's primary-colored playground features three play areas aimed toward various age groups, from toddlers to big kids.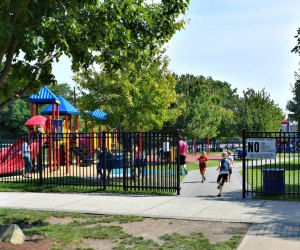 The completely gated park features three play areas geared toward different age groups.
Upon entering the fully gated park (with only one entrance, for tight security), families can venture to three completely different and dynamic play environments—all with varying levels of difficulty and physical skill sets required.
The nearest set, aimed at ages 5-12, boasts a number of slides, bouncy bridges, and tunnels for kids to crawl through. It also features several unique staircases and spiral ladders to climb, so your little ones are never at risk of boredom.
The middle set, called the "Playbooster," caters to the toddler group. This structure looks just as exciting as the other two playgrounds, but is miniaturized so as not to overwhelm or overextend tiny tots. With a tube tunnel close to the ground, a swirly slide, and two straight racing slides, there are infinite opportunities for first-park-experience pictures and "look at me!" moments.
The farthest set, with equipment enviable to even the most-experienced explorers, is a big kid's dream. From the extra-high, steep slides, to the spider web climber, monkey bars, and pendulum-swinging rope course, the options for the older crew are endless.
Everything is bookended by two supporting sets of swings—one for older kids and adults, the other for babies—and extra-long, blue benches where parents and caretakers can relax and supervise. The park is entirely wheelchair-accessible, with newly paved, flat entrances, a smooth, soft-top surface on the playground, and a dedicated swing.
RELATED: New Jersey Playgrounds Cool Enough for Big Kids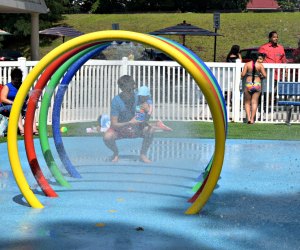 The rainbow circle tunnel cools off little ones with gentle sprays.
Splash Park
If you're already dreaming of summer's return, add Lyndhurst's splash park to your go-list for next year. The adorable, pint-sized splash park, located right nextdoor to the playground, is open from early June through Labor Day weekend. It's not huge, but there are several wonderful ways for your kids to get wet. For adventure-seekers dreaming of getting drenched, the serpent sprayer spews buckets of water from above. For a less intense water romp, the rainbow circle tunnel, with soft-spraying sprinklers, gets two enthusiastic thumbs up! The totally enclosed park is protected by an on-site lifeguard at all times and an attendant who collects $2 from each visitor (you'll get $1 back after you successfully return your wristband).
The adjacent concession stand is a great stop for after-fun refreshments in the summer months.
Nearby Eats
Whether you need a caffeine boost or a quick bite before heading home, there are a bunch of eating options close by, from Dunkin' Donuts to Mr. Bruno's Pizzeria and Mooyah Burgers, Fries & Shakes. And if you have a few extra minutes, make sure to pay a visit to the famous Lyndhurst Pastry Shop—from sampling sweet treats to testing flavors of the best Italian ice, you won't be disappointed by this local landmark.
Parking/Restrooms
Parking spots run parallel to the park, hugging the NJ Transit train track. You can also park in the public shopping center across the street, especially if you'll be doing some TJ Maxx or Dollar Tree shopping before or after your trip to the park. Restrooms aren't far, either; they're right by the snack bar/concession stand.
Photos by the author.