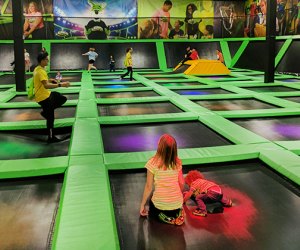 New Indoor Trampoline Park Opens in Deptford, New Jersey
Got energetic kids who are bouncing off the walls at home? Head over the new Launch Trampoline Park in Deptford, where bouncing off walls is highly encouraged!
I recently went to the grand opening weekend with my 3- and 5-year-old boys and had a blast. There is a lot to do, and unlike your average bounce house or indoor playspace, adults can jump right in and participate without feeling out of place.
Here's what you need to know before you go.
This facility is beautiful. It has 15,000 square feet of tramps, is spotless, and has plenty of room for parents to watch their kids. There's also staff everywhere who keep an eye on the action and enforce safety rules, which I was very glad to see.
Owner Jason Avant wouldn't have it any other way. He went through a rigorous hiring process for staff, and safety training is a huge priority. A former professional football player, Avant started to think about his next step toward the end of his playing career. He knew he wanted safe family fun to be a part of it. The answer for the father of three small children was to open the Launch Trampoline Park in Deptford (the family's hometown), a franchise owned by former New England Patriots cornerback Ty Law.
Waivers, Tickets, and Socks
The first two minutes in the facility will be packed with protocol. First, you'll need to stop at a kiosk to fill out waivers for all jumpers. Tip: save some time by submitting yours online before you go.
Launch's ticket system is interesting. You'll pay by the half-hour ($15 for 30 minutes, $20 for 60 minutes), and you'll get a color-coded wristband that enables you to jump at a specific time. Entries onto tramps happen every 15 minutes, and you can reserve a specific time slot in advance online. (Non-jumping chaperones are free, but they still need to sign in.)
My family didn't reserve ahead of time, but we were put into the first available slot, which happened to be 10 minutes after our arrival. Nice!
If you do reserve tickets in advance—which is probably a good idea during prime birthday party time—be warned: don't arrive late! If you come at 3:45 to pick up your 3:30–4:30 ticket, the facility won't add 15 minutes to the end of your ticket. You'll have to enter your session in progress, sort of like arriving late to a movie theater.
As for footwear, all jumpers must purchase and wear Launch-issued gripper socks for safety. They cost $2 – $3.50, depending on style. You can bring your Launch socks with you for return trips.
RELATED: NJ Kids Get Aerial at Indoor Trampoline and Bounce Houses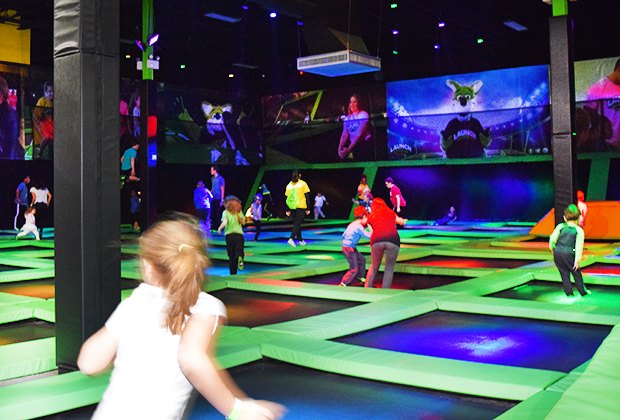 Time to Jump!
Once our shoes were off and our coats stored away (there are free cubbies and lockers for rent), we were ready to launch.
Our first stop was the huge grid of tramps, where one jumper is allowed per tramp. Jumpers can walk from tramp to tramp on bumpers between them. For older kids, some areas have ramps and wall tramps to bounce off. My kids loved a special area of tramps with a crash pad at the end of it, which is intended for kids to flip, dive, or jump onto. We must have flopped into the mat about 3,000 times!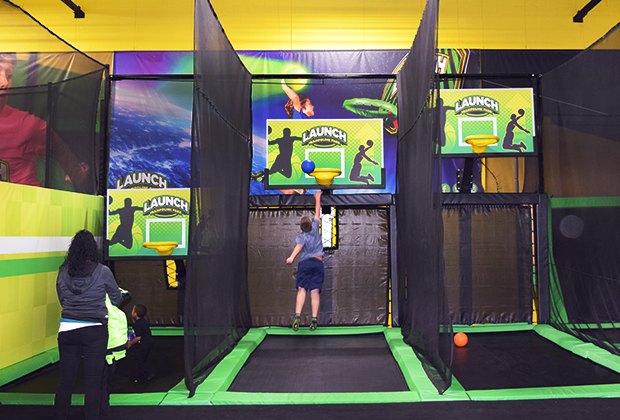 Another big hit: the tramp slam dunk area with hoops of varying heights. There's also extreme dodgeball courts with tramps and elevations, which looked super fun for older kids, teens, and adults. Avant says that it's a popular area for anyone who enjoys competitive play. Here, too, safety rules are strictly enforced: no head shots!
My little guys were a bit too young to for it, but there is also a ninja course with obstacles suspended in the air and a foam pit below for safety. Kids can maneuver through a mix of trapeze bars, boards, balance balls, ladders, beams, and more.
All in all, my crew were thrilled at the offerings, but after 45 minutes of jumping, we were ready for break. Next stop: the playground!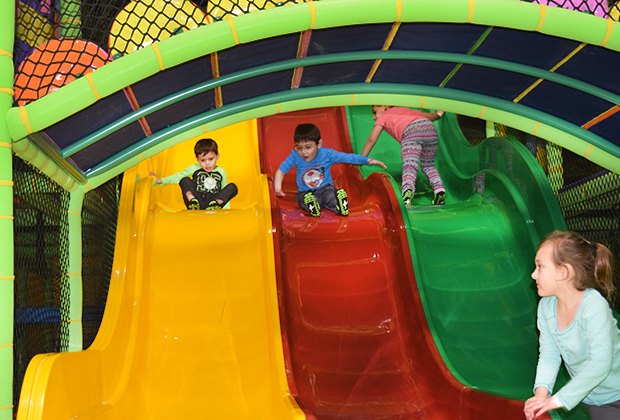 Activities for Young Jumpers
Intended for kids 42" and smaller, the indoor jungle gym has some unique features like a little swing suspended about 18 inches off the ground, a ball pit, slides, and more.
I appreciated Launch's height policy: just because the Kids' Court is available for kids under 42" doesn't mean they are confined to this space. If your child can walk, he or she can jump. This was a huge bonus for me, as my younger son wants to follow his big bro everywhere! The only stipulation is that if a child is too young to follow the tramp rules, the staff will ask him or her to sit out.
Word to the wise: some teens and older kids can do some pretty elaborate tricks on the tramps. I'd recommend to parents of any child under 6 or so to be careful about where in the park your child jumps, or even pay for a pass to jump alongside them. Or, visit Launch during weekday toddler jump times if you have any safety concerns with mixed age groups.
Arcade, Rock Wall, and Other Cool Stuff
After our jumping time expired, my kids were ready to check out the arcade, which has about 20 games, including mini-bowling, air hockey, and some standards like skeeball. The prices were surprisingly reasonable; a $5 card was enough to occupy my little guys for a while, and they redeemed their tickets for some cute little prizes.
For an extra fee, kids can also enjoy the rock climbing area, and it looked like some small rides were being installed.
The facility has several small party rooms (packages start at $300 for 10 kids), but there are also some nice party decks on the upper level as well as a parent observation area. From here, families can watch the activities below, take a load off, enjoy the free Wi-Fi, watch TV, and use the charging stations.
When your bunch is ready to refuel, there are lots of kid-friendly options at the café, including pizza, chicken tenders, burgers, mozzarella sticks, pretzels, and more.
Fun for Everyone
As a mom of three, I see Launch as a great afternoon trip for groups of mixed ages, from toddlers to teens, which isn't easy to find just anywhere. Bonus: adults can have as much fun as kids. (I sure did!)
"We want to help anyone who wants to be active to be active," Avant said, adding that adult fitness classes are being planned for the future. He envisions aerobics-on-trampoline classes for fun, fat-burning exercise.
"We want everyone to feel at home at Launch," he said. With offerings and safety protocols like these, families with kids of all ages certainly will.

Top photo courtesy of the gym. Unless otherwise noted, photos by the author.