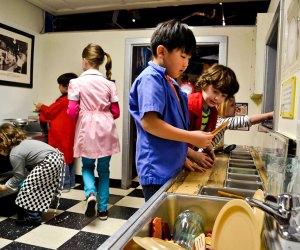 Garden State Discovery Museum: A South Jersey Gem for Kids
Little explorers, artists, chefs, and sports fanatics will all find adventure at the Garden State Discovery Museum, a South Jersey gem filled with imaginary-play zones that attracts Philly and Jersey families. Where else can kids serve up diner meals, care for sick animals, and dig for dinosaur bones—all under one roof? Throw in original live performances, hands-on arts and crafts, and cultural celebrations from around the world, and this Cherry Hill museum is worth a day trip for families with curious kids to entertain.
For more NJ museums, check out our list of kid-friendly museums in North Jersey—or for more action, let your crew burn off some serious energy at a mega indoor play space in New Jersey.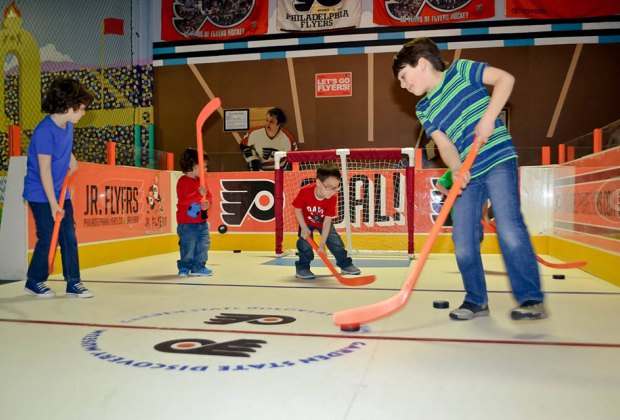 Drop by the play zone and check out the miniature hockey rink.
Around every corner in the Garden State Discovery Museum is a different play zone for the 10-and-under crowd to explore. Aspiring athletes can shoot hoops at a miniature basketball court or make slap-shots at a hockey rink. In the Dinosaurium, kids can climb a replica T-rex skeleton and dig for bones in a small excavation area. Pint-sized reporters can get behind the camera or deliver news from the anchor's desk in a mock Action News studio, complete with weather map. Got a short-order cook at home? Let him loose in a classic Jersey diner to whip up some (imaginary) burgers and milkshakes, while customers wait for their orders in tiny diner booths. Watch your animal lover put on a veterinarian's coat and bandage up a sick teddy bear or perform surgery on a stuffed bunny.
RELATED: Make a Day of It with These Winter Day Trips for NJ Families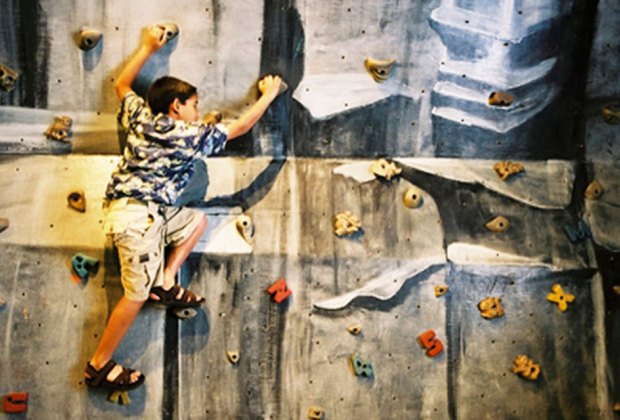 The climbing wall will challenge older kids.
The 100-seat Backstage Theater lets children act out their own dramas, complete with backstage access and costumes donated by Goodwill of America. The Bubble Trouble booth puts kids inside a huge soap bubble to learn the science behind the suds. Across the hall, a two-level storybook castle, farm stand, doctor's office, construction site, tree house, and a rock wall round out the play spaces. Outdoors, a sandbox, picnic area, butterfly garden, and edible garden will enchant children.

Create a masterpiece in the Art Studio.
Hands-on arts and crafts sessions are scheduled daily, and winter weekends feature Passport Days with live performances and sample cuisine from countries around the world. Passport to Africa celebrates the music, dance, and art of Africa with a performance by the Universal African Drum & Dance Ensemble, and Passport to Italy features nibbles from California Pizza Kitchen and crafts inspired by Michelangelo and the leaning tower of Pisa. Check the museum's event calendar for details.
RELATED: Best Museums for Kids in Central and Southern NJ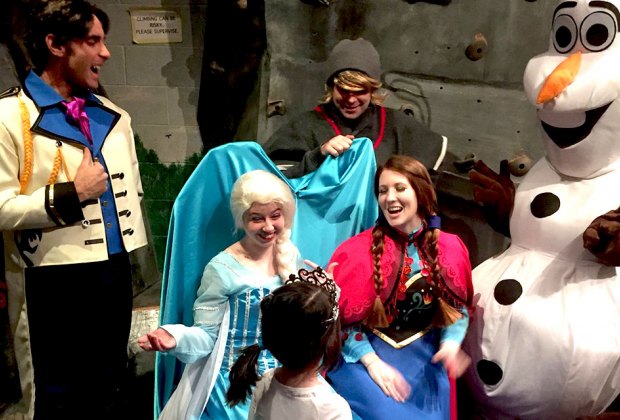 Don't miss the Frosty Ball in February!
Special events include the annual fall Fairy Ball, where young princesses are sprinkled with fairy dust before dancing with their costumed idols, and February's Frosty Ball, featuring everyone's favorite Frozen princesses and snowman. Every spring means Brunch with the Bunny, with a feast of delicious pancakes and eggs served up by the Silver Diner. And Open Arms Family Evenings on select Sundays from 6–8pm provide a quieter, interactive museum experience for families with children on the spectrum.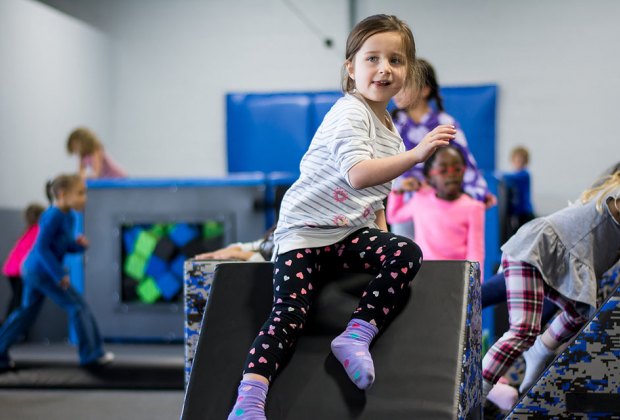 Make a day of it by visiting the Garden State Discovery Museum and KidFit NJ. Photo courtesy of KidFit NJ
Now located behind the Discovery Museum is KidFit NJ, a 4,400-square-foot children's fitness center featuring a zip-line, foam block pit, and tons of gymnastics equipment. With an entrance inside the museum, and discounted open-play prices for museum members, this sportsplex is a great addition to your museum day.
Both KidFit and the museum offer birthday parties; check websites for details.
The Garden State Discovery Museum is located at 2040 Springdale Road, #100, in Cherry Hill, New Jersey. Museum admission is $13.95 plus tax; children under 1 are free. Open daily 9:30am to 5:30pm, with extended summer hours.
Top photo: Junior chefs can serve up kitchen classics for their families in the Silver Diner. All photos courtesy of the Garden State Discovery Museum unless otherwise noted.
Places featured in this article:
---
Garden State Discovery Museum