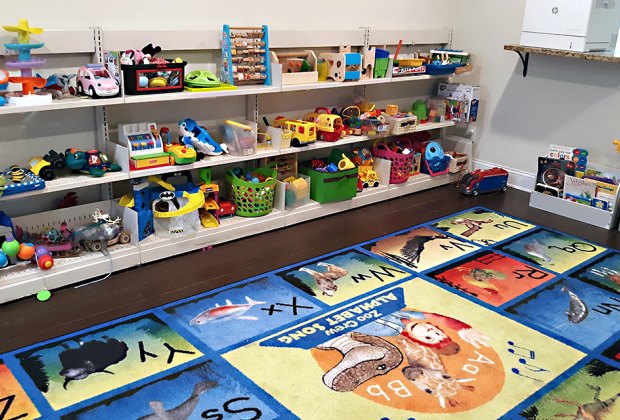 Hoboken Library's "Toybrary" Offers Free Fun for Tots to Teens
Hoboken families have a new, FREE play space to enjoy with toddlers, kids, and teens, courtesy of the city's public library. The "Toybrary" features Legos, puzzles, cars, and instruments for little ones to explore, while caregivers can pull up a chair and talk with neighbors. After school most weekdays, the inviting space is reserved for teens to hang out and do homework or play video games together.
Ideal for apartment-dwellers with little extra space for toy collections or playrooms, the cheerful Toybrary is located in the Hoboken Public Library's new annex building on Fifth Street, adjacent to the main library on the corner of Park Avenue.
The brightly-lit playroom is lined with low shelves stocked with puzzles, toys, and games for little ones, and outfitted with tables and chairs where parents and caregivers can relax and chat. A rainbow-colored alphabet rug provides a cozy spot for babies and crawlers to play. "It's been a great success so far," said children's librarian Ashley Hoffman. "It's so nice to have a place for everyone. That's always our goal, to make everyone feel welcome."
Since opening in the fall, the Toybrary has been open Mondays 3-6pm, Tuesdays 10:30am – 2 pm, and Wednesdays and Thursdays 10:30am – noon. Weekly hours are posted on the library's online calendar; a library card is not required to drop in.
All toys were donated by community members, and Hoffman said additional items are welcome. No stuffed animals or toys with batteries can be accepted.
RELATED: Free Indoor Play Spots for NJ Kids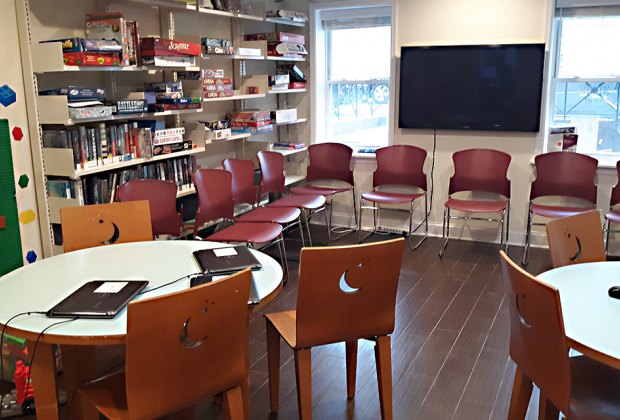 Teens can play video games, do homework, and hang out after school at the library's Teen Zone.
On Tuesdays through Fridays after school, the space transforms into the Teen Zone for kids 12 and up. The tables are pushed to the center of the room, board games and a Nintendo Switch are pulled out, and laptops are available for gaming. Excess YA titles from the library's collection are also available for teens to read.
The Toybrary does not loan out toys or serve coffee, but Hoffman hopes patrons will view the space as an extension of their own living rooms, where young children can find the joy in play, and teens can unwind after school.
Looking for more great things to do with kids in Hoboken? Check out our Mile Square favorites here.
Photos by the Hoboken children's librarian Ashley Hoffman