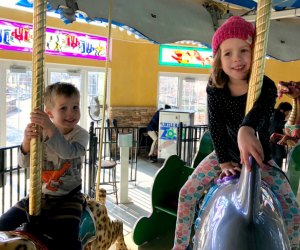 Birthday Party Spots for NJ Kids with Both Indoor and Outdoor Play
Every fall, I face the same dilemma planning my girls' birthday party. Do I take advantage of the crisp autumn weather with an outdoor venue? Or do I play it safe with something indoors? Planning a party is stressful enough in any season, without the added anxiety over weather. If an outdoor party is what you have in mind, don't let Mother Nature put a damper on your child's special day. From nature centers to water parks, the following party venues offer outdoor party options with indoor alternatives.
For even more ideas for fun in our NJ Kids' Birthday Party Guide.
Please see specific websites for party packages and prices.
Adventure Aquarium – Camden
There's so much to "sea" and do at Adventure Aquarium, making it an ideal party spot. Party packages include admission to the aquarium, with indoor exhibits like Creature Feature, Hippo Haven, Little Blue Beach, and Kidzone. If weather permits, explore outdoor exhibits including the newly renovated Penguin Park and soft play area. Parties also include a private room, pizza, a party coordinator, and parking passes.
Fernbrook Farms – Bordentown
Partygoers can explore nature any time of year at Fernbrook. Embark on an outdoor adventure and explore the property's fishing pond and forest trails, where you can enjoy scavenger hunts, campfires, and more. On a non-outdoorsy day, take advantage of the heated indoor party room in the Environmental Education Center for crafts and other activities, and visit the barn's friendly animals. Parties last up to three hours and can accommodate 40 guests.
The Funplex and Splashplex – East Hanover
Birthday parties can be a splash at both Funplex and Splashplex amusement facilities. Summer birthday parties can take place at the outdoor Splashplex complex, complete with water slides, a lazy river, and splash pad. If it's an indoor kind of day, or season, bring the party inside to Funplex, where the various party packages include rides such as bumper cars and go-karts, along with arcade cards, laser tag, pizza, and more.
GoodSports USA – Wall
Sports fanatics can have an active party any time of year at GoodSports USA. Summer parties are held in the Olympic-sized, heated pool and splash park, both supervised by certified lifeguards and trained staff. There's even a mermaid party option for a magical aquatic experience. Parents are invited to lounge by the pool and watch the party (where do I sign up?). If rain makes an unexpected appearance, an indoor backup plan is provided. Sports-themed parties take place all seasons in the spacious complex, where choices of activities include kickball, dodge ball, soft hockey, relay races, wiffle ball, t-ball, soccer, or flag football. Pizza and paper goods are provided for all parties.
Great Swamp Outdoor Education Center – Chatham
With wildlife as a backdrop, young nature enthusiasts will love to party in the great outdoors (or indoors) at the Great Swamp Outdoor Education Center. Parties occur rain or shine, and guests are encouraged to dress accordingly. Educational-themed parties, led by a naturalist, include a seasonal nature walk, scavenger hunt, meet the animals, nature detective, bird-brained, creepy crawly critters, and Lenape life, many of which can take place indoors or outdoors. Parties are for ages 3+ with a maximum of 20 guests.

Kafka Farms – Watchung
Saddle up year-round for a horseback party at Kafka Farms. The facility boasts indoor and outdoor riding arenas, a playground, a small petting zoo, and even a unicorn! Parties include pony rides, a petting zoo, face painting, pizza, cupcakes, ice cream, beverages, paper goods, and balloons. Depending on weather, celebrations can take place indoors or outdoors.
Liberty Hall Museum – Union
Whether you celebrate your child's party in the elegant Victorian mansion or the lush gardens, Liberty Hall Museum brings a piece of history to your child's festivities. Little girls can have the tea party of their dreams, using real china, with the Victorian Tea Party theme, located in the mansion's glass porch. Young firefighters can play on a real fire truck as part of the Firefighter theme, held in the Liberty Hall Firehouse Museum. Scouts, Spies, and Soldiers is another option that channels the Colonial era. All parties include a tour of the museum, a craft, theme-related dress-up, and indoor or outdoor party games. Parties are recommended for children ages 5 and up, accommodating up to 20 guests.
Sahara Sam's Oasis – West Berlin
Get set to get wet at Sahara Sam's outdoor and indoor water park. It'll feel like summer any time of year at the indoor water park, which features slides, an obstacle course, water basketball, and more. In the warm weather, party guests can enjoy outdoor fun like the wave pool, splash pad, and a beach cabana. Packages are offered for children 3 and older and feature pizza, arcade games, and tons of water play.
Tenafly Nature Center – Tenafly
Surrounded by the sights and sounds of almost 400 acres, children will enjoy an exciting and educational birthday with a wide range of birthday options that are enjoyable rain or shine. Create a magic garden, host a teddy bear picnic, or have an encounter with reptiles, mammals, or dinosaurs. Tenafly has many party themes such as educator-led treasure hunting outdoors or presenter-led interactions with animals in their cozy indoor space.
Trailside Nature and Science Center – Mountainside
My kids chose Trailside one year for their birthday celebration, with the hope of exploring bugs and birds on a nature hike through the Watchung Reservation. When the weather didn't cooperate, the party attendees had a blast petting snakes and turtles inside the facility's auditorium. There are several fun party themes to choose from, including indoor programs on snakes, turtles and dinosaurs; or outdoor adventures with animal homes and hideouts, seasonal nature walks, or sensory exploration. Parties are for ages 4+ and include programs by a naturalist, plus use of a private party room.
Turtle Back Zoo – West Orange
Party with the animals any time of year at Turtle Back Zoo. Parties can be held at the covered carousel area, the outdoor gazebo, outdoor picnic areas, or indoor classrooms. The zoo offers animal exhibits that can be enjoyed all season, whether you choose to bundle up and visit Africa Adventure, Big Cat Country, and Essex Farm, or keep warm at the indoor touch tank, aquarium, and reptile house.
Originally published in 2014; updated for 2018.