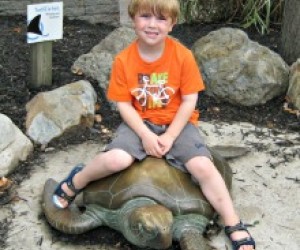 Family Getaways in New Jersey for Memorial Weekend
While there's plenty to do in NYC with kids on any weekend including Memorial Day, lots of families like to celebrate the unofficial start of summer with a fun-filled day or weekend trip out of town. In the past, we've rounded up Pennsylvania getaways that are far enough away to feel like bona fide vacations without the plane ride. But there are lots of closer destinations in New Jersey that are just as engaging but with less time spent cooped up in the car/train/bus.

From nearby spots like Jersey City's enriching Liberty Science Center, which you can do in a day via public transportation, to relaxing multi-day jaunts filled with sand, surf and rides on the Jersey Shore, we've got the goods on where to go in the Garden State this Memorial Day or any summer weekend.

You can find more vacation inspiration in our NYC Day Trips Guide and on our Travel site.
Great New Jersey Day Trips
You don't need to stay somewhere overnight to get that fun out-of-town feeling. Right across the Hudson River you'll find lots of cool attractions, many of which are accessible via public transportation so no need for a car. My nine-year-old son loves the interactive Liberty Science Center in Jersey City, which has an awesome Beyond Rubik's Cube exhibit that tweens and their 1980s-era parents will love. Also in Jersey City, the Pole Position Raceway, where school-age kids can zoom around the indoor race car track. Over in Secaucus, you can marvel at animatronic prehistoric creatures at Field Station: Dinosaur, which opens for its third season on Memorial Day weekend. Afterward, explore the nearby attractions at the Meadowlands. Other fun NJ day trips include the Turtle Back Zoo in West Orange and the Whippany Railway Museum with its collection of vintage trains.
The Camden Waterfront
Located about two hours from midtown Manhattan by car, this city boasts a revitalized waterfront that attracts lots of tourists. My family and I love the Adventure Aquarium featuring cool touch tanks where kids can pet sharks, stingrays and other aquatic creatures. A short walk away, you can tour the historic USS New Jersey Battleship, explore the four-acre Camden Children's Garden, which is hosting a Fit & Fun fest over Memorial Day weekend, or catch a baseball game by the Atlantic League's Riversharks, which has three home games over the holiday. While Camden is close enough for a day trip, make a weekend out of it by staying overnight in Philadelphia, which is just across the Delaware River. There's even a ferry that can shuttle you back and forth.
Northwestern New Jersey
My favorite region in the Garden State is along the Delaware River, which offers tons of outdoor adventures, special animal encounters and off-the-beaten-path places. My family and I have spent countless hours hiking in Stokes State Park and High Point Park, home to the highest point in the entire state, and we've also climbed the stairs at Buttermilk Falls. On our to-do list: the quirky Space Farms Zoo and Museum and the Lakota Wolf Preserve. If you head this way, be sure to stop at famous hot-rod hangout The Chatterbox Drive-In and pick your own dessert at the Sussex County Strawberry Farm.
The Jersey Shore
Kick off summer with sand and surf at the fabulous Jersey Shore, which opens for the season Memorial Day weekend. For a day trip, drive or take the Seastreak Ferry to the closest beach: the Sandy Hook National Seashore. Or stay the entire weekend at the picturesque and far away Cape May. If you tire of lounging, NJ's seaside towns are packed with family-friendly attractions. Our favorite sand-free outings include sailing with the Jersey Shore Pirates in Point Pleasant, hitting the no-cost Cape May County Zoo and getting our adrenaline pumping at Long Beach Island's Thundering Surf Water Park.
Find out about other great things to do with kids in the Garden State all summer long on our New Jersey site, and check our Travel site for more far-flung destinations.