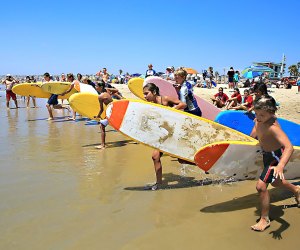 Weekend Fun for LA Kids: Garden Concerts, Toy Story Shakespeare, and Surf Fest
Can you believe it's August already? The summer's almost over. Last call for school break fun, cause we'll be back in school before you know it!
Oh, hey, look at that: the Actors' Gang free summer Shakespeare for kids is starting up this weekend. The Gang is doing a Toy Story-tinged Tempest, such stuff as dreams are made of. Nothing like your kids quoting Shakespeare when they go back to school, which they will be doing shortly because the summer is practically over...

Oh, hey, look at that: the Ventura County Fair is starting up this weekend. Nothing says summer like funnel cakes, carnival rides, and pig races. And then the summer is over for most intents and purposes, so maybe we should all be buying ski garb and looking into Christmas trees.
Oh, hey, look at that: The Getty Garden Concerts for Kids are starting up this weekend. It isn't summer until the Garden Concerts have started, I'll tell you that. Elena Moon Park and Friends celebrate folk and children's music from all over East Asia. With songs in Korean, Japanese, Mandarin, Tibetan, Taiwanese, Spanish, and English, you can dance or chill on the Getty Center Lawn to this family favorite. And then after that you can turn in your swim fins and sunscreen, because the summer is just about over...
Oh, hey, look at that: there are sharks in the water. I say "summer"; you say "run for your lives"! Where are those swim fins when you need 'em...?
Oh hey, look at that: Midsummer Scream is this weekend, offering spine tingling chills as you prep for the most ghoulish time of year... okay, now that one, it maybe does mean summer is over. But not before we enjoy this most spooky of weekends.
Keep reading for our best picks for what is, spookily enough, another awesome summer weekend.