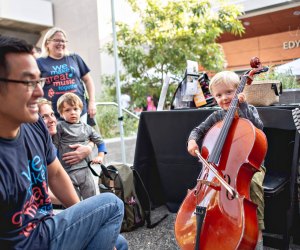 Labor Day Weekend Things To Do with LA Kids: Fleet Week, Fiesta Hermosa, & Fair
It had to happen sooner or later. After many fits and false starts, folks trying to bring our season of fun to a ridiculously early close (props to Hermosa for doing it right), and a whole lotta bellyaching about how it's not fair (um, that would be me), the time has come to acknowledge: summer break is over. It's Labor Day weekend, and, while it may mark the end of summer, it's also known in some circles as the biggest weekend of them all. We're going to fill every moment with fairs and festivals (hello, Sailor!), cook-offs and concerts.
This weekend sees the last hurrah of some favorite summer series. But never fear: while your white-wearing days may be over, the fun is just beginning. Why, this weekend alone sees the return of a much loved festival in Santa Monica, a historical do-over (no spoilers here!), and a struggle between Greeks and geeks for dominance in Long Beach. (Someone is going to be saying aloha!)
Now get out there and enjoy summer's last gasp, because the best is yet to come. And we're going to have every last bit of it on our calendar.

Keep reading for our most Laborious picks for the weekend...