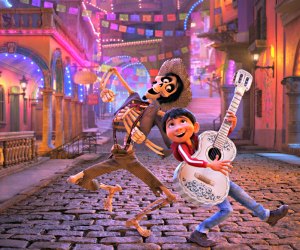 Coco: Pixar's New Day of the Dead Animated Film, a Parent Review
Mortality, legacy, and forgiveness. These are heavy subjects for an animated movie aimed at families but, once again, Pixar rises to the challenge. Coco is a visually stunning, thematically rich, and emotionally powerful film that resonates differently for various ages. Set against the backdrop of Día de los Muertos—the Mexican holiday honoring the dead—Coco is Pixar's first feature to focus on a character of color. Miguel Rivera, a 12-year-old aspiring musician, is magically transported to a luminous afterlife where he uncovers long-buried secrets and realizes the importance of family.
Chances are this movie is on your kids' wishlist, but perhaps you're worried a flick focused on—let's be blunt—death might make for an upsetting experience, especially if you have tots in tow. Read on for everything you need to know before you go to this PG-rated release, as well as whether it's worth splurging on 3D.
For all of Coco's groundbreaking elements in terms of animation technology and all-Latinx cast, in many ways it still adheres to Pixar's tried-and-true formula. Adorable, wide-eyed protagonist? Check. Goofy, scene-stealing sidekick—in this case, a stray xolo (a Mexican breed of hairless dog)? Check. Hero's journey hampered by a you-may-see-it-coming twist? Yup. But these familiar ingredients are what allow Pixar to introduce more adventurous ones, like bits of untranslated Spanish, mariachi music (the songs are co-written by Robert Lopez and Kristen Anderson-Lopez of Frozen fame), and a great running gag about Frida Kahlo. The execs at the studio went to great lengths to ensure they were honoring Mexican culture, not appropriating it or, worse, bastardizing it. Considering Coco has already become the highest-grossing animated movie in Mexico's history, their sensitivity seems to be paying off.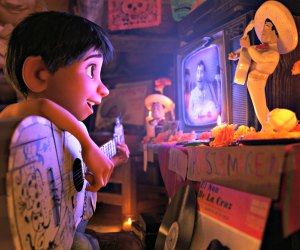 OUR LATEST VIDEOS
Miguel (voiced by Anthony Gonzalez) dreams of becoming a famous singer-songwriter like the late Ernesto de la Cruz (a character inspired by real-life, mid-century crooners Pedro Infante and Jorge Negrete and brilliantly voiced by Benjamin Bratt). But, due to Miguel's musician great-grandfather abandoning his family decades ago, music is banned in the Rivera home. On the eve of Día de los Muertos, Miguel rebels against his family and ends up in the Land of the Dead, where he fights with his ancestors, makes new friends, meets his musical idol, and, of course, learns many a life lesson.
Despite its name, the Land of the Dead is not scary but rather gorgeous, glowing, and colorful. This netherworld is festooned with flowers and oozes retro appeal—its transit terminal for the deceased features old-school trolleys and a stained-glass ceiling. Sure, all the inhabitants are walking and talking skeletons, but I doubt even a very young child will be frightened. It all feels exuberant, not scary.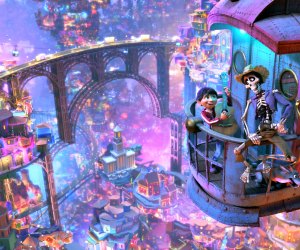 That said, a few characters die—one in our world, and one in the Land of the Dead, where being forgotten by living descendants means turning to dust. There are also many moments when Miguel (who's slowly turning into a skeleton) and his pal Héctor (voiced by Gael García Bernal) are in danger. Throughout, they're pursued by a winged wildcat spirit guide and, toward the end after stumbling onto a dark secret, they are thrown into a watery pit where it looks like they might rot.
Children who are terrified of skeletons or the concept of death should probably steer clear. But otherwise, I'd say the movie is good for ages 5 and up, possibly younger as long as they have the attention span to sit through an almost two-hour movie. If you're old enough to understand mortality or have lost a loved one, Coco will likely make you cry—possibly a lot. (My tween and her friends were sniffling very loudly, and I was a total wreck.) But it's not emotional manipulation; Coco truly earns its tears.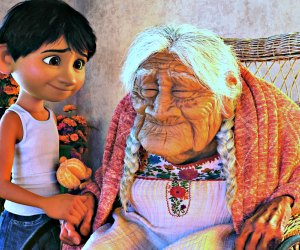 Since Coco also has jaw-dropping imagery, I think it's worth paying to see it in 3D, and I rarely say that. But know that the Land of the Dead really comes alive (sorry) in 3D.
Ultimately, I think Coco is Pixar's best film since Inside Out and may actual rank among its best releases overall. It's engaging, moving, and acknowledges our multicultural world at a time when we all need to be reminded that the things that connect us—family, love, the arts, and even death—are more important than our perceived differences.
Another reason to see Coco is Olaf's Frozen Adventure, a short featuring the beloved snowman from Frozen that precedes the main event. Unfortunately, it wasn't shown at the preview screening we attended so I can't comment on it.
Coco opens nationwide on Wednesday, November 22. It's rated PG.
Film stills courtesy of Disney•Pixar