Inside Out Parent Review: Is Pixar's Amazing New Movie Good for All Ages?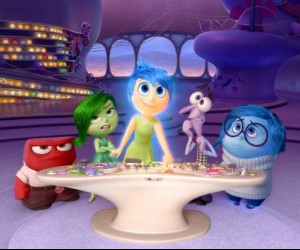 There was a time when the release of any Pixar movie seemed like a major event. Even before I became a mom, I ran to the theater on opening weekend to see Toy Story 1 and 2, Finding Nemo and Monsters, Inc. After my daughter was born, we enjoyed WALL-E, Up and Toy Story 3 together. But I admit, our Pixar fever waned a bit over the past few years, perhaps due to increased animation competition, or maybe it was just those awful Planes movies (technically not Pixar flicks, but spun off from Cars). So my 9-year-old kid and I were thrilled to discover that Pixar's brand-new adventure, Inside Out, harks back to the studio's best work. It's got Toy Story's perfectly balanced blend of wistfulness and whimsy, mixed with a surreal, Eternal Sunshine of the Spotless Mind-style take on the complex emotions and memories that make us tick.
At the advance screening we attended, kids and grown-ups were enthralled—even the group of rowdy teens in front of us stopped texting, they were so into it. At times, each group laughed out loud (or cried) at different scenes, proof that the movie works on multiple levels. And yet, even though this is the first must-see family film of the summer, is it good for all ages? It's rated PG for a reason, so here's what you need to know before taking young children to see Inside Out.

The ever-optimistic Joy voiced by Amy Poehler.
Inside Out focuses on the feelings living inside Riley, a happy, hockey-playing 11-year-old. Just as we see the world through the toys' eyes in Toy Story, in Inside Out everything is filtered through Riley's emotions—Joy, Sadness, Anger, Fear and Disgust—who help her navigate the ups and downs of life from an Apple Store-style control room in her brain. When Riley starts going through some major growing pains, the gang can't maintain her equilibrium, and Joy (voiced by Amy Poehler, who's adorable) and Sadness (hilarious Phyllis Smith from The Office) are accidentally cast out into the unfamiliar outer reaches of her mind. Perpetually at odds, the pair must find a way to work together to get back to headquarters as they navigate the labyrinthine halls of Long-Term Memory, hitch a ride on the Train of Thought and try to avoid falling into the Memory Dump.
I could go on and on about how funny, moving, gorgeous and original Inside Out is, but plenty of other reviewers have done that already. Its quality is not in question. The issue is, what ages is it good for? While there's nothing super inappropriate for young children, the movie deals with complicated feelings, abstract thoughts and even the subconscious, and might be scary or, more likely, confusing for tots. Since Riley's roiling emotions are physicalized, structures in her brain constantly crumble and fall; there are scenes of destruction and moments when Joy and her cohorts are in danger. In fact, one cute and cuddly character doesn't make it through to the end, which sparked a few audible tears (although maybe that was just me). Riley also fights with her parents and does something drastic at the climax (no spoilers!), and there's also a seriously scary clown.
Riley and her parents having a tense dinner.
While preschoolers can certainly see the film, Inside Out is definitely aimed at school-age children. Even its length screams big kid (with previews and the sweet Pixar short Lava preceding the movie, you're looking at a two-hour experience). Inside Out should be especially meaningful to tweens poised to board the puberty roller coaster since it's about growing up, dealing with change, and learning that sometimes you have to let go of the old and embrace the new. The film also reinforces a valuable lesson for all ages: never stifle your emotions. It's important to experience and express them all, even the "bad" ones.
Inside Out opens nationwide on Friday, June 19.
Read more of our parent reviews of popular movies and stage shows.
Photos courtesy of Disney Pixar