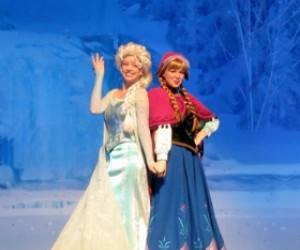 Frozen (PG): Parent Review of the New Disney Film
Frozen, the latest animated feature from Disney, offers thrilling landscapes, Broadway caliber songs, and two fully-realized female leads. Some aspects may be too scary for kids four and under, but older kids are likely to be delighted with this enchanting tale. And for Angelenos, a holiday run at El Capitan is always a treat, with snowfall and breakfast options to boot. Read on for everything a parent might want to know before buying the ticket.
The Story:
Elsa and Anna are princesses in a Northern Kingdom called Arendelle. As children they are close playmates. The younger Anna is impetuous and playful. Older sister Elsa is more restrained but harbors a secret: she has magical power over ice (much to the delight of her sister, who urges her to create icy playscapes). A momentary slip causes Elsa to gravely injure Anna.
Anna is healed (by trolls of course), but the girls' parents decide that Elsa must hide her power. "Conceal it, don't feel it," her father commands. Anna is made to forget her sister's magical gift. The castle is sealed shut. The girls grow up isolated from the town, and even more tragically, from each other.
Despite her desperate attempts to concea
l it, Elsa's power is revealed, and at the worst possible time: her coronation as Queen. Arendelle is trapped in a permanent freeze; Elsa flees to the mountains, where for the first time she embraces her power, conjuring a magnificent Ice Palace to the exultant song "Let it Go."
Finally understanding her sister's alienation, Anna sets off to retrieve her, with a little help from ice seller Kristof and sentient snowman Olaf (he likes warm hugs!). Anna is certain that all she needs to do is ask Elsa to come back and undo the damage. After all, they're sisters.
Themes
The primary relationship is between two female characters, Anna and Elsa. It's not about the search for a handsome prince; it's about controlling your own strength and the healing power of love.

Elsa is not a villain. She has a truly awesome ability; her only crime is not knowing how to control it. Instead of helping her learn to master her abilities, her parents tell her to suppress it. I'm reminded of the famous quote, "Our deepest fear is not that we are inadequate. Our deepest fear is that we are powerful beyond measure."* Elsa is powerful beyond measure, but fear has driven her to hide it. At every turn, Elsa does all she can to protect those around her; their ignorance and fear is what leads to tragedy.
Princess Power
Props to Disney for creating story about empowered female characters who worry about more than when their prince will come. But never fear, there is romance to be found, with multiple suitors and a plot point hinging on the power of true love. And yes, the leads are both princesses, and they do wear some costume-worthy gowns (hello, Halloween 2014!).
Boys Like it Too
The boys we saw this film with liked it every bit as much as the girls, with plenty of action, monsters, and slapstick humor to maintain their interest.
Hitting the Right Notes
In addition to Elsa's show-stopping "Let It Go," musical highlights include Anna's "For the First Time in Forever," a celebration of new-found freedom, and snowman Olaf's delightfully silly "In Summer" (because snowmen have so much fun as the mercury rises).
Now clearly Idina "Tony-Award Winner" Menzel did her own singing as Elsa, but I was curious as to who did the singing for Kristin Bell's character, Anna. It turns out they got…Kristin Bell. Who knew? The girl's got pipes!
Is It Scary?
Frozen does contain a number of scary and upsetting moments.
Early in the film, the girls lose their parents. The ship carrying the royals goes down in very stormy seas, followed by a quick funeral scene.
Anna and Kristof are attacked by a vicious pack of wolves.
When she is confronted, Elsa's power manifests in dagger-tipped shards of ice. She also conjures a truly terrifying Ice Monster to protect her Ice Palace. He has jagged teeth and a fearsome roar, and no soft side.
The townspeople go to confront Elsa in her Ice Palace, much like villagers pursuing Frankenstein's monster.
There is a character who, to all appearances, seems to be of good heart and intention but later betrays Anna. In a movie geared at more mature audiences, perhaps the audience is on the alert for such abrupt turns of character; there was little to foreshadow this particular character's true colors.
Twice Anna is brought to the brink of death by contact with Elsa's ice.
Kids under the age of five may be too frightened (particularly by the Ice Monster) to enjoy the more fanciful aspects of Frozen.
See it at El Capitan!
As always, El Capitan remains the place to see a Disney movie. From the organist who entertains before the show, to the fanfare and glitter of the curtain reveal, everything about your visit tells you you're in for something special. The pre-show for Frozen includes an ice carving demonstration (with chainsaws!), an appearance by Anna and Elsa, and snowfall in the theater. Photo ops abound throughout the theater, including a hula-ing Olaf in the lower lobby.

You never know what you'll find around El Capitan. On the day we went, Despicable Me 2 swag was being handed out in front of the theater, and a pop-up Thor promotion was across the street. Be sure to pay a visit to the new Disney Studio Store Ghirardelli Soda Fountain adjacent to the theater: you'll get a free chocolate square just for walking in!
Frozen is in 3D and is rated PG; it plays at Disney's El Capitan Theatre through January 5, 2014.
Check out some of our other parent movie reviews!
* Despite what you may have read in a much-forwarded email from a few years back, it was Marianne Williamson who said it, not Nelson Mandela.