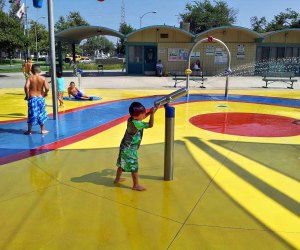 Splash Pads 2020: Water Play Areas and Spraygrounds Opening in Los Angeles County Parks
So far the summer of 2020 has been the summer without splash pads, but all that is about to change: As of July 9, Los Angeles County Parks are turning the water on! The parks below are all scheduled to open their splash pads from July 9 - September 30, 2020, Tuesday through Saturday, from 10am-6pm. Note that only stand-alone splash pads are allowed to open so far, not those within an aquatic center or pool area. County pools and aquatic centers remain closed.
Of course, we aren't out of the water yet: parents still need to wear masks, there are still only a limited number of water playgrounds available, and keeping kids 6 feet apart while splashing through sprinklers is a challenge some parents might understandably choose to skip. There is no question that playing outdoor water games at home is the safer way to go. But since that isn't an option for everyone, having a few good splash pads and spray parks open up for the hottest part of summer is a relief to be sure. We will update this post if more spraygrounds open. Play safe!