Santa Anita Park Spring Carnival
Santa Anita Park

KidStock
Pretend City Children's Museum

Online Robotics Camp
Young Gates - Kids Online Personalized Classes
Sign up for our free newsletters.
Free in March: 20 Best Things To Do in Los Angeles with Kids
3/3/23
- By
Kylie Williams
There are so many free in March events that it will be hard to choose just one each weekend. Spring is in the air this month, but you don't have to spring for high-priced admission to have a good time.
There are plenty of free and festive fun happenings throughout LA. Look to the skies to enjoy the Point Mugu Air Show, the 49th annual Festival of the Kite, and the San Juan Capistrano swallows parade. From the sky to the sea, keep an eye on those Pacific Ocean waves as it's whale watching season, and there are free celebrations in Dana Point and Oxnard. Leprechauns are among us at several St. Patrick's Day parades, and Purim brings free carnivals to the city. Save your cash for spring cleaning projects and Easter baskets because March has enough free fun to take you through the month.
Think this is it for events in March? Not so fast. Here are even more things to do in March with kids. Plus, our calendar is frequently updated. If you're looking forward to springing ahead as much as we are, embrace the new season with the beloved butterfly pavilion at NHM, and start planning your springtime outings with our spring fun guide.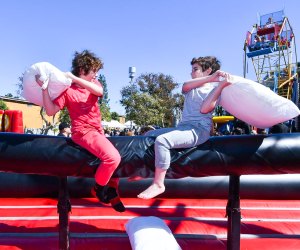 Free Events in March in Los Angeles and Orange County