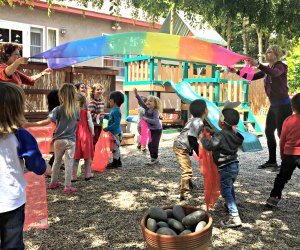 These Great Bilingual and Language Immersion Preschools Make LA Tots Polyglots
We've all heard that children have a much easier time learning a second language than adults do, but it's not always easy to provide the opportunity. If a parent or grandparent speaks another language, having the language reinforced in a community setting can increase a child's interest in playing along. If there is no other language at home, a bilingual preschool may be the only way to give your child the gift of a second language. Immersion preschools can also help to prepare a child to attend one of LA's bilingual elementary schools.
The schools below are organized by language; scroll to the bottom to see them on a map. (We know some great language immersion preschools in Orange County, too!)
While some preschools may offer an extra class in a language (often after the normal day), immersion programs use the language for part or all of the day, presenting the language in a natural manner and using it for the curriculum. The earlier children begin learning a language, the more likely they are to think naturally in that language, which is the ultimate goal of any language program.
Spanish, Mandarin, Russian
• Worldspeak
1639 Westwood Blvd
Los Angeles 90024
310.441.5222
Worldspeak has been operating a preschool since 2000, and its individualized language plan offers children the option of learning up to three languages. Other options include half or full days, 2-, 3-, or 5-day weeks, and an extended day available until 5:30pm. All teachers are native speakers. For those who wish to continue beyond preschool, Worldspeak also runs an an elementary school for grades TK-5 that offers an accelerated math program supported by UCLA's Department of Mathematics.
Spanish, Mandarin
• Culver City Montessori
11269 Washington Blvd
Culver City 90230
310.397.8537
Culver City Montessori offers immersion programs in Spanish and Mandarin. Classes are taught in the immersion language in the morning, and then in English in the afternoon. Art, dance, music, and field trips are also part of the traditional Montessori curriculum. All programs are 5 days per week, with extended-day, full-day, or half-day options. Choosing two languages is also an option, as is a full English program.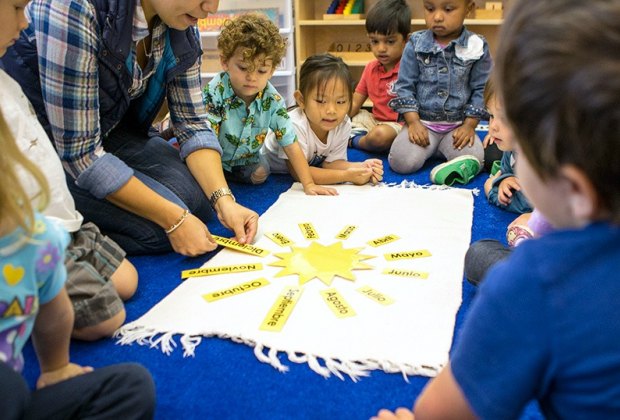 Culver City Montessori Preschool. Photo by Clio Van Ert Photography
Spanish, French
• Language Garden Preschool
1067 S Fairfax Ave
Los Angeles 90019
323.930.1527
Language Garden is a developmental preschool offering full immersion in Spanish or French—or both! A guided daily activity (new each day) provides exposure to new experiences. Full- and half-day programs are available. If you want your child to be exposed to both languages, this typically requires one class Mon, Wed, Fri and the other Tue, Thu. See the website to register for an upcoming tour.
Spanish, German
• Kigala Preschool
2705 Pico Blvd
Santa Monica 90405
310.453.2400
Kigala offers 2- to 6-year-olds half-, full-, and extended-day options for 2-5 days per week. Parents are encouraged to choose either German or Spanish, and all morning programs are in that language. For full-day students, the afternoon brings the classes together for the English program—but German and Spanish are spoken by the respective teachers. Attending only the afternoon program is also a half-day option.
French, Spanish
• Ecole Claire Fontaine
352 Westminster Ave
Venice 90291
310.314.9976
Claire Fontaine offers a trilingual immersion preschool and kindergarten for ages 2–7. All teachers speak French, English, and Spanish throughout the day. Music, dance, and art are all integral parts of the day. Hot lunch is prepared in-house with fresh organic ingredients. Full-day and half-day classes are available.
• International School of Los Angeles
preschool offered at Los Feliz, Pasadena, and Tarzana campuses
818.994.2961, see website for each campus address and phone
The International School of Los Angeles offers preschool thru 12th grade (three campuses offer preschool - 5th grade; Burbank offers middle and high school only). Preschool is a full French immersion program, and the school prefers that students begin the program in preschool for the best transition. High schoolers choose between a program that culminates in the International Baccalaureate Diploma or one that leads to the French baccalauréat exam. It seems so far away when looking at preschools, but if these exams are important to you, now is the time to look at your options!
German
• Tivoli Rainbow Garden
3170 Stoner Ave
Los Angeles 90066
310.301.9147
This home-based preschool offers three German days and two English days each week. Gardening, yoga, cooking, music, art, and seasonal festivals are all part of the play-based program. Half-day and full-day options are available, and children may attend two, three, or five days per week.
Hebrew
• Kinder Circle Preschool
11827 Venice Blvd
Los Angeles 90066
310.740.8798
Founded in 2013, this immersion program for children ages 2–5 uses a play-based curriculum to introduce the Hebrew language. Different programs are available depending on a child's age, such as half-day, full-day, and extended-day options, and the option to come three or five days per week.
Spanish
• Bubbles n Colors
2147 Selby Ave
Los Angeles 90025
310.441.0209
Bubbles n Colors offers a non-competitive Spanish immersion environment where children gain confidence and develop a love of learning. At this small home-based preschool music, art, dance, and storytime, as well as plenty of free play, fill the children's days. Yoga is offered two days per week. Half- and whole-day options are available. Snacks and lunch are all homemade.
• Spanish Steps for Kids
1525 Euclid St
Santa Monica 90405
310.866.6528
Spanish Steps for Kids is an immersion program facilitated by LA Spanish School and held at Santa Monica's Euclid Park. Potty-trained children ages 3-5 can attend for up to five days per week, from 9am-1pm. Through a variety of games and daily activities, the program encourages imagination, self-confidence, development of motor skills, socialization, separation-adjustment, and the natural acquisition of the Spanish language. Caregivers are asked to occasionally volunteer in the classroom.
• Seaside Preschool & Bridges TK at Edison Language Academy
2402 Virginia Ave.
Santa Monica, CA 90404
310.828.0335
Santa Monica's popular dual immersion elementary school recently added preschool and transitional kindergarten to its public school campus. Since Edison is a public school, local kids do get priority, after which the balance of native speakers is considered, as elsewhere in the school. Preschool tuition is in line with other schools in the area, but financial aid is available; and the T-K program is free to locals who qualify by birthdate. The immersion program is 90% Spanish / 10% English, and the approach is Reggio inspired with STEAM elements worked into the curriculum.

Originally published June 23, 2013