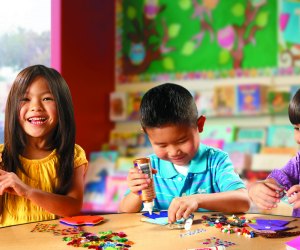 20 Free Things to Do With LI Kids This November
Zip. Zilch. Zero. That's exactly how much money you'll shell out to keep your kids entertained this month if you stick to the list we've put together here.
From library events that target infants as well as tweens and teens to arts and crafts workshops and fall events, there is something fun and, yes, FREE, to do with your children all month long.
For more seasonal fun, take a peek at our Fall Fun Guide, November GoList, and our weekly event calendar.
But let's get back to the free stuff.
Library Events
Circle Time and Toy Center — Westbury
Fridays, all month
Enjoy a weekly 15-minute storytime at Westbury Library geared for children 6 months to 4 years old and their parents and caregivers.
Yu-Gi-Oh Club — Manhasset
Friday, November 3
Kids in grades 3 and up are invited to bring their Yu-Gi-Oh! trading cards to Manhasset Public Library and spend an hour with some new friends.
Time for Kids: Colors, Shapes & Numbers — Roslyn
Saturday, November 4
Parents and caregivers can accompany their children 18 months to 5 years as they enjoy songs, movement, learning, and discovering at the Bryant Library.
Spaghetti Muffins with Chef Rob — Babylon
Thursday, November 9
In this hands-on activity at Babylon Library, kids in grades 5-12 learn from a real-live chef how to make spaghetti muffins.
LEGO Club at Bayville Library — Bayville
Wednesday, November 8 and 15
Kids get to spend an hour building with LEGOs. Their masterpieces are displayed throughout the week at the library.
Tales for Tots — Smithtown
Friday, November 17
Presented by the Smithtown Historical Society and Smithtown Library, this storytime is for children ages 3-5, their parents and caregivers.
Summaries & Sundays — Babylon
Monday, November 20
Teens and tweens can talk about books while making—and enjoying—their own ice cream sundaes at Babylon Public Library.
Giggles & Wiggles — Roslyn
Monday, November 27, Tuesday, November 28
Enjoy fun with music and stories for little ones ages 12 to 17 months and their parents or caregivers at the Bryant Library,
Little Sprouts — Roslyn
Monday, November 27, Tuesday November 28
This storytime program, also at the Bryant Library, is for children ages 18 to 23 months accompanied by their parents or caregivers.
Arts and Crafts
Free Craft for Kids at Lakeshore Learning Store —New Hyde Park
Saturdays, all month long
Kids ages 3 and older (with adult supervision) can stop by to create a free Thanksgiving-themed craft.
Free Kids Workshops — Home Depots Islandwide
Saturday, November 4
This is a great opportunity for kids ages 5 to 12 to learn do-it-yourself skills and tool safety while creating a project of their own.
LEGO Mini Model Build — Garden City
Tuesday, November 7, Wednesday, November 8
This event, at the LEGO store at Roosevelt Field mall, is for kids ages 6 to 14 who want to learn how to build a LEGO mini model.
RELATED: The best activities and destinations for LI tweens and teens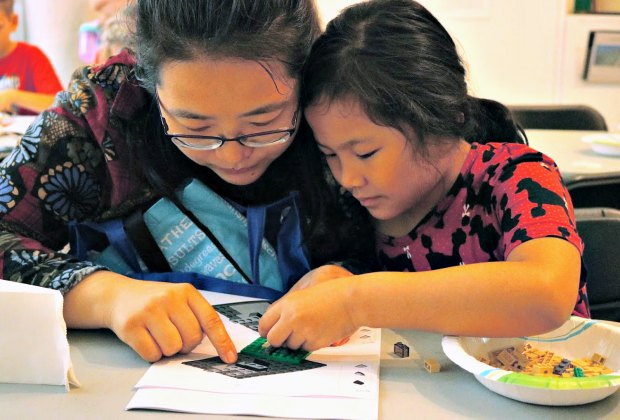 Enjoy the family-friendly exhibits this month at the Heckscher Museum of Art in Huntington. Photo courtesy of the museum.
Seasonal Fun and More
Nature Walk: Autumn Foliage —Oyster Bay
Saturday, November 4
Take a walk around the beautiful grounds of President Roosevelt's Oyster Bay home at Sagamore Hill National Historic Site and learn about the seasonal foliage. Walks are led by volunteers.
Nightmare on Main Street —Huntington
Through Saturday, November 4
This is the last chance to see the work of local students in this Halloween-themed art exhibit at Main Street Petite Gallery,
Full Frost Moon Hike — Bridgehampton
Saturday, November 4
Families with children 5 and older are welcome to join this one-hour hike in Vineyard Field at the South Fork Natural History Museum. A discussion and refreshments follow.
Free Film Friday — Great Neck and Huntington
Tuesday, November 7, Friday, November 10
Introduce your kids to the art of film. Check out screenings of family-friendly shorts that feature animated, live-action storytelling. Tickets are required, but FREE.
Volunteer Opportunity: Veterans Day — East Hills
Friday, November 10
Kids can assist in preparations for the Thanksgiving celebration at the Sid Jacobson JCC. Kids can make decorations, cards, and more.
Merrick Brotherhood Council Thanksgiving Festival of Music — Merrick
Sunday, November 19
Enjoy an afternoon of music at Calhoun High School presented by the Brotherhood Council of Merrick and the Bellmore-Merrick Central High School District.
From Frankenthaler to Warhol: Art of the '60s and 70s — Huntington
Wednesdays, November 22 and 29
There's plenty to look at and play with at this Heckscher Museum of Art exhibit that celebrates art from the '60s and '70s. Parents might enjoy this as much as the kids.
Saturdays at the Suffolk County Environmental Center — Islip
Saturdays through November 25
This informative nature program is an ideal way for your family to enjoy the beauty of fall.
Top photo: Create Thanksgiving crafts this month at the Lakeshore Learning Store in New Hyde Park. Photo courtesy of Lakeshore Learning Materials.