Fun Yoga Classes for Kids in LA and Orange County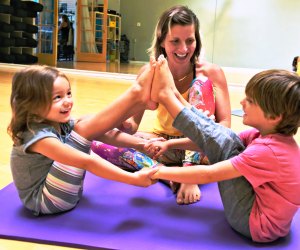 Have you ever noticed (of course you have) how vibrantly and easily children move? Throughout their active days they run and glide and bend and fall - all with such freedom and grace (and, unlike us, they're not stiff the next day). Many of us creaky parents (me) seek yoga to settle our minds and loosen our shoulders. It's high time we invited our wee Gumbys to try it, too. Kids may not have our low back pain, but they will no doubt appreciate the other benefits this gentle practice offers. You're never too young (or too supple) to start yoga. Read on for places that will most definitely delight our little yogi-kids.
In addition to the many amazing established yoga studios here in LA, there are a couple of organizations that offer yoga classes at multiple locations; traveling yoga if you will. We introduce them here, and note where their classes are offered below:

mini yogis
mini yogis offers an exclusively child-based yoga practice, bringing the joys of yoga and meditation to children throughout the greater LA area. Founder Shana Meyerson has built mini yogis to provide an accessible, non-traditional yoga that empowers children to revel in the joy of movement and deep inner peace through exciting, fun-filled, engaging and non-competitive classes.
310.471.9644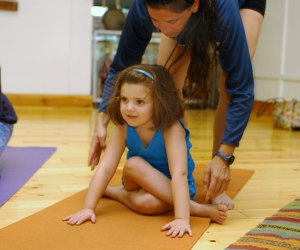 Shana Meyerson of mini yogis helping a student with her hip openers. Photo courtesy of mini yogis yoga for kids
Yoga Buddies
Hermosa Beach, CA
310.503.6952
Yes, the company logo says it all: Yoga for Every Buddy (and everybody). Yoga Buddies is dedicated to introducing the physical and emotional joys and benefits of yoga through (typically) one hour classes that emphasize building strength, flow, and cultivating relaxation. With classes at multiple locations (schools, yoga centers, community centers), Yoga Buddies makes yoga available to LA kids far and wide. Ever thought of bringing yoga to your child's school? Call Yoga Buddies, or email them for more information.

Westside

Annenberg Community Beach House
Taught by Yoga Buddies
415 Pacific Coast Highway
Santa Monica, CA 90402
310.458.4904
Apr 29-May 27, 2012 (repeats most months)
Sun 9am-10am
$62 for five week session (includes parking), or $15 per class, drop-ins welcome (parking $3/hour)
Ages 5-12
Have you been to the Annenberg Community Beach House yet? Now there's another reason to check it out. Fresh and breezy, just steps from the beach - what yogi wouldn't choose to practice here? Your kids can, with yoga classes from Yoga Buddies.

Goda Yoga
9711 Washington Blvd.
Culver City, CA 90232
310.287.1255
Ages 3-7, Tues 3:30pm-4:15pm
Ages 8-12, Tues 4:15pm-5:15pm
Yoga for Exceptional Children (special needs), Wed 3:30pm-4:15pm
Mommy and Me, Fri 10am-11:15am
$12/class, $50/5 classes (valid for 90 days)
A sweet little space in downtown Culver City, Goda Yoga offers a variety of classes for young and old. Its Yoga for Exceptional Children welcomes kids with special needs to increase strength and flexibility, improve motor coordination and body awareness, and have fun in the process. Children with diagnoses including Autism, Downs Syndrome, Cerebral Palsy, and ADHD, as well sensory processing challenges are all invited. The classes are based on Yoga for the Special Child (the Sonia Sumar method).
The Moving Joint - Mar Vista
12813 Venice Blvd.
Los Angeles, CA 90066
424.228.5348
Wed 4:15pm-5:15pm
$12/class, or $100 for 10 classes
Ages 3-6
Well, Mar Vista residents are happy. Owners Alyson Boell-Marchand and Stephanie Cross have opened a beautiful, brand spanking new yoga and Pilates studio that offers classes for every level and age, including yoga for kids. Yogi Leslie Nuesca, who also teaches at seven preschools throughout LA, leads the kids here in yoga sets using animal and nature based games, dance, and song to enhance the health and encourage the intuitive awareness of her young students.

Santa Monica YMCA
1332 6th St
Santa Monica, CA 90401
310.393.2721
June 23-Aug 25
Sat 11:10a-11:50a
$100 members, $160 non-members for 10 week session.
Membership $30 joining fee plus $10/monthly
Ages 5-9
Kids will learn the basic Sun Salutation series, as well as other postures while they practice breathing and body alignment. Each class in the 10-week series is slightly different, keeping the kids interested through variety. Parents rave about the yoga classes here!

Santa Monica YWCA
2019 14th St.
Santa Monica, CA 90405
310.452.3881
May 16-June 27, 2012 (may repeat)
Ages 3-5, Wed 2:30p-3:15p
Parent and Me, ages 21 mos-4 yrs, Wed 1:45p-2:30p
$84/7 class session, plus $25-$45 yearly YWCA membership fee
Kids love to move, and their imaginations are vast. What better way to draw them into yoga than through movement, story and song. Instructor Kristin Epley does just that at the Santa Monica YWCA, teaching balance, stretching, breathing and body awareness through a mix of yoga and creative play.
Yoga Vista
13020 Pacific Promenade #3
Playa Vista, CA 90094
310.862.0444
$79/8 classes, or $15 drop-in
Ages 2.5-5
If you don't live in Playa Vista, head on over for a visit sometime. This lovely, well-maintained, planned community (that the rest of us are invited to enjoy) offers a large park with gated playground, gentle trails, and basketball courts, as well as a library, Coffee Bean, Pinkberry, and yummy.com all within easy strolling distance. And now there's Yoga Vista, a cozy yoga studio with a variety of class offerings - including one for kids. Teacher Kristin Epley welcomes any curious little ones to join in at their own pace and comfort level.
South Bay & Orange County

Flipside Yoga Studio
23582 Moulton Parkway, Suite 108
Laguna Woods, CA 92653
949.433.5680
See schedule for the variety of classes offered throughout the week
$48/month for one class per week, or $60/month unlimited classes
Ages 3 months - 14 years
Wow. A studio just for kids, with as many class options as an adult studio. Owner Megan Buster is passionate about bringing yoga to children of all ages, and engaging and strengthening the community in the process. Check back on the website for upcoming classes for children with special needs.

Freespirit Yoga
Taught by Yoga Buddies
3910 Atlantic Ave.
Long Beach, CA 90807
310.503.6952
Ages 4-6: Sun 12n-12:45pm
Ages 6-10: Tue 4:45pm-5:45pm
$135 for 10 week session, or $15 drop-in
It's been said this is the best yoga studio in Long Beach. Check out the kids classes offered by Freespirit Yoga, and you decide. The studio is right in Bixby Knolls and is easily accessible from the 405.

LYFE Yoga Center
Taught by Yoga Buddies
1310 Pacific Coast Highway
Hermosa Beach, CA 90254
310.503.6952
Ages 4-8, 3:30pm-4:30pm
Ages 9-13, 4:30pm-5:30pm
$135 for 10 weeks, or $15 drop-in
Natural light and scenic ocean views flood this 1,100 sq./ft., eco-friendly studio that serves students from all over the South Bay. The space alone will surely ground your little ones.
Yoga Loft
Taught by Yoga Buddies
1112 Ocean Drive
Manhattan Beach, CA 90266
310.372.7334
Fri 3:30pm-4:15pm
$75 for 6-week session, or $15 drop-in
Ages 3-6
Ahh. This studio offers a view of the Manhattan Beach Pier and the ocean beyond. Says the studio's website, "We ride the waves of vinyasa and the Pacific." Your kids will dig it as they bend and stretch and play. Surf's up, little dudes. Om.

Hollywood & Silverlake

Golden Bridge
1357 N. Highland Ave.
Los Angeles, CA 90028
323.936.4172
Ages 3-5, Sat 9:30am-11am
Ages 6-12, Sun 9:30am-11:30am
Mommy and Me (Dads too), Mon & Wed 2pm-3:30pm; Tue & Thu 12:30pm-2pm; Fri 11am-12:30pm
$12/class, $100/10 class pass
I wonder who hasn't heard of Golden Bridge. And if you haven't yet, be sure to check it out. Not only a studio, but a yoga village, with high-ceiling studio spaces, a store, and a vegetarian "restaurant." Kids will feel duly welcomed and honored here, among the studio's dedicated (and frequently celebrity) yoga fans.

Silverlake Yoga
2810 1/2 Glendale Blvd.
Los Angeles, CA 90039
323.953.0496
Fri 4pm-5pm
$60 for 6 week series, or $13 drop-in
Ages 4-8
See schedule for multiple Baby and Toddler and Me classes
It's not only the oldest yoga studio in Silverlake, it's also the only one that offers so many prenatal classes, and birthing and hypnobirthing workshops as well. Co-owners Juliette Kurth and Jonathan Emerson bring their respective teaching strengths to this neighborhood studio that "casts its net to all" - this place where you and your kids are welcomed like family.

Valley

Mission Street Yoga
1017 Mission St
S. Pasadena, CA 91030
626.441.1144
Ages 3-5, Mon, Wed 3:30pm-4:30pm,
Ages 6-8, Wed 4:30pm-5:30pm
Ages 9-12, Mon 4:30pm-5:30pm
$12/class, $90/8 classes
I love their message: "We are a group of modern yogis with homes, kids, pets, and partners, committed to creating balance and joy in every day life." So many of us will fit right in here, as will our kids as they practice bending and breathing in a fun and non-competitive environment.
Two Hearts Yoga
4454 Van Nuys Blvd.
Sherman Oaks, CA 91403
818.501.9642
Ages 3+ Mon 9:30am-11:00am
Ages 5-10 Fri 4pm-5pm
Baby and Me (toddlers welcome) Mon, Wed, Fri 11am-12n
Family Yoga, Sat 12:45pm-1:45pm
$12-$15/class
As many child yoga advocates maintain, children are often even more interested in yoga if their parents take classes or have an ongoing practice as well. Welcome Family Yoga! In addition to its engaging kids' classes, Two Hearts offers a family practice with a great balance of both game-based poses the kids will like, and more challenging poses for mom and dad. The studio also offers Kids Yoga Parties: a 45 minute yoga class, and the space all to yourselves. $300/10 kids, and $15 for each additional child. Mats and accessories are provided.

Yoga Blend
1921 W. Magnolia Blvd.
Burbank, CA 91506
818.954.YOGA (9642)
Ages 3-5, Mon 4pm-4:35pm
Ages 7-10, Mon 4:40pm-5:25pm
Ages 10-14, Sat 1:10pm-2pm
Mommy and Me, Wed 10am-11:15am
$10/kids class, $9/Mommy and Me class
Owners Christy and Jason Marsden opened the studio with the hopes of creating a small town feel. And that they did. They are also parents of a young one, so they know first-hand how wonderful yoga is for kids.

Yoga Kingdom Sanctuary
553 S. Lake Ave
Pasadena, CA 91101
626.792.7871
Sat 4:30pm-5:30pm, Sun 10am-11:15am
$12/class. $25/class when you take a class while your child takes the kids' class.
Ages 4-10
This lovely and well appointed yoga studio welcomes children to explore basic yoga postures, balance, breathing, and stretching in a fun and supportive environment. And with the parent/child special pricing, you can practice yoga with your child while getting some time to yourself!
Top photo: SoulPlay Yoga, formerly known as Goda Yoga. Photo by Claudia Lusk