Trash & Recycling Events: Sanitation Yard Open Houses for Kids Who Love Garbage Trucks
Vroom Vroom! Does the sound of the garbage truck coming down the street send your kids running to watch? Do they dream of grabbing a ride? Earth Day kicks off city yard open houses and recycling fair season, and these events are hugely popular with kids of a certain age. More than 6,000 residents attend an open house in an average year. If your kiddos have any curiosity about what goes on in a garbage truck, this is their chance to satisfy it.
City of Los Angeles Sanitation has six regional yards, and each hosts a free open house—and each yard is a little different. Kids can take a ride in a garbage truck, see the different trucks up close, honk the horns, watch truck demonstrations, take a tour, and visit the maintenance shop. Kids might even run into one of the drivers who collects on their street. This is not just for little kids, either. The open houses also feature giveaways, tire recycling, informational booths on recycling and composting topics, free lunch and snacks, and free fruit and ornamental trees from Million Trees LA (one tree per address, proof of Los Angeles residency required, first come first served). You can also schedule a landfill tour for a class or other group, or join up with one already scheduled.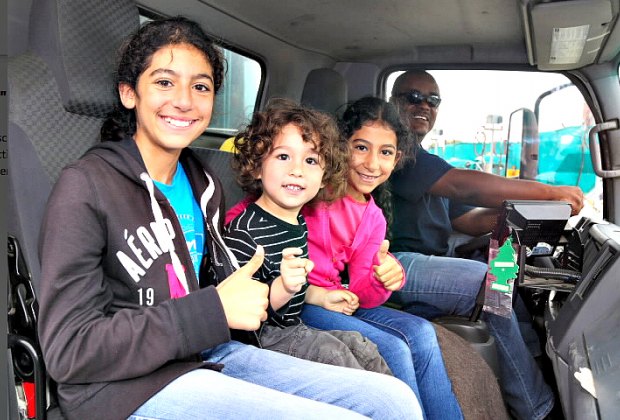 Families give their thumbs up for hands-on experiences and photo ops in LA Sanitation's vehicles. Photo courtesy of Los Angeles Sanitation Department
East Valley District Yard
April 28,2018
11050 Pendleton Street
Sun Valley, CA 91352
The East Valley Yard is the largest of LA's sanitation yards. Take a tour and visit the huge garbage can warehouse. See some trucks that might be new to you (even if you or your kids are truck pros).
West Valley District Yard
May 19, 2018
8840 Vanalden Avenue
Northridge, CA 91324
The West Valley Yard serves the areas of Los Angeles north of the Santa Monica Mountains and west of the 405. It also has a garbage can warehouse.
North Central District Yard
June 2, 2018
452 North San Fernando Road
Los Angeles, CA 90031
The North Central Yard is a smaller yard, but you can still take a truck ride. There is also a great view of the trucks from the top of the parking garage.
South Los Angeles District Yard
Saturday, June 9, 2018
786 South Mission Road
Los Angeles, CA 90023
This year the event is moving back to the sanitation yard from the Expo Center, so be sure to drop by to see trucks up-close.
Harbor District Yard
Saturday, June 23, 2018
1400 N Gaffey Street
San Pedro, CA 90731
The Harbor Yard is the most compact of all the district yards. There are no garbage truck rides offered at this open house due to lack of space. However, you might get to see the police helicopter arrive or depart right across the 110 freeway.
West Los Angeles District Yard
Saturday, June 30, 2018
2027 Stoner Avenue
Los Angeles, CA 90025
The West LA open house is the busiest, as half of all families visiting a district yard open house attend this one. Arrive early to avoid the worst of the lines.
Sanitation Districts of Los Angeles County
1955 Workman Mill Road
Whittier 90601
(562) 908-4288 ext. 2301
The SDLAC schedules public tours of the Puente Hills Landfill in June and October. Watch the website for the schedule, which will be out soon. Schools and other groups can schedule their own tours of both the landfill and San Jose Creek Water Reclamation Plant.
Simi Valley Landfill
2801 Madera Road
Simi Valley 93065
(805) 579-7267
Waste Management's Simi Valley Landfill offers school and other group tours approximately 6 days each month. Due to the popularity of these tours, groups must pre-register at least 2 months in advance. Groups also visit the Pollinator Garden.
Originally published April 14, 2013