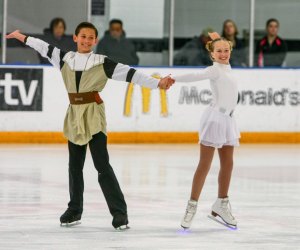 Ice Rinks and Figure Skating Classes for Kids in LA and the Valley
When the sun shines in balmy Los Angeles, when the temperatures in the Valley hit triple digits, when the bad weather on the news is all happening somewhere else – it makes a person want to go ice skating, doesn't it? We may not have frozen ponds and Jack Frost nipping at our noses, but truth be told Southern California has some of the best ice rinks (including outdoor!) and best skating instructors in the nation. It may sound crazy, but think about it – if you're a famous skater who spends 75% of your life shivering in the trail of a Zamboni, where do you want to spend the remaining 25%? In the California sunshine, right? So if your would-be Kwan or Lysacek is ready to chill with some ice skating lessons, read on for the best of LA's figure skating classes.
Toyota Sports Center
555 North Nash Street
El Segundo, CA 90245
310.535.4400
The ice rink in El Segundo is the most high profile facility in LA, home rink to some of the country's most famous skaters (including Evan Lysacek and Gracie Gold) and coaches. The center has three different ice rinks, allowing for simultaneous figure skating, hockey, and public skate sessions. Learn to Skate classes are part of the Ice Skating Institute (ISI) program. The center has a small pro shop that will match online prices, and a pleasant cafe that overlooks two of the three rinks.
The Skating Edge
23770 Western Ave.
Harbor City, CA 90710
310.325.4474
The address says Harbor City, but before you say, "Where's that?" just think Torrance. This quiet, unassuming rink in a South Bay strip mall was once the training ground for Michelle Kwan, and the coaching staff continues to be excellent. Beginners classes follow the US Figure Skating (USFSA) program. Vic's Pro Shop onsite is usually well stocked, and free wifi is available for waiting parents. The cafe is basically a counter with a microwave and a coffee machine, but you can get a cup of hot chocolate - which is often all that matters to a kid coming off the ice.
Lakewood Ice
3975 Pixie Ave.
Lakewood, CA 90712
562.429.1805
Tucked behind Long Beach Airport in a shopping plaza parking lot, this ice complex offers three rinks which house not only a full figure skating program, but also speed skating and synchronized skating. Kids can study in Learn to Skate programs by ISI as well as full USFA programs. The pro shop recently closed.
Palos Verdes Ice Chalet
550 Deep Valley Drive
Rolling Hills Estates, CA 90274
310.541.6630
What other rinks have in pro clout or multiple surfaces, this one makes up for in convenience. Doesn't an ice rink in a shopping mall sound like a great idea? Classes and public skate time are less expensive than at some of the bigger name rinks, and as a bonus Mom and Dad can get their shopping done during class.
Pickwick Ice
1001 Riverside Drive
Burbank, CA 91506
818.845.5300
Part of the Pickwick Gardens complex, Pickwick Ice offers Burbank's skaters an excellent facility with top-notch coaching. Don't be surprised if you spot national and international champions warming up on the ice; it really is who you think it might be. Beginners' classes follow the USFSA program, and the rink has daily after-school public sessions.The pro shop caters to both hockey and figure skaters, and the cafe has the usual sort of ice rink/bowling alley fare.
Iceland Ice Skating Center
4318 Calvert Street
Van Nuys, CA 91401
818.785.2885
Iceland is small enough that you could easily drive past without knowing there is a rink there, but this rink offers ice bumper cars on weekends, just for a change of pace. The facility is small and one of the coldest in town, but the atmosphere is friendly and welcoming. Plenty of serious skaters train here; learn-to-skate classes follow the ISI program.
Valley Ice Center
8750 Van Nuys. Blvd.
Panorama City, CA 91402
818.893.1784
Formerly known as Ice-o-plex, Valley Ice Center is under new ownership and is now associated with the LA Kings. The facility has two separate rinks and a welcoming atmosphere. Group lessons are available for beginners, and a number of high profile coaches offer private lessons. The rink does a good business in birthday parties, too. The cafe is literally a hole in the wall, but Valley Ice Center is a friendly, supportive place to start a skating career.
Pasadena Ice Skating Center
300 E. Green Street
Pasadena, CA 91101
626.578.0800
Home to the Pasadena Figure Skating Club, the Pasadena Ice Skating Center is located at the Pasadena Convention Center. The Learn to Skate program is an ISI program, and public sessions are available daily after school. Walk-in lessons are also an option at certain times of day.
Paramount Iceland
8041 Jackson Street
Paramount, CA 90723
562.633.1171
A little piece of skating history, this spacious rink in Paramount is owned by a family named Zamboni—and yes, it's that Zamboni. The original model of the machine that resurfaces ice everywhere in the world is on display in the corner, and a Wurlitzer organ plays one evening a week while families skate on the ice that once launched Peggy Fleming. Private lessons and group classes are available, as are parties, and family skate nights.
In addition to these year-round indoor rinks, several seasonal outdoor rinks spring up around LA each year, and most offer skating lessons to be enjoyed in the SoCal sunshine. Sure, those states where the lakes freeze may have skating with Hans Brinker charm, but LA wins hands down by offering skating with a beach day chaser. There's no better town to be a skating mom!
Looking for other kinds of classes (hockey, maybe?)? Check out our Kids' Classes and Afterschool Programs Guide.
Originally published July 31, 2012