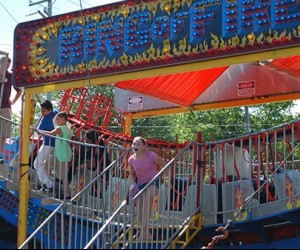 Weekend Fun for Philly Kids: Festivals, Grandparents September 12-13
By mid-September, Philly families are getting settled into their new routine. Soccer practices, piano lessons and dance classes begin to fill the family calendar. But, don't forget to add some family fun into the mix.
Nothing says family fun better than a festival! This weekend there are many options such as Philadelphia's Honey Festival, Kennett Square's Mushroom Festival and Devon's Fall Festival. Make sure to include the grandparents in your family time since Sunday, September 13 is Grandparents' Day. Take Nana and Pop Pop to a baseball game, visit a museum or explore an arboretum.
Continue reading below to check out our top picks for the weekend. If you are looking to plan ahead, be sure to investigate our September GO List filled with ideas for the entire family. Enjoy your weekend!
All Weekend
Philadelphia Honey Festival- Philadelphia, PA
The Wagner Free Institute, Wyck Historic Home, Gardens and Farm as well as Bartram's Gardens are all host to the annual Philadelphia Honey Festival. Visitors can taste sweet honey and learn about the creatures that make this delicious golden treat.
Chadds Ford Days- Chadds Ford, PA
Children's activities, Revolutionary War reenactments, colonial demonstrations and live music await guests to the Barn Visitors Center.
Devon Fall Classic- Devon, PA
Watch the ponies run all weekend long at the Devon Horse Show Grounds. While there, children can enjoy the rides offered at the Devon Fall Festival.
Mushroom Festival- Kennett Square, PA
All weekend, families can participate in culinary events, entertainment and children's activities in downtown Kennett Square, the Mushroom Capital of the World.
Saturday, September 12
Coast Day- Philadelphia, PA
The Independence Seaport Museum hosts Coast Day, an event in which families are entertained by a variety of activities. Be sure to check out TEACH FLEET, the world's largest Lego ship collection.
Wings N' Wheels- Blue Bell, PA
Learn about the history of wheels and aviation at Wings Field. Guests can expect to see automobile and airplane displays, sightseeing flights and children's activities.
Construction Carnival- Philadelphia, PA
Young and old have fun at The One Riverside Construction Site's Construction Carnival. Guests can meet Carl the Builder, Touch A Truck and receive free hard hats and coloring books.
Magnificent Monarch Families- New Hope, PA
Enjoy the outdoors while learning about the life cycle of the monarch butterfly from experts at Bowman's Hill Wildflower Preserve.
Family Hour- Philadelphia, PA
Throughout the month of September, families are invited to the National Liberty Museum for a special hour-long program to share the concepts of the Museum in a way children can understand.
Sunday, September 13
Family Day- Philadelphia, PA
Celebrate Grandparents' Day at the National Museum of American Jewish History. Children can enjoy educational programming, tours and story time.
Grandparents' Day at Morris Arboretum- Philadelphia, PA
Explore the outdoors with Nana and Pop Pop and discover all the treasures that the Arboretum offers.
Back in Time- Media, PA
Take a journey to the past to learn about the history of the buildings at Tyler Arboretum. Kids can expect demonstrations and hands-on activities.
Phillies Grandparents Day- Philadelphia, PA
Take me out to the ballgame... Visit Citizens Bank Park for a Phillies game against the Chicago Cubs. Grandparents receive a discount on tickets using a special promo code.
Hefty Harvest & Scary Scarecrow- Camden, NJ
Celebrate a bountiful harvest at Camden Children's Garden. Visitors can play games, make crafts and even create their own scarecrow, for an additional fee.
Photo by The Kennett Square Mushroom Festival