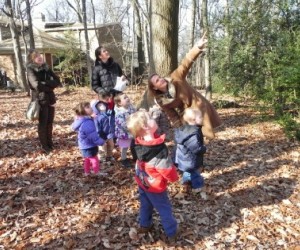 Weekday Picks for Philly Kids: Nature, Stories, Art Jan 4-8
School schedules, sports practices, predictable sleeping patterns... I am longing for normalcy to return to my home. To be clear, I love celebrating with family and friends while taking a break from our regular lives. But, I notice that my kids thrive when there is order and routine.
To settle back into the familiar, Philly families can count on our event calendar which features a variety of fun. Take your little ones to the library for storytime. Appreciate art at a local museum. Or, explore the outdoors during wintertime.
Read on for our top picks for the week. But, don't forget to browse our January GO List to help plan out fun for the entire month. Enjoy the week ahead. As for me, I'm looking forward to getting back to normal this week!
Monday, January 4
Minecraft Monday- Philadelphia, PA
The Parkway Central Library location offers children the chance to build Minecraft worlds on the library's iPads and also provides Minecraft-themed crafts.
Tuesday, January 5
Hans Brinker and the Silver Skates- Philadelphia, PA
Enjoy Arden Theatre's delightful performance of Hans and his sister Gretel as they try to win the local ice skating competition.

See all Tuesday's events
Wednesday, January 6
Mommies & Minnows, Fathers & Fry- Philadelphia, PA
Fairmount Water Works offers a free workshop, which features interactive stories, experiments, and crafts.
Thursday, January 7
Magic Mornings- Abington, PA
Explore the world with the help of Briar Bush Nature Center's Magic Mornings. Kids can expect stories, crafts, walks, and a snack at these special sessions.
Friday, January 8
Glory of Stories- Wilmington, DE
Exposing children to art at a young age can help to foster a love and appreciate of art as they grow up. Delaware Art Museum hosts this special storytime to help develop that appreciation. This week's selection is The Princess Knight by Cornelia Funke.
Photo courtesy of Briar Bush Nature Center