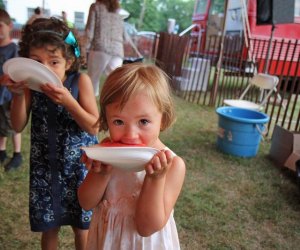 Best Community Barbecues for Families in the Hamptons & North Fork
On the East End of Long Island, few summer traditions are as time-honored (and tasty) as the community barbecue. From the Fourth of July through Labor Day, villages on the North and South Forks gather for evenings of chicken, corn and low-cost, family-friendly bonding. The cooking begins early in the morning, but planning for these fundraisers begins months in advance. Tickets, often $25 or less, are prized commodities for families looking for an authentic East End night out. Community-minded residents love these neighborhood tailgate parties, and for kids, what's better than a night of fried chicken and ice cream?
We've rounded up our favorite East End community barbecues; be sure to call for ticket information. And for more activities in the area this summer, check out our Hamptons & North Fork Guide.
Aquebogue

Saturday, July 9, 2016
Old Steeple Community Church, 656 Main Road
631-722-3070
Old Steeple Community Church's fundraiser is one of the earliest on the North Fork calendar. The menu includes, corn, watermelon, cole slaw and, of course, chicken. The highlight is the famous barbecue sauce recipe created by Cornell University scientist Robert Baker, the "professor of poultry" and inventor of the chicken nugget.
 Tickets are on sale.
Mattituck
Saturday, July 9, 2016
Mattituck Presbyterian Church, Main Road near Love Lane

631-298-4145
This little congregation serves up a big chicken takeout with discounted pricing for families who purchase multiple dinners. The church sets up delivery points throughout Mattituck for those who prefer bonding with fellow locals. More than 500 dinners were served last year and the church hopes to grow that to 750 in 2016. Tickets are on sale, and proceeds benefit the missions of the Presbyterian Church.
Baiting Hollow/Calverton
Saturday, 
August 6, 2016
Baiting Hollow Congregational Church
2416 Sound Ave., Calverton
631-727-6141
Since its start in 1955, the church's barbecue has grown into one of the most anticipated summer events in Riverhead Town. Its entire congregation pitches in to deliver chicken, cabbage, cranberry sauce, baked beans and more to hundreds of guests. A fundraising silent auction is included. Tickets are on sale now. Takeout is available and the church promises a Sunday, August 7 rain date.
Riverhead
Sunday, August 7, 2016
St. John the Baptist Ukrainian Catholic Church
820 Pondview Road
631-727-2766
This tiny parish offers a grand celebration of Ukrainian culture. There's beer for adults, and clowns, jugglers and more for the kids. Then, of course, there is the chicken and assorted ethnic side dishes. It's difficult to leave not feeling a bit bonded with the small eastern European nation.
Greenport
Saturday, August 20, 2016
Third Street Firehouse, 236 Third Street

631-477-1943
The Greenport Fire Department's annual fundraiser stops traffic (literally) in the upscale North Fork village. In fact, it's said the aroma of the sizzling chickens even drowns out the sea air. After dinner, from 4 to 7 p.m., there's plenty of entertainment for the kids, including the village's carousel and sprinkler park.
Shelter Island
Saturday, August 20, 2016
St. Gabriel's Field, Burns and Cartwright Roads

631-749-0184
Shelter Islanders move at their own pace, and it's a step slower than the Hamptons. But that all changes on barbecue day when it seems the entire island gathers to support its fire department. In true community spirit, mansion-owning weekenders mingle with blue-collar locals and tourists. Older children are welcome to help shuck the corn. More than 1,500 chickens are ordered from East End farms.
Cutchogue
Saturday, August 27, 2016
260 New Suffolk Road
631-734-6907

Now in its 59th year, the Cutchogue Fire Department fundraiser is the crown jewel of East End barbecues. T-shirts proclaim it "Long Island's largest," and the menu includes ample portions of chicken, salads, corn and ice cream. The event attracts locals and visitors alike and, for many, marks the unofficial end of summer on the North Fork. Three-thousand tickets are sold on a first-come, first-served basis; call the firehouse beginning July 8. Takeout is available for parents who prefer their backyard to the picnic grounds.
Photo: Shelter Island Fire Department