Coding for Kids: Free Apps That Teach Kids Programming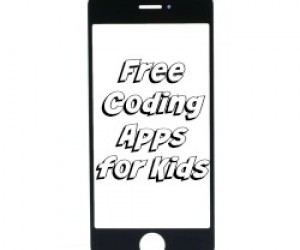 We're always writing about how important it is for kids to learn to code. That's because most of the jobs our children will one day apply for will require basic coding skills. Even if your kids don't dream of becoming the next Bill Gates, computer programming can still teach them critical thinking, logic, creativity and patience. Plus, they can learn to make their own websites and video games, which is pretty cool.
While there are plenty of places where kids can take
coding classes in NYC
, they can also learn how to do it on their own at home with
FREE coding websites
and apps. We've rounded up seven FREE apps (all tested by my tech-savvy brood) that will get your kids coding in no time—even preschoolers.
Free Coding Apps for Preschoolers & Young Kids
Daisy the Dinosaur
Kids can drag and drop bits of code to make the green dino move, shrink, roll, spin and dance. This is a very basic interface, intended as an introduction to the concept of coding for young children. After they've mastered the few available commands, they'll want to move on to something more challenging. Some simple reading is required.

Kodable
Though officially aimed at children ages 5 and up, no reading is required so even younger kids can give it a go. Kodable features a whopping 45 levels of programming disguised as a game in which the marooned fuzzFamily explores a maze on a strange planet. The free version comes with repeating loop sequences, sequential steps to follow and mastery of "If this, then that" algorithms. Warning: In-app upgrades are offered for various fees, so make sure your kids don't click those accidentally—or on purpose.

Lightbot One Hour Coding
Like the Hour of Code initiative, which encourages students to learn to code in simple, hour-long tutorials, Lightbot has a one-hour coding app. Designed for absolute beginners, it consists of 10 levels of puzzles starring a robot that illuminates tiles while demonstrating basic control-flow procedures.
Free Coding Apps for Elementary Schoolers & Up
Codecademy: Code Hour
Codecademy.com is one of my son's favorite websites for teaching himself a variety of languages, and its Code Hour app shows users real Python and HTML code, then demonstrates what they do, driving the lessons home via multiple choice questions. By the end of the hour, many students are already able to make their own webpage. Perfect for confident readers who are self-motivated.

Khan Academy
You may know Khan Academy as that website with all those math and science tutorials. But it also offers easy-to-follow coding lessons and, as of January 2015, they're all newly available as part of its FREE app. Come for the programming, stay for everything else, including non-STEM subjects like English, art history and economics.

Hakitzu Elite: Robot Hackers
Yes, this app comes with a warning of "mild cartoon violence" and the tagline: Hack your friends! But that's probably a bonus in your tween's book. Battle robots during single and multiplayer missions, with victory hinging on your ability to learn JavaScript, a fairly sophisticated computer language. Not only do you get a vast assortment of weapons to choose from, you also earn coding credits to spend at the game's Chop Shop.

Hopscotch
Not only can kids make games, they can create art projects, too, and then share them with users around the world. You can also remix other kids' work and get feedback on your own. The app is controlled by tapping it, tilting it, shaking it, and, my personal favorite, yelling at it. (There is nothing like watching your child try to reason with an electronic device that isn't acting the right way. Sound familiar?)

But this is just the tip of the coding app iceberg. Share your favorites and links to what you've made in the comments below. I'll start with this animation by my son. I have no idea why this is not yet the plot of a major motion picture.