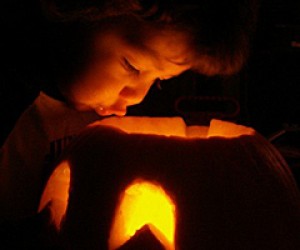 Recycle Your Jack-o'-Lanterns at Pumpkin Smash Composting Events in NYC
Halloween inevitably ends with way too much candy, which is why we're big fans of donating or repurposing excess treats. But you know what else we have too much of on the holiday? Decorative pumpkins and gourds. Often they sit and rot on windowsills and stoops until they cave in, at which point parents can finally convince their kids to chuck 'em in the trash. But there's a more fun and environmentally friendly way to get rid of your jack-o'-lanterns: Recycle them at Pumpkin Smash, a series of FREE composting events being held throughout the five boroughs this Saturday, November 1.
Although the inaugural citywide Pumpkin Smash is being overseen by the NYC Department of Sanitation, it actually grew out of a local grassroots event started in 2011 by professional gardener and mom, Lauren Gill, a.k.a. Citizen Grower. Originally, she coordinated a community composting gathering at her son's Chelsea public elementary school with the NYC Compost Project and a few other local orgs. But with the DOS now on board, they're expanding pumpkin composting to all five boroughs this year.

So instead of chucking your jack-o'-lanterns in the trash, bring them to one of the designated Pumpkin Smash sites on Saturday to watch them go splat (kids get to do the smashing—cool!) The gourd guts will then be composted locally and used to rebuild soils in NYC green spaces. Other fun on tap includes FREE refreshments (while supplies last), raffles and seasonal kids' activities. (Note: The Bronx Pumpkin Smash takes place on Wednesday, November 5; all other events are happening this Saturday, November 1.)

If your kids can't bear to watch their organic masterpieces explode, there is another recycling option: On Saturday, November 1, Inwood's Isham Park is hosting its first-ever Pumpkin Pageant. Drop off your carved creations along the park's path anytime during the day. Volunteers will then illuminate the jack-o'-lanterns at dusk, sending them out in a blaze of glory. Organizers are hoping for hundreds of pumpkins, which should create a truly magical sight. Afterward, the gourds will be taken to the compost heap at Swindler Cove.

Find out more about composting on the NYC Compost Project website.

Do you have other creative ways of disposing of your Halloween pumpkins? Let us know in the comments.