Places to Play in the Rivertowns: Where Kids Can Run, Laugh and Learn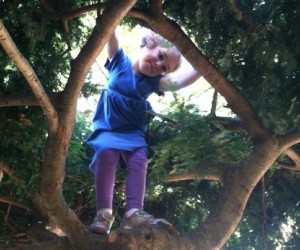 We wrap up our month-long focus on the Rivertowns with a look at the best places to play in the charming cluster of villages along the Hudson River. So far this month, we've highlighted our favorite coffee shops and eateries in the area. Now it's time for some adventures along the Hudson.
The Rivertowns have beautiful libraries (many with play areas), riverside parks, and nature preserves. For kids eager for structured play, there are classes in art, yoga, gymnastics, and more. Kids can even learn a little history while they play on the grounds at the former home of Washington Irving. Read on for our top picks for places to play in the Rivertowns.
Rivertown Public Libraries
From story hours to concerts and lego clubs, Rivertown libraries offer a host of free programming for families. You can find something for your kids to do just about any day of the week at these libraries: Croton-on-Hudson, Peekskill, Ossining, Tarrytown, Irvington, Dobbs Ferry, and Hastings. (Tip: Ossining's Library has a snack bar in the basement serving fare from Wobble Café.)
Croton Point Park - Croton-on-Hudson
1A Croton Point Avenue
Croton Point is a gorgeous park on a peninsula on the shore of the Hudson River. It's a great place to walk around enjoying the river views and gentle green hills. The playground is well-situated near fields and climbing trees. In summer, you can swim in the Hudson from the sandy beach (though due to the topography it can be chilly on windy days). There's also a nature center, and the park hosts many festivals year-round.
Orange Splot Art Spot - Peekskill
1009 Park Street
Face it--some kids art classes are more inspiring than others. At Orange Splot Art Spot, Justine offers classes and events that truly awaken children's natural creativity. With afterschool classes for older kids, morning workshops for tots, camps, birthday parties, and special events, there's something to nurture every budding artist. (Grownups too!)
Teatown Lake Reservation - Ossining
1600 Spring Valley Road
With 15 miles of trails and a wealth of educational programs, Teatown Lake is a nature preserve worth exploring. Pop in and check out the resident animals or register for one of their children's programs. Seasonal offerings include maple sugaring, camps and wildflower island tours.
YMCA - Tarrytown
62 Main Street
Located in the heart of Tarrytown, the YMCA is a one-stop-shopping source for family activities. A monthly membership gives you gym access plus discounted rates on a host of classes, from gymnastics to swim to ballet. With the recent addition of the Early Learning and Theater Arts Studio at Tappan Hill, the YMCA has expanded their theater program and now offers circus arts.
Washington Irving's Sunnyside - Irvington
3 West Sunnyside Lane
Washington Irving loved having children at his home and Historic Hudson Valley has continued the tradition by hosting many events geared towards families at this famous local author's former abode. Tour the romantic storybook house (tours are short enough to be OK for elementary-aged kids), picnic on the lovely grounds, or attend one of their special events. Our favorite is the summer program--on Thursdays there are old-fashioned games and crafts for kids.
Rivertown Mamas - Dobbs Ferry
145 Palisade Street, Suite 247
Rivertown Mamas offers a wide variety of classes, groups, and workshops for moms and moms-to-be. Offerings include breastfeeding support, new moms discussion groups, and infant massage classes. My daughter was one of the very first participants at the excellent yoga classes now housed here. We still sometimes sing Allison's "Namaste" song together.
MK Dance - Hastings
7 Farragut Avenue
Michelle is a warm, energetic teacher who connects with students and parents alike. She offers everything from parent-child classes for the littlest dancers, to more advanced classes in ballet and modern dance for older kids and adults. We love her emphasis on meaningful, creative expression--at MK Dance, it's not just about looking cute in a tutu.