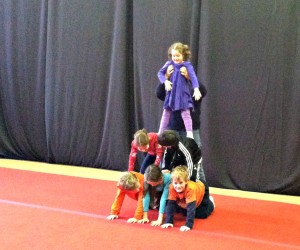 Aerial Arts, Juggling, Tumbling at Westchester Circus Arts Center
My kids are five and seven and both attend public school. I'm amazed at how much is expected of them at such an early age. In addition to rigorous academics, students are expected to sit still for huge portions of the day—not easy for active kids like mine! We stay busy with activities like hiking and ice skating, and of course, we love all the indoor play spaces Westchester has to offer. Still, I wanted a class where my kids could learn some new skills. Nothing too regimented—I wanted to balance out the school stress, not add to it. My kids needed a class that would let them get their wiggles out, help them become strong and confident and, most of all, have some silly fun. Luckily, we've found a great place to combat the Common Core blues: the circus!
Westchester Circus Arts Center opened in September 2012 and is the county's only year-round circus arts center. The center offers a range of classes for kids, teaching skills from tumbling to flying through the air.
Hilary Sweeney, WCA's founder and co-director, is an experienced aerialist who is great with kids. She teaches the popular aerial silks class in which kids flip and climb on silks suspended in air. There's also a trapeze class, acrobatics and a mommy and me silks class for toddlers. (Where was this when my kids were that age?) Hilary offers classes for teens as well, some of whom go on to perform with the WCA's Teen Company.
WCA's weekly Circus Club is taught by co-director and experienced performer Carlo Pellegrini (though to the kids he's known as "Mr. Amazing"). At Circus Club, kids jump on trampolines, tumble, juggle and even balance feathers on their noses. They're learning skills in a way that's fun and helps bring out each child's individual talents. That kind of personal attention is one of WCA's hallmarks. The teachers strive to give students the tools they need to become their best circus selves.
My son loves his elementary school, but when he gets home he often seems overwhelmed and worn out. I love watching him come alive at Circus Club every week. From the moment he walks into the gym I can hear him laughing. My daughter is also gaining confidence and strength. Her favorite part of class is jumping on the trampoline and landing in a ninja pose—"HI-YA!"
Classes for kids and teens are offered Monday through Thursday after school and Sunday afternoons. And for moms who might get inspired to take to the air, there are classes for adults too. Check the website for a full list of classes, pricing and hours. The kids classes are generally offered as a series and don't have drop-in options, but your child may be able to take a sample class. And be warned--after all that running and tumbling, your kids will be hungry! Bring snacks or treat yourselves to dinner out at one of the many local kid-friendly eateries.
Westchester Circus Arts Center, formerly housed at the Tarrytown YMCA's Early Learning Center, has relocated to Life, the Place to Be, 2 Lawrence Street in Ardsley. For information and registration, visit their website or call 914-275-5711.
Originally published March 2014.