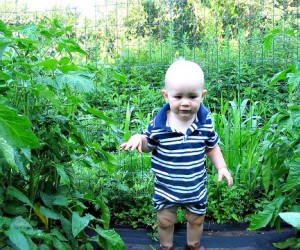 Pick-Your-Own Farms in Westchester and Lower Hudson Valley
Pick-your-own is not just for apples and pumpkins! Westchester and neighboring counties offer many options for getting down in the dirt (or up in the trees) to pick all kinds of fruits and veggies. This can be a great way to show kids where their food comes from--you might even get them to try a new vegetable or two. Plus, it just doesn't get any fresher than when you pick it yourself. It's been a long winter, but the taste of spring is finally here.
Read on for more about our top "picks" in the area. Also be sure to check out our post on strawberry picking farms in lower Hudson Valley.
Hilltop Hanover Farm & Environmental Center - Yorktown Heights
1271 Hanover Street
914-962-2368
A visit to Hilltop Hanover provides more than a basket of veggies to bring home. This former dairy farm is now both a working farm and an environmental education center. Visitors can take classes on ecological home gardening techniques, learn about rainwater harvesting, or simply enjoy the 3.5 miles of hiking trails around the farm. Pick-your-own options include a variety of seasonal vegetables. Plus, everything is grown without pesticides using sustainable practices.
ORANGE
Lawrence Farms Orchards - Newburgh
39 Colandrea Road
845-562-4268
If you're looking for all-day family entertainment as well as produce, Lawrence Farms is the place to go. A play area for kids includes a quaint wooden Children's Village and, during the summer, there's a corn maze to explore. The farm is populated with fuzzy animals straight out of a Little Golden Book--kids can even feed the goats and ducks. The huge selection of u-pick options is nothing to sniff at either--raspberries, cucumbers, lettuce, zucchini and more.
DUTCHESS
Fishkill Farms - Hopewell Junction
9 Fishkill Farm Road
845-897-4377
This is my family's favorite place for pick-your-own fruits. We like that Fishkill uses ecological farming methods, designed to have the least possible negative impact on the environment while still producing good crops. This means that lots of their produce is either organic or has a lot fewer chemicals than conventionally grown plants. While primarily an apple farm, Fishkill has been slowly expanding their offerings in an effort to diversify. There are some veggies available to pick, as well as cherries, peaches and nectarines. Their pick-your-own berries are especially yummy.
Barton Orchards - Poughquag
55 Apple Tree Lane
845-227-2306
Barton Orchards has a wide selection of fruits and vegetables available to pick, including plums, cucumbers, tomatoes, green beans and peppers. Once you've gathered enough for many healthy meals to come, take the kids to Barton's petting zoo or enjoy a hay ride through the fields and woods.
Brittany Hollow Farm - Rhinebeck
7115 Albany Post Road
845-758-3276
Once you've picked your fill of berries, tomatoes and other delicious produce, why not choose your own blooms for the dinner table? My daughter loves to wander through a field of flowers, carefully putting together a bouquet for our home or as a gift for a grandparent. Most wildflower preserves in our area are strictly "look with your eyes, not with your hands." At Brittany Hollow, on the other hand, kids can pluck away! Bring home a rainbow-hued bunch that might include zinnias, black-eyed susans, strawflowers, snapdragons, cosmos, celosia and more. Visitors may also catch a glimpse of butterflies and hummingbirds enjoying the floral bounty.
Originally published April 2014.