Play & Learn in the Great Outdoors: Nature Summer Camps in Westchester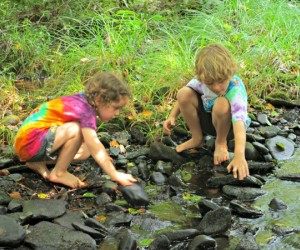 Westchester is known as New York City's backyard for good reason--the county boasts about 18,000 acres of parkland and more than 50 natural recreation areas. So if your kid is looking for a summer camp experience that will immerse him in the natural world, Westchester has more options than you can shake a stick at!
We continue to add to our Summer Camp Guide with a look at four nature-themed camp options in Westchester. These programs offer young naturalists summer days spent studying, exploring and appreciating nature--interacting with animals, hiking and communing with natural world around them. Looking for more camp options? Check out our new Westchester Camp Directory, full of traditional and specialty camp options for kids of all ages, stages and interests.
Note that summer camp information for the 2020 season is changing daily. Please click the links to the individual camps below to see which ones are offering programs this year.
Teatown Lake Reservation - Ossining
1600 Spring Valley Road
(914) 762-2912
Ages 4-14
Teatown Lake Reservation has 1,000 acres of hiking trails, meadows, and woodland, as well as a beautiful nature center. On any given day, campers might catch frogs, climb rocks, or learn about the life cycle of bees. Full- and half-day options are available for kids aged 4-7. For the older kids, the camp offers full-day only.
Greenburgh Nature Center - Scarsdale
99 Dromore Road
(914) 723-3470
Grades K-7
Greenburgh Nature Center has been one of my kids' favorite places since they were babies. They also run an excellent summer camp, with small groups led by experienced naturalists. The first part of the summer has weeks blocked out for older kids. Campers can choose between Critter Camp (grades 4-6) and Adventure Camp (grades 5-7). Greenburgh offers half-day camp sessions for younger campers (grades K-3) during the last two weeks of August. Kids can participate in outdoor exploration, animal interaction, nature crafts and more.
Westchester County's Summer Ecology Program - Various Locations
(914) 864-7273
Grades 1-9
The Westchester Parks Department's award-winning summer ecology program has been introducing children to the wonders of nature since 1983. Campers can choose from three locations around the county--Cranberry Lake Preserve, Marshlands Conservancy, or Ward Pound Ridge Reservation. In small groups led by experienced environmental educators, the kids gain a deeper appreciation for and understanding of the natural world.
Weinberg Nature Center - Scarsdale
455 Mamaroneck Road
(914) 722-1289
Ages 4-10
Looking for a camp to fill in those weeks at the end of the summer when many other camps end? Weinburgh Nature Center has got your back. This lovely nature center is the perfect place for kids to squeeze those last drops of warmth and sunshine from the summer's end, and to develop a connection with the natural world that will last them into the coming school year.
Don't forget to browse our Summer Camp Guide and Camp Directory for even more camp options in Westchester!
This originally published in 2014.