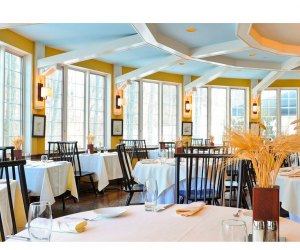 Restaurants Serving Thanksgiving Dinner for Families around Hartford, CT
The thought of having to prepare a huge Thanksgiving meal for my family gives me nightmares worse than forgetting to turn in my senior thesis. I prefer to leave it to the professionals and enjoy family, friends, and football rather than shopping, cooking, and cleaning up. For a traditional feast with all the trimmings and minus the stress, check out our list of restaurants open on Thanksgiving in the Hartford area. Reservations are strongly recommended for all of the restaurants. Check out our posts about Thanksgiving Dinner Out in Fairfield County and Restaurants open on Thanksgiving Day in Litchfield County too.
Seasons Restaurant at Avon Old Farms Hotel—Avon
This lovely boutique hotel in the heart of the Farmington Valley offers a Thanksgiving Day brunch. Start with breakfast treats like pastries, Belgian waffles, and bacon and eggs. The carving station includes roasted turkey and prime rib. Move right on to dinner with sides including oatmeal crusted salmon, pork loin with apricot sauce, and all the traditional Thanksgiving fixings. There is also a table especially for kids, as well as a dessert table including gluten-free specialties, and, wait for it...a milkshake station! Adults $59.95 (includes mimosas); children (6-12) $21.95; ages 5 and under eat free. The buffet is available from 10am to 3pm.
J. Gilbert's—Glastonbury
Settle in for a cozy family meal at this award-winning steakhouse, with dark wood accents, stonework, and fireplaces. The special 3-course prix-fixe Thanksgiving menu features roasted turkey and all the fixings as well all the fixings such as sausage stuffing, green beans, glazed yams, and cornbread.. For your dessert choose from pumpkin pie, apple croustade, chocolate velvet cake, and cheesecake.. If you're not a Thanksgiving kind of person their regular menu is also served. Gluten-free and vegetarian dishes are available. The $39 meal is served from 11am to 8pm. Children 12 and under eat for $19.
Metro Bis—Simsbury
This highly-acclaimed restaurant, located in the Simsbury 1820 House, offers food and charm that cannot be beat. Seating reservations begin at 12:00 p.m., with the last seating at 7 p.m. The three-course menu includes choices of appetizer, entree, and dessert. Entree choices include short ribs, salmon, and crab cakes, in addition to turkey. The price is $48.95 for adults and $19.95 for children 10 and under. Ages 3 and younger eat free. They also provide a to-go menu that includes pies for $25 each. All orders should be placed by November 25th and can be picked up on the 27th between 1 p.m. and 7 p.m.
Millwright's—Simsbury
Offering inspired New England cuisine, Millwright's is serving a prix-fixe menu from 11:30am to 6pm. Enjoy foods sourced locally from farms in Simsbury and Canton. Choose an appetizer and entree; sides are served family-style. An assortment of Thanksgiving treats is offered for dessert. Meals are $59 for adults and $29 for children 12 and under.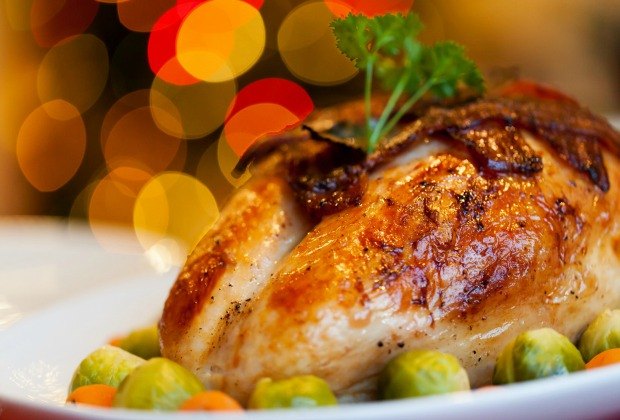 Photo: Public Domain Pictures

The Mill on the River—South Windsor
This picturesque restaurant has a unique history that spans 200 years. It is the former Podunk Mill, built by the colonists and members of the Podunk tribe. Enjoy their prix-fixe menu, which offers a huge list of appetizers to choose from, choice of soup or salad, and entrees that include turkey, honey-glazed Virginia Ham, rigatoni ala vodka, and grilled wild Atlantic salmon. Meals for adults are $42.95 per person and and $19.95 for children 12 and younger, and served from 11:30am to 5:30pm.
River on the River—Glastonbury
This is a large dining space with a beautiful view of the river from every window. Feast from their Thanksgiving menu which includes soup and salad, an apple-herb-brined turkey, or New York strip steak. Delicious desserts are also waiting for you of course, including Chai Panna Cotta, sweet potato pie, and apple crisp. There is also a children's menu for the younger members of your Thanksgiving party. Costs are $45 per adult, and $20 for children 12 and under.
Nutmeg Restaurant—East Windsor
This bright and upscale eatery offers a Thanksgiving menu with a choice of appetizer, in addition to several choices each of soup or salad. There is also a large selection of entrees, including turkey, honey nut encrusted salmon, grilled pork chops, lamb, butter nut ravioli, and traditional ham. Choose from Chef's selections for dessert. Prices are $44.99 per person and a children's menu is available. .
Fleming's Prime Steakhouse and Wine Bar, West Hartford
Fleming's Prime Steakhouse invites families on November 28 starting at 11am for a prix fixe menu inspired by traditional favorites for $52 per adult. For the kids, there's another menu, just $22 per child. The full menu will also be available, so guests can enjoy whatever they prefer — all without any prep or cleanup. Just one more thing to be thankful for.
Bear's Smokehouse—Hartford and Windsor
This Kansas City-style BBQ joint's Thanksgiving menu includes smoked turkey and brisket, glazed ham, candied carrots, sausage and bacon stuffing, and desserts such us pecan pie, peach cobbler, and, of course, pumpkin pie. Call the Turkey Hotline to place your order or obtain more information: 860-785-8772, Ext. 6.
The Simsbury Inn Evergreens Restaurant—Simsbury
Lots of buffet stations to pull into here: a fall soup station that includes barley and wild mushroom and beef soups; a chilled seafood station that includes shrimp, mussels, and crab claws; carving stations for turkey and apricot brazed ham; a dinner buffet; and a pie bar. Chocolate Mississippi mud pie, anyone? Servings will take place at 11:30am, 12:30pm, 2:30pm, and 4pm. Cost is $59.95 per adult, $21.95 for children ages 5-12, and complimentary for those 4 and younger.

Some area chain restaurants will be open as well. Check your local Applebee's or Cracker Barrel (in East Windsor) for holiday menus. Boston Market (with locations in West Hartford, Bloomfield, Bristol, Glastonbury, Manchester, Newington) will deliver fully cooked meals (you just need to thaw and heat) if you choose not to dine on-site.
Originally published 11/1/13