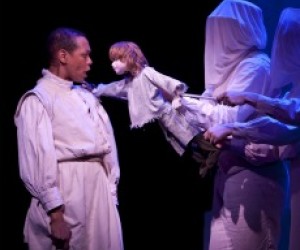 Peter and Wendy: 8 Reasons to Take Kids 10 and Up to This Mature Puppet Show
There's a ton of theater in this town for little kids (especially girls). From Angelina Ballerina to Pinkalicious to Freckleface Strawberry, sometimes I think every pink-clad kit-lit heroine has had a musical made in her honor. But once your elementary schooler graduates to middle school, there aren't a lot of options, unless you're willing to spring for Blue Man or Broadway.

That's why I was so excited when I heard that the New Victory was bringing back one of its signature shows, Peter and Wendy, which played at the theater in 1997 and 2002. Based on J. M. Barrie's novelization of his Peter Plan play, Peter and Wendy is a much more melancholy take on the famous story. The suggested age is 10 and up, and that makes sense. With a deliberately slow pace (the production clocks in around two and a half hours), abstract puppetry (a pair of nightshirts represent Wendy's brothers, John and Michael) and a wistful tone, this tale of a motherless boy who won't grow up is best appreciated by those who have—or are about to—grow up themselves.

I have my criticisms of the production: The treacly Irish music sounded like the soundtrack to Titanic, and the Peter puppet was way more creepy than cute. But overall, it's a haunting, one-of-a-kind experience. Here are eight reasons why you should take your family (or, if your kids are too young, consider it for date night).


1. Julie Archer's inspired design.
This talented lady oversaw the sets, lights and most of the puppets. Captain Hook and Mr. Smee are Bunraku-style puppets; the Lost Boys look like wooden drawing figures; a clump of cloth serves as the dog, Nana; which later becomes part of the full-body crocodile costume. Pretty much anything can transform into a puppet in her world.
2. Basil Twist's masterful puppetry.
Twist is the rock star of the puppet world. (He's responsible for the gleefully gruesome puppets in Broadway's
The Addams Family
.) In
Peter and Wendy
, he commands a troop of puppeteers clad in white from head to toe (they look like ghostly beekeepers). Amazingly, they never distract from the action.
3. Karen Kandel's amazing performance(s).
The actress narrates the story and plays Wendy. Plus she supplies the voices for
all
of the puppets. She literally talks to herself throughout the show, but each character is so well delineated, you always know who's speaking.
4
. It's time your kid was exposed to experimental theater.
Mabou Mines
, the company behind
Peter and Wendy
, has been mounting avant-garde shows since 1970! The troupe is celebrated for its thought-provoking, multimedia productions, and this show fits right in with the rest of the company's work.
5. Dark humor.
In one of my favorite moments, Wendy stomps on the catty Tinker Bell (a far cry from the Disney pixie), who's "played" by a pair of finger cymbals. If you ask me, she had it coming.
6. Thrilling adventure.
Peter has lots of close calls at the evil hands of Hook. In one of the show's most memorable moments, Peter offers to sacrifice his life to save Wendy, but is rescued at the last minute by the beautiful Neverbird.
7. When's the last time you had a good cry?
Well, you will by the end. Like all children, Wendy grows up and watches her own daughter fly off with Peter Pan, the only person who seems immune to maturation. Trust me, you'll shed at least a tear or two, out of nostalgia for your own childhood lost, and the fact that your kids are growing up way too fast.
8. You'll enjoy it as much as (maybe even more than) your kids.
How often do you say that about a children's show?
Peter and Wendy
is playing at the New Victory Theater through May 22.
Click here for schedule
. $14-$38.
Photos by Richard Termine