Oz the Great and Powerful (Parent Review)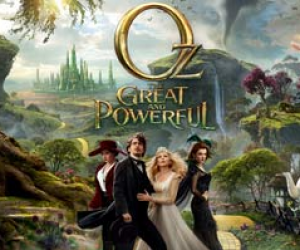 OK, so Oz is great and Oz is powerful; but is Disney's Oz the Great and Powerful a good film for your kids to see? Parenting minds want to know. So we headed down to El Capitan Theatre in Hollywood for a screening of the much anticipated Wizard of Oz prequel in 3D - the ultimate Hollywood venue for the ultimate Hollywood prequel.
The story this new Oz chronicle explores is who that man behind the curtain really was, how his hot air balloon ended up in Oz, and what his relationship with all these witches was anyway. It is without question an interesting tale to tell, and the movie does it well. The legendary wizard is played by James Franco - who put in an appearance on stage the night we attended, along with Zach Braff (the voice behind his flying monkey sidekick), causing all sorts of excitement among the decidedly-not-kids in the audience.
Before taking the plunge of bringing my nine-year-old to see Oz the Great and Powerful, I searched the web to see if anyone had already weighed in on the topic of age appropriateness. The only opinion I found was that the film would be fine for anyone who could handle the original Wizard of Oz. While I took that and ran with it, I now must strenuously disagree. This Oz chapter is entertaining, visually stunning, suspenseful, funny, and clever - but its target audience is clearly older than that of the original film. In fact, I'd say nine years old is about as young a child as I'd want to bring to Oz the Great and Powerful. My son enjoyed it, but very early on he admitted that it was much scarier than he'd expected. For reference, my son was able to weather the 1939 version of the flying monkeys when he was about seven, but CG flying monkeys in 3D are another thing entirely.
Still, every child is different, so let me share what makes this (PG-rated) film aim older than the original (G-rated) one:
For starters, the main story here is not that of a little girl on a quest to discover that there's no place like home. No, our hero this time is a womanizing con artist on a journey to become a little bit less of a jerk. And yes, that means lots of kissing; get ready for a conversation about why grown-ups don't consider it appropriate for a man to kiss so many different women, and why all of these women (and witches) are so upset - a far cry from a tin man in search of a heart.
Things start getting scary when one of those legendary Kansas Oz-bound tornados rips through town. Unlike the 1939 version, we don't get to watch the action safely through Dorothy's bedroom window, and nobody's riding a bike in this twister. The visual effects that create the center of the tornado really are great and powerful; I was enthralled and yet could easily imagine having nightmares from that twister myself. The death grip on my left arm began during the tornado and didn't release until the credits had finished rolling.
Once in Oz, events alternate between the idyllic and beautiful and the bizarre and terrifying - much like in the original. The primary difference, apart from 75 years of progress in special effects, is the juxtaposition. The reason the death grip never let up on my arm is because the film creates a reality in which something loud and horrifying can jump out at us (in 3D!) literally at any moment. The old film had safe zones; for example, no fireballs to be thrown in the middle of a large musical number. No scary witches in the Emerald City. And nothing bad can happen when Glinda is standing next to you. In Oz the Great and Powerful all bets are off. Screaming, roaring, snarling beasts can jump directly at us with all teeth bared at any time. And while we know that The Wizard and Glinda have to survive for the next story, there are a whole lot of other characters to worry about.
Speaking of snarling, the wicked witch's flying monkey brigade was scary enough when we knew they were guys in costumes with wires; computer animation is able to create something far more heart-stopping. If you're on the fence about whether or not your child can handle this film, you might consider attending a non-3D screening to keep the monsters on the screen. And one more fair warning: if loud is an issue for your youngster, be aware that this film is.
Having laid before you all that is scary, it's only fair to also mention all that is wonderful. The design is gorgeous and doubtless Oscar-bound. The writing works very well on many levels, paying homage to the original film and offering up several good laughs along the way. In fact, fans of the original (and, I'm sorry, but who isn't?) can have loads of fun collecting and appreciating the references, in spite of Disney having to tread lightly around Warner's copyright (only plot points in the L. Frank Baum books are available in public domain - not the film). If your children are kindergarten age or younger, you might consider treating yourself to a date night to enjoy this film; it really is enough fun to merit it.
Finally, a few words about the production at El Capitan - which even more than usual is well worth the slightly higher ticket price. As we've come to expect from El Capitan, the lobby houses a selection of costumes from the set, and the pre-show concert on the Disney pipe organ is always a treat. The pre-show during the month of March, however, goes far beyond any opening act we've seen at El Capitan in a long time. Magic Castle veteran Greg Wilson - one of those magicians other magicians pay to see - performs a major illusion stage show that includes everything a magic show should have, right down to sawing the lady in half. It is absolutely worth booking a ticket to Oz the Great and Powerful before April 1 to catch the bonus treat of a top-notch magic show before the film. And if you watch carefully, there are a few connections between the magic on the stage and the magic on the screen.
If you see the movie and have something to add that you think other parents would like to know, please add your thoughts in the comments section below!