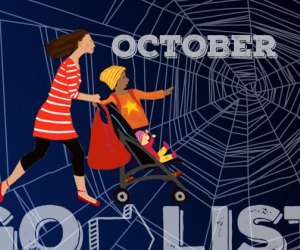 October GoList: Best Things To Do with Kids in Boston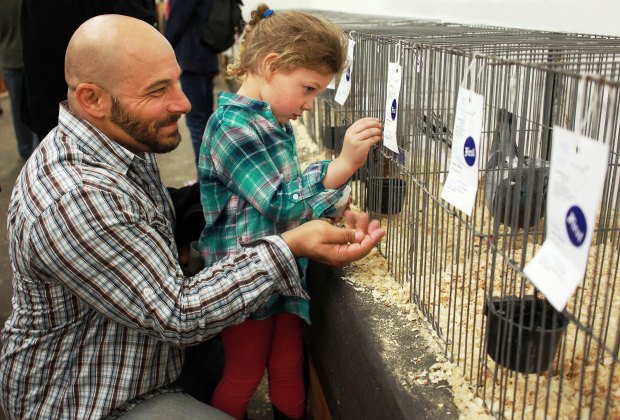 Make some feathered friends at the Topsfield Fair. Photo courtesy of the fair
Topsfield Fair - Topsfield
10/4/2019 - 10/14/2019
$10 and up; free for kids under 8
The Topsfield Fair is the quintessential country fair, with traditional agricultural exhibits, big entertainment, rides, games, shopping, and great food (fried Oreos, anyone?).
RELATED: Tips for Going to the Topsfield Fair with Kids
Haunted Happenings Grand Parade - Salem
10/3/2019
FREE
The annual parade to kick off Salem's Haunted Happenings is filled with color, pageantry, and music. The parade begins at Shetland Park and ends at Salem Common.
RELATED: Mommy Poppins' Guide to the Best Halloween Activities with Boston Kids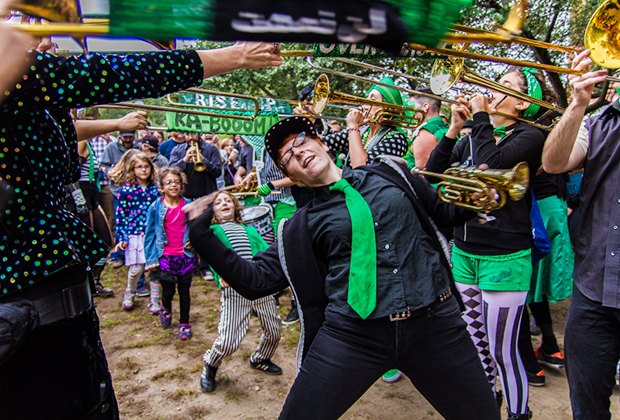 Kids will get down to the music at Honk! Photo by Leo March/courtesy of the festival
Honk! Festival - Davis Square, Somerville
10/11/2019 - 10/13/2019
FREE
This annual three-day free festival bringing brass bands from all over the United States and the world to Somerville for a celebration of music, community, and activism. Festivities get underway with a lantern parade in Davis Square neighborhoods on Friday night.
RELATED: Boston-Area Fall Festivals You Don't Want to Miss
Opening Our Doors - The Fenway, Boston
10/14/2019
FREE
Music, theater and dance performances, walking tours, art exhibitions and create-your-own-art opportunities, plus theater workshops for kids and indoor kite flying, are all part of the annual Opening Our Doors Celebration. It is, hands-down, one our favorite annual events in Boston. This is your chance to take the kids to a few of Boston's finest museums, including the Museum of Fine Arts, Isabella Stewart Gardner Museum, MassArt's Bakalar and Paine Galleries, and other local galleries.
Boston Book Festival - Copley Square and Dudley Square
10/19/2019 - 10/20/2019
Most FREE
Boston Book Festival hosts author presentations, panels and hands-on demonstrations at venues throughout the Copley Square area on Saturday and in Dudley Square on Sunday. A street fair in the square on Saturday features exhibitors and live music throughout the day. Activities for kids and teens include everything from costumed story characters to the hottest names in YA literature.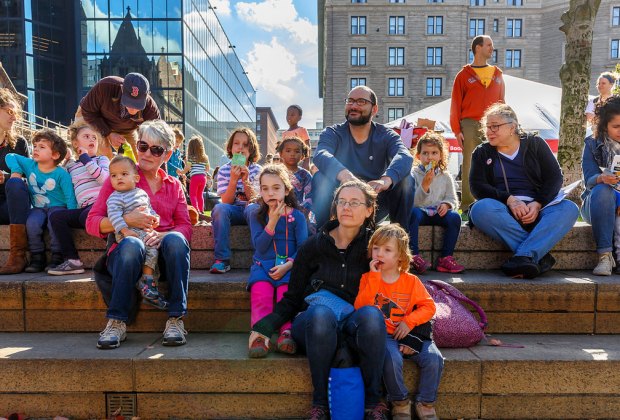 Outdoor literary fun is a dream for young and old booklovers. Photo courtesy of the Boston Book Festival
Owl Festival at the Blue Hills Trailside Museum - Milton
10/26/2019 - 10/27/2019
$6-8
Meet live owls up-close and discover how they survive. Celebrate all things owl in myths, legends, and art. Find out about conservation challenges owls face and what you can do to help. There will be kids' crafts, food trucks, and fun for all ages.
Frog Pond Halloween Pumpkin Float - Boston Common
10/18/2019
FREE (bring a small pumpkin)
Dress in your Halloween best and bring a small, carved pumpkin to float on the Frog Pond. Kids can decorate a luminary to border the pond, try science experiments, and enjoy refreshments at this urban pumpkin festival.
RELATED: Pumpkin Festivals in New England
Head of the Charles Regatta - Cambridge
10/19/2019 - 10/20/2019
FREE to watch
Since 1965, rowers have come from far and near to the banks of the Charles River to take part in the world's largest regatta. The regatta starts at the Boston University DeWolfe Boathouse and winds three miles upriver to Artesani Playground in Brighton; spectators can watch the races from various spots along the course.
RELATED: Tips for Watching the Head of the Charles Regatta with Kids
Jamaica Pond Lantern Parade - Jamaica Plain
10/19/2019 - 10/20/2019
FREE
Imagine wandering around a beautiful pond illuminated by thousands of handmade lanterns. This annual events encourages kids to dress in their Halloween costumes and parade around Jamaica Pond, bringing a trail of bouncing lights into the darkness that can be seen from all directions.
Zoo Howl - Dorchester
10/26/2019- 10/27/2019
Included with Zoo Admission
Celebrate Halloween with the animals at this yearly event at the zoo. There are Halloween-themed games and crafts, plus a haunted maze and zoo animals snacking on pumpkin.
RELATED: Fun Fall Activities with Preschoolers around Boston