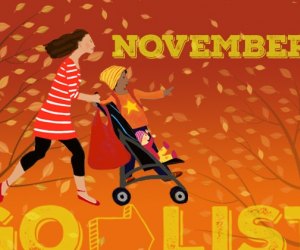 November GoList: Best Things to Do with Kids in Boston
Along with seasonal celebrations of Native Americans as well as the humble turkey, November in Boston is packed with kid-friendly films, live performances, and museum programs. It's also the start of holiday season excitement, so get the early scoop on festive light displays (from Faneuil Hall to the Stone Zoo), Christmas trains, and more.
We hear about exciting new family-friendly happenings each day, so keep tabs on our events calendar to make sure you don't miss a thing as one holiday blends into the next. Many events require advance registration or tickets, so go ahead and claim your seats to the season's hottest events!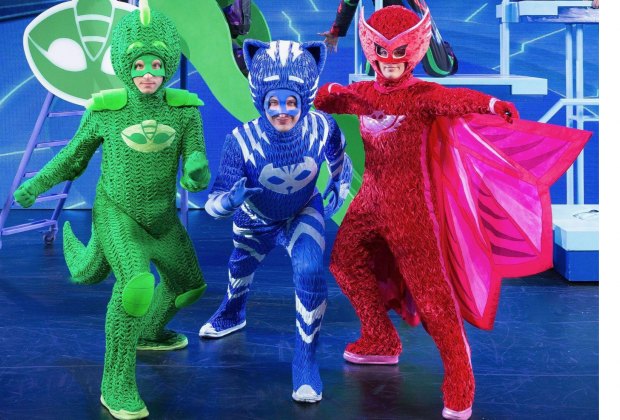 Are Cat Boy and Owlette celebrities in your home? Photo courtesy of PJ Masks Live
PJ Masks Live - Lynn
11/30/2019
$27 and up
Attention, PJ Masks fans! Cat Boy, Owlette, and Ghekko are invading the Lynn Memorial Auditorium for an afternoon of action-packed musical theater fun.
Kids' Shows at the Coolidge Corner Theatre - Brookline
Saturday mornings
$10.50-13.50
We always look forward to the terrific fall line-up of family entertainment at Coolidge Corner Theatre in Brookline. Live performances in November include Magic by Bonaparté, Tanglewood Marionettes, and Mike the Bubble Man.
Boston International Kids Film Festival - Arlington and Somerville
Fri 11/15/19 - Sun 11/17/19
$10 and up
Created to empower kids to find their own unique voices as they discover the power of visual media, the Boston International Kids Film Festival is a 3-day celebration of films from around the globe. The festival features films by and about kids, inspirational presenters, and media-savvy workshops.
MFA Playdates - MFA, Boston
Mon 11/4/19 and Sat 11/16/2019
Free (with museum admission)
Bring your toddler to enjoy story time at the Museum of Fine Arts, looking activities in the galleries, and art making. This month's theme is "Let's Make Music."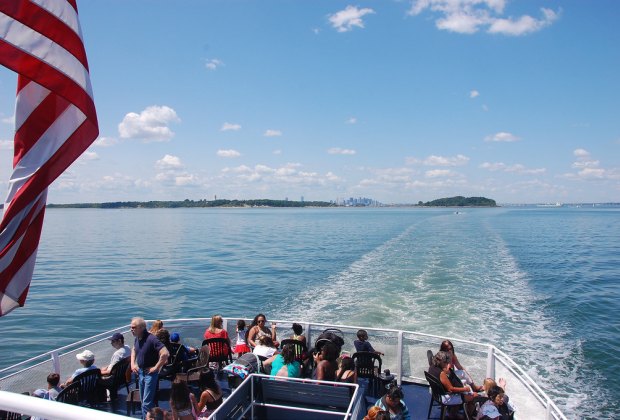 Fall is a super time to visit Georges Island, here with the view of Boston in the background. Photo by MaxVT/CC BY 2.0
Veterans Day Cruise to Georges Island - Boston Harbor Islands
Sat 11/9/19
$10 (free for veterans and active military)
Hop on the ferry to Georges Island for a guided tour of Fort Warren, family-friendly activities and a Civil War living history walk. What a great way to mark the holiday! Advance reservations are required.
Baby Shark Live! - Boston
Saturday, November 9
$29.50 - 75.50
Now the catchiest of kid songs has it's own show. Families can watch Baby Shark and his friends on their adventures all while dancing to songs the kids will love.
Turkey Time - Boston
Sunday, November 24
$6 - 9
Create turkey track posters, examine feathers under a microscope, and create a craft to take home. Kids can search the sanctuary for turkey signs and maybe even catch a glimpse of the flock.
Annual Trellis Lighting - Boston
Monday, November 25
Free
The annual lighting of the blue and white trellis includes music, fun, snacks, and good cheer in Christopher Columbus Park for the annual lighting of the trellis.
Blink! - Faneuil Hall, Boston
Tuesday, December 3 - Wednesday, January 1, 2020
Free
Starting with Faneuil Hall's first tree lighting of the season and running through the first weekend in January, Blink! is a state-of-the-art light and sound show. Over 350,000 LED lights are choreographed to the music of the Holiday Pops. There are five shows a night, at the right price—free! Blink! is a nice diversion during holiday shopping in Faneuil Hall.
Family Trees: A Celebration of Children's Literature - Concord
Wednesday, November 27 - Sunday, January 5
$5-10
Family Trees gives Concord's literary tradition a creative twist. The Concord Museum's galleries are filled with over 30 fanciful trees of all shapes and sizes, decorated with original ornaments inspired by acclaimed children's storybooks and contemporary picture book favorites. Best time to go: the Friday and Saturday after Thanksgiving, for Thanksgiving weekend crafts.
Celebrate! with Wampanoag Nation Singers and Dancers - Dorchester
Friday, November 29
Free
It's Native American Heritage Month, and the JFK Museum and Library is inviting families to join the Wampanoag Nation Singers and Dancers as they share stories of both their history and modern culture in a performance that culminates with a full audience powwow. This free performance is part of the Celebrate! series at the John F. Kennedy Library and Museum, which highlights America's rich cultural diversity through the arts. The shows in the series are appropriate for ages 5 and up, and advance reservations are required.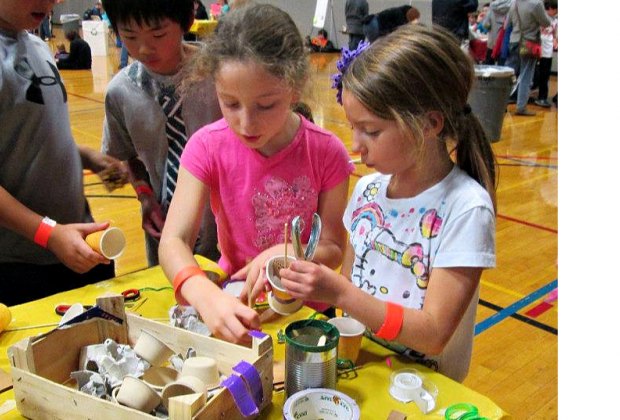 MIT Museum's Friday After Thanksgiving (F.A.T.) Chain Reaction Event is all about hands-on science for kids. Photo courtesy of MIT Museum
F.A.T. Chain Reaction - MIT, Cambridge
Friday, November 29
Spectators: Adults $13.50 (in advance, $16 day of); Children (5-18), Students, Seniors $5. Includes same-day admission to the MIT Museum. Team registration is $12 in advance for up to 4 people; $5 for each additional team member (8 maximum).
For the F.A.T. (Friday After Thanksgiving) Chain Reaction, participants link their mini chain reactions together to form one mega chain reaction—it's like watching a giant domino demonstration. People can join the fun by registering a team or attending as spectators. Kinetic artist Arthur Ganson is on hand to help with connections and play master of ceremonies for the action.
Play Date: Tell Me a Story - ICA, Boston
Saturday, November 30
Free for families; up to 2 adults per family accompanied by children 12 and under
Enjoy gallery activities and step into the Bank of America Art Lab for art-making investigations. There are also family performances in the theater. And it's all free! Bonus: the museum shop is a great spot to find unique holiday gifts.