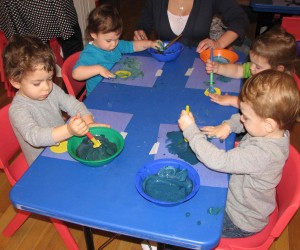 Kids at Work: Toddler and Preschooler Classes in Chelsea
On a snowy day last week, my sons and I made our way to a Kids at Work class in Chelsea. Created by early childhood educator Julie Averill in 2007, Kids at Work offers drop-in art, science, music and movement classes, plus play groups and open play, for children 0-5 years. With a wide selection of classes and a flexible drop-in schedule, Kids at Work is a hidden gem that promises to get even better in their own brand new space (they currently work out of a shared space on W. 14th), opening February 1!
The Mess It Up class we tried combined free play with art. Rather than dive into a bunch of structured activities right away, we had a chance to settle in and explore on our own. My older son loved checking out the easels stocked with crayons and paint and he spent some time working on a big floor mural.
OUR LATEST VIDEOS
A big bin full of sand, shovels and buckets also provided lots of entertainment and my 7-month old watched in awe as kids played with a mountain of tin foil scraps.
To transition from one activity to the next, Julie would sing a song in her lovely voice, always letting the kids know that it was up to them if they wanted to participate.
With a very active toddler who often has a mind of his own, I appreciated her laid-back approach. Julie explained that her classes incorporate ideas from Montessori programs and she strives to give children choices instead of forcing too much structure on them. My son couldn't have been happier throughout the 45-minute class and it was clear that Julie and her fellow teachers had a lot of experience with children.
After reading Papa Please Get the Moon for Me by Eric Carle, the kids gathered around two small tables for an art project. Smocks aren't provided, and luckily, my son went with a minimalist approach and decided to keep his paint in a bowl, happy to stir it like brownie batter. The little boy across from him dove right in and it wasn't long till he was covered with paint. His Mom watched happily at her budding Jackson Pollock, a true poster child for the class. Julie handed out star and moon cut-outs and lots of glitter. With about 8 kids, plus caregivers and the teachers, it was surprisingly calm.
Once they finished their projects, the kids cleaned off and had some time to dance around and pop bubbles. The class flew by and my son stalled for awhile before he was finally ready to leave.
What to Know if You Go:
-All Kids at Work classes are drop-ins, but reservations are required.
-Single drop-in classes cost $40, but class packs can lower the price a bit, including a 60-class pack that's idea for siblings and brings the cost down to $28/class.
-Once you purchase a class pack, you can attend any age-appropriate class, any time
-Class packs expire at the end of the semester.
-The Kids at Work winter semester runs Feb. 7-May 27.
-Check out the Kids at Work Winter Class Schedule.


More Notable Kids at Work Programs:
-FREE Open Art Play for all registered "class package-holders". Every Saturday children and grown-ups may stop by from 10:45am – 3:30pm to play in Kids at Work's signature open-ended art environment designed for active and curious children ages 18 months – 4 years. $20 for non-pack-holders, FREE for children with a class pack.

-Kids at Work PlayGroup – Twice weekly gentle separation program for children ages 2 and 3. The focus is on teamwork, cooperation, and building confidence and decision-making skills in this program that features process-oriented art, music, movement games and free play.

-Infant Developmental Movement Education – The only program of its kind in NYC, this workshop style class is taught by a certified IMDE teacher. Almost-crawlers to almost-walkers are are given "hands-on" attention while grown-ups learn how to encourage healthy gross movement patterns.

Kids at Work
347-933-8923
Until January 14, 2011
39 W. 14th Street, Suite 508 (between 5th and 6th Aves)
After February 1, 2011
242 W. 27th Street, Suite 4A (between 7th and 8th Aves)
For more cool places where you can have indoor fun check out:
Play Greenpoint: The Perfect Indoor Play Space in Brooklyn
Klub 4 Kidz: Williamsburg's New Indoor Play Gym Keeps Kids Big and Little Moving
The Gym Park: Brooklyn's Giant Indoor Playground
or take a look at our Indoor Activities posts