The Gym Park: Brooklyn's Giant Indoor Playground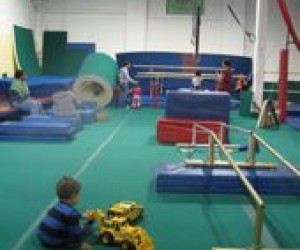 Keeping kids happy when it's freezing outside isn't easy. To get through winter last year, my son and I spent a lot of time at a drop-in center in Park Slope. He's too old for it now, so I'm always searching for new indoor play spaces. I heard about The Gym Park in Greenpoint. We've been twice already and he loves it. We drove both times we visited and street parking was a cinch. Here is what else you'll find if you go.
From the outside,The Gym Park ain't much. The first time I visited, I thought it was closed. There aren't windows to peer in and it's next to a bunch of garages.
But, inside, there are 2,800 square feet where kids can run, tumble, jump, play and take classes. Everyone is required to take off their shoes and the floor is fully padded.
We've gone during the week for their Open Playtime, and even with a bunch of other kids, there is plenty of space to run around.
For $10, plus a $30 registration fee, children ages 6 months-6 years can play for two hours and have free reign on all sorts of equipment including a trampoline, balance beams, rings, a fabric swing, mats and more. Open Playtime is available every day except Tuesday and Sunday although the hours seem to vary and they sometimes close early. To be safe, call before going to make sure they'll be open when you get there.
The space is also stocked with cones, jump ropes, hula hoops, a few ride-on cars and some trucks. My son couldn't be happier when we're there and it's great to have a big, open space where he can bounce off the walls safely. My only complaint is that it's always really cold inside, and the bathroom is freezing. Wear something warm when you go.
For older children, Gym Park has tumbling, vaulting, cheerleading, fitness, and aerial silks classes. For adults, there are fitness classes, including Zumba.
And during the month of December, check their site for Holiday Vacation Camp, with half and full-day options. Activities include yoga, gymnastics, dance, arts and crafts and more. Registration is on a first come first serve basis.
It's easy to work up an appetite at Gym Park. Le Gamin is right around the corner and good for crepes and other French foods, but we always end up at Cookie Road, a cozy bakery that's even closer. So far, we've tried their pumpkin and blueberry muffins, ham and cheddar biscuits, sugar cookies, and macaroons, and everything has been delicious.
It's going to be a long winter so I'm sure we'll be back at both places very soon.
The Gym Park
Otom Gym, 169 Calyer Street near Lorimer Street
Greenpoint, Brooklyn
718-349-6627

For more indoor activity ideas, check our Indoor Activity Guide.