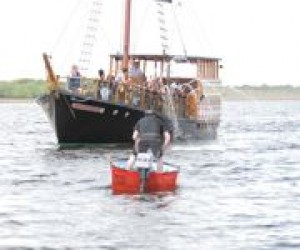 Kid-Friendly NJ-Based Party Boats
Ok, let's admit it: Boat parties are awesome. They're unique, they're memorable, they're different. Good to know: Most party boat rentals involve some type of fishing. Not all, but some. And some just tool around the Statue of Liberty, which is cool enough on its own. Note: If your child is interested in a boat party, it's strongly advised to strap them into a life preserver. Most marinas have life vests for children, but it may be wise to invest in a floatation device for every child. Here are six NJ-based marinas that offer some boat-riding fun for the whole family. And for more party awesomeness, check out our NJ Kids' Birthday Party Ideas Guide.

North Star Fishing and Cruises, Ocean City
Perfect for the kids who enjoy fishing, or parents who want to take their kids fishing for the first time. Larger and smaller boats can be rented—smaller boats are called ponsoons—and reserved for private fishing parties; partygoers have permission to decorate the boat for the festivities and bring on-board any foods or drinks they desire. Smaller boats generally go out into the bay. Prices vary; always call in advance. 609-391-8300

Pirate Adventures, Jersey Shore
Ahoy maitey! Pirate Adventure is ready for sail! Bring your young pirates aboard the Sea Gypsy for a swashbuckling Pirate Adventure on the Metedeconk River. A wonderful adventure for all families! Kids will have the opportunity to dress-up like pirates, get face painted with pirate "tattoos", and learn some pirate lingo before setting sail on an hour and fifteen minute long action packed adventure. Once on board, the mates will participate in an interactive treasure hunt on the high seas. They will learn the rules of the Sea Gypsy pirate ship, read a treasure map, discover a secret message in a bottle, and work as a team to defeat the enemy pirate who has stolen the keys to their treasure. So cool…and so fun! They even offer special invitations you can print out and send to guests. There are even various packages available. Life jackets of all sizes are available. For more info and pricing specifics, please call 732-899-6100.

Sea Devil, Point Pleasant Beach
A bit of a more upscale boat, the Sea Devil appeals to kids and teens who like to fish, or just want to head out on the water. This 85 ft Party Boat is available for rent (with a crew!) or is available everyday (weather pending) for bluefish in the spring and summer. The upper deck is a large sundeck available for all who wish to just hang out when not fishing. Sea Devil has the latest fish finding and safety equipment and are U.S. Coast Guard certified and inspected. For more info, and for pricing, call 732-701-1094. Visit the facebook page here.

Bogan's, Brielle
This party boat is called the 125' Jamaica. There are bunkrooms, cabins, a crew, snack bar, and more. Those who climb aboard this party boat are usually fishing for cod, pollock, and seabass. Day trip and sailing information is available online. For more info, call 732-528-5014.

Fish Finder II, Brigantine
The Fish Finder II boat is a 46 Ft. Catamaran that can accommodate 40 passengers licensed to sail 20 miles off shore. Reservations are suggested! Also available for private charters, family charters, and more. For more info, call 609-264-0918.
Classic Harbor Line, Hoboken
There won't be any fishing in the Hudson, but the Beacon yacht takes up to 15 kids and 15 adults out for a 1.5 hour cruise to see the Statue of Liberty and under the Brooklyn Bridge while consuming pizza and cupcakes--who could ask for anything more? For more information, pricing and to book your birthday party cruise, contact Classic Harbor Line by email.