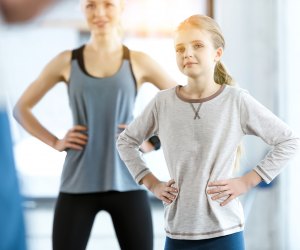 Free, Kid-Friendly Workouts for Mom or Dad at Malls around LA
The malls of Los Angeles want you to visit, and they're willing to do you a favor or two to get you there—including free workout classes. It may seem counterintuitive to head to the mall in search of free stuff, but, in the spirit of reeling us in, many malls offer kid-friendly, free workouts for moms. In other words, the mall is one of very few places where you can exercise without dropping a wad of cash. I can't promise that you won't end up splurging on lunch or a new pair of skinny jeans (that's the whole point of the free workout, isn't it?), but the sweat sessions listed below are free to anyone with an iron will.
We always recommend confirming that class is on, either via the mall websites or live concierge desk.
1. The Baldwin Hills Crenshaw Plaza Mall
3650 West Martin Luther King Blvd.
Los Angeles, CA 90008
(323) 290-6636
Some days you've got to dance. Some days you've got to chill out. And some days you've got to kick butt. Whatever the day might throw at you, the Baldwin Hills Crenshaw Plaza has you covered. Take advantage of free Zumba, Yoga, and Cardio Kick classes on the Macy's bridge. Classes run every other day or so.
A little too worn out for all that? This mall's free Kids Club offers a wide variety of fun activities like DJ Camp as well as a host of arts and crafts projects.
Check out the schedule for workout times and dates. You can even reserve a space through Eventbrite. Just search for "Bfit" in the events box.
2. Glendale Galleria
100 West Broadway
Glendale, CA 91210
(818) 246-6737
Miss those carefree, kid-free days when you danced the night away? Don't we all. Well, while the Glendale Galleria can't send you back in time (yet), they do offer free dance classes every Tuesday. Shake your booty! You've earned it.
There are plenty of ways to stay in touch and up-to-date on the Galleria's goings-on, particularly on Twitter, Instagram, or Facebook.
3. Westfield Century City
10250 Santa Monica Blvd.
Los Angeles, CA 90067
(310) 277-3898
Workout Wednesdays at Westfield Century City feature free classes from some of LA's hottest fitness sources, including Body By Simone, Pilates Platinum, Best U, and Physique 57.
Information is available on the Facebook event page, or call ahead for the details. Get on the list by emailing info@burnthis.com.
4. Santa Monica Place
395 Santa Monica Blvd..
Santa Monica, CA 90401
(310) 260-8333
Where can you attend a donut eating contest on Friday afternoon (aw shoot, that was last month) and Zumba away those same donuts the next morning for free? Santa Monica Place, of course. Rain or shine, SMP provides Zumba-by-the-sea every Saturday morning at 9am sharp.
The class is located in the sunny Center Plaza. Be prepared to relocate to Level 2 between Nordstrom and Carlton Hair when the weather is inclement. I wouldn't worry too much about that, though. This is Santa Monica, where it's beach weather just about every day.
5. Americana at Brand
889 Americana Way
Glendale, CA 91210
(818) 637-8982
After you get your dance on at the Glendale Galleria (see entry #2 above) cross the street to the Americana at Brand and transform your rambunctious kids into peaceful, flexible yogis. Michelle Kackovic teaches yoga Wednesdays on the Green to kids ages 3-6. Parents are invited to join, so bring mini-mats for the kids and a grownup one for yourself.
Oh, by the way, do you like free food? Oh, you do? Well, children eat free at eleven different restaurants on Tuesdays, courtesy of the Kids Club. And while the little ones nosh on free food, take in free live music, entertainment, and more, all geared toward the kiddos. See what the hubbub is about on the mall's Facebook page.
6. The Westside Pavilion
10800 West Pico Blvd.
Los Angeles, CA 90064
(310) 474-2785
At Westside Pavilion, children in strollers double as workout equipment. Baby Boot Camp, which is offered three times per week, is a stroller fitness program designed to return a mom to her pre-pregnancy level of fitness. In other words, you can rock your bundle of joy to sleep while tightening and toning.
Before you jump for joy, it's only the first class that's free. After that, it's $17 per class with the purchase of ten classes, but that's a small price to pay for a beach bod and a sleeping infant, right? What's even better is the StrollerFriends Mom's Group, where moms get together to discuss all things mom and schedule playdates. Stop by Facebook for more info on Westside Pavilion.
7. The Commons at Calabasas
799 Commons Way
Calabasas, CA 91302
(818) 637-8922
Hidden in the hills of the far west San Fernando Valley is the Commons at Calabasas. Okay, maybe "hidden" is an overstatement. It's right off the freeway. In any case, the Commons offers communal exercise that's geared toward parents with older kids and those, er, energetic younger kids who can run for miles without stopping.
Lululemon Athletica sponsors a weekly three-mile run at the Commons. Feel free to turn on the afterburners, because there will be someone to keep pace walking if the kids (or you) fall behind. Feel the burn while you bond with your brood.
Check out Facebook for lovely photos and useful information about this sunny, outdoor sanctuary.
8. Plaza El Segundo
760 South Sepulveda Blvd.
El Segundo, CA 90245
(310) 414-5280
At StrollFit Baby Boot Camp, the first class with instructor Linda Okwor is free. After that, classes are $50 per month, which is pretty reasonable considering that you don't have to pay for a babysitter. Linda offers multiple classes and the occasional Groupon Deal.
These classes inevitably turn into Mommy and Me-style support groups, and you can't put a price on a fit psyche. So make friends, plan playdates, and kvetch, all while you get in shape and keep your bundle of joy entertained—or, preferably, asleep.
More info on this South Bay jewel is on Facebook.
9. South Bay Galleria
1815 Hawthorne Blvd.
Redondo Beach, CA 90278
(310) 371-7546
Last, but certainly not least, meet up with other moms at Nordstrom for free fitness and nutrition for moms and kids at this southernmost South Bay Baby Boot Camp. Classes run every Monday, Wednesday, Friday, and Saturday.
But that's not all. The Galleria also offers a monthly Kids Club with entertainment, arts and crafts, and other activities, usually centered around a holiday like, oh, say, Mother's Day. If all that doesn't convince you to give the class a try, take a stroll through the Galleria's Facebook page.
---
All of the info in this post is accurate as of our publish date, but obviously things can change at any time. We always recommend calling before heading over with kids. See you at the mall!
Top photo via Bigstock