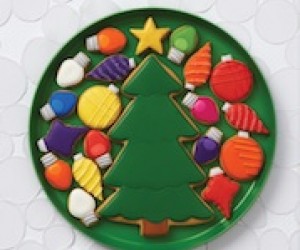 Holiday Cookie Crawl: 7 of NYC's Best Festive Treats
December is the time to sit on Santa's lap, sing Christmas carols, and eat way too many holiday cookies! If you're looking for a fun way to get in the holiday spirit, plan a cookie crawl. Throughout the city, bakeries are making beautiful cookies that look as good as they taste. To get you started, here are festive treats from seven of the city's sweetest spots.
And for more sweet ideas, see our Holiday Guide.
Momofoku Milk Bar in the East Village is known for its wacky sweets -- they make super sweet milk by infusing it with cereal, for one. For the holidays, they're adding minty hard candies to their popular cornflake chocolate chip marshmallow cookies, and setting up a booth at the Union Square holiday market.
$1.85 each, or $10 for 6

At One Girl Cookies in Boerum Hill, each mini sweet has a lovely name. For the holidays, they're introducing Jane, a toasted walnut shortbread drizzled with a maple glaze; Elsie, a chocolate coconut square topped with shredded coconut, and Camilla, a chocolate sugar cookie sandwich filled with orange pistachio cream.
4 cookies for $2.50
Gift boxes also available: $32/24, $48/72, $64/96, $96/144

You can find sweets from Downtown Cookie Co at Whole Foods and coffee shops throughout the city. With buttery shortbread, raspberry jam and almond-flecked edges, their Jane Street Jam is perfect with a cup of tea.
$24 for a dozen
When it comes to decorative cookies, it doesn't get much better than the whimsical creations at Eleni's. When sweets are this stunning, you almost feel bad eating them. (The tree and ornament cookies in our intro photo are some of their fabulous creations.) For the holidays, they really pull out all the stops with beautifully decorated Christmas trees, ornaments, snowmen, wreaths, and this Nutcracker set that they're calling a cookie cast of magical characters.
All The Trimmings Gift Box, $75
Nutrcacker, $125
Individual holiday cookies start at $2.95

At Three Tarts, an adorable bakery and boutique in Chelsea, Inside Out S'Mores with a vanilla bean marshmallow, graham cracker cookie, and choclate coating are a decadent holiday treat.
$2 each, $29 for a dozen

Not quite cookies, these mini fruit mince pies from Dub Pies in Windsor Terrace still look and taste very festive.
$1.50 each
At Cookie Road in Greenpoint, hand decorated holiday cookies come in all shapes and sizes. $3-$5 per cookie
For more delicious holiday ideas, visit our Holiday Guide.