High Teas in New York City with Kids: Lady Mendl's Tea Salon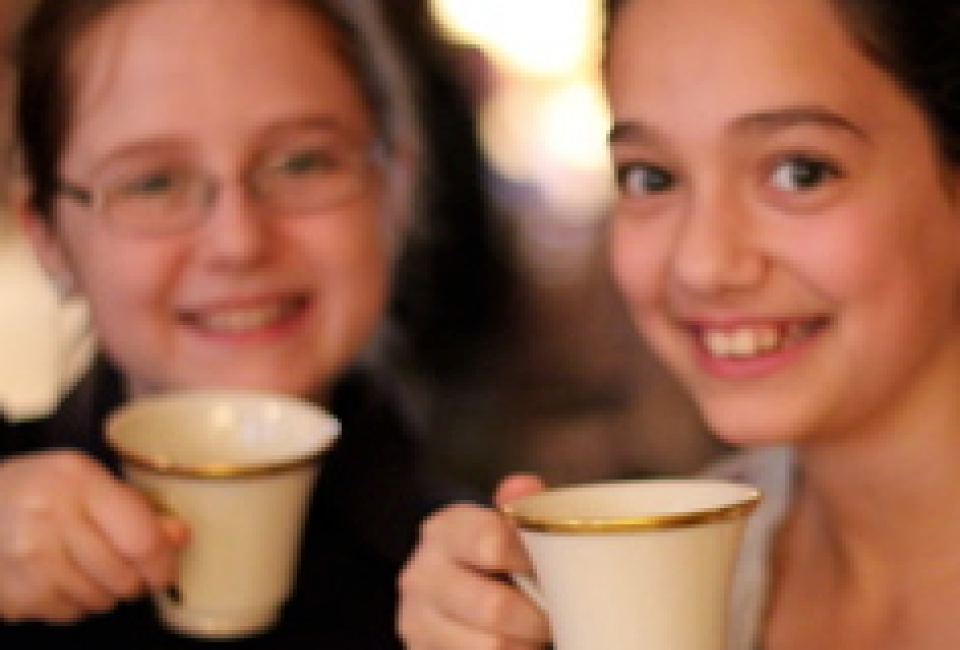 11/29/10
- By
Anna Fader
Lady Mendl's is a true Victorian tea salon in a brownstone on Irving Place near Union Square. Walk up the stoop and through the all but unmarked door for an elegant, classic five course English afternoon tea in a Victorian era brownstone parlor. Sit on couches by the fireplace or at elegantly set tables and enjoy a filling afternoon tea of sandwiches, scones with Devonshire clotted cream and jam, desserts and bottomless pots of tea from a wide selection, including several of their own blends.
There are no gimmicks here or a child's menu. The fun of Lady Mendl's is in its "grown-upness'" and authenticity. Lady Mendl's is not for pretend playing, it's a true escape into another time and place for a few hours.
The five course afternoon tea takes at least an hour and a half and so, while children are welcome, use your discretion as to whether your younger children can sit through it. During the week there's a little more room for squirminess as the salon will be more empty.
While the meal is long, on the plus side, there is little waiting between courses. We were served our tea almost immediately after being seating and the courses came one after another, keeping the sometimes fraught between-course moments to a minimum. Another plus is that for the sandwiches course, rather than being served a selection on a platter, they have four or five to choose from and you may request which ones you'd like. You can have one of each or a zero in on the one or two a child might prefer and get a few of those. We were also offered seconds—this is not a tea that will leave you hungry after.
Lady Mendl's is a great spot for a special occasion outing, whether for a family get together or a girl's birthday treat. I think girls ages 8 and up will appreciate the experience and get the most out of this more formal and grown up atmosphere.
Afternoon tea at Lady Mendl's is $55 per person plus tax and is served Wednesday to Sunday at various times. An 18% gratuity will be automatically added to your bill. Reservations are required. Call 212-533-4466.
Lady Mendl's
56 Irving Place, Manhattan
212 533-4600
www.innatirving.com

Sign up for our free
newsletters.
Mommy Poppins is a family activity website that helps people find things to do with kids.
©
2023
MommyPoppins. All Rights Reserved.
mp-prod4-v4.32.99
We use cookies and other data collection technologies to provide the best experience for our customers.
Learn More
t Click Here to Sign Up!